Despite the difference in age groups, elementary level science and middle level science teachers have some commonalities. The biggest trait they share is having to cover every major scientific discipline over the course of one school year, which—due to the aforementioned age differences—can present its own unique challenges to middle school teachers as far as capturing their students' attention.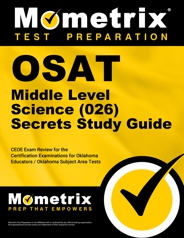 In the state of Oklahoma, incoming Middle Level Science teachers have one extra task ahead of them as far as proving they're ready to teach. This task comes in the form of the OSAT Middle Level Science exam, which is meant to evaluate whether prospective teachers possess the necessary knowledge in their field as well as classroom management.
To help you prepare, the Mometrix Test Preparation staff has put together an OSAT Middle Level Science (026) practice test. Designed with accuracy in mind, this test was composed through careful research to ensure it is as close to the real thing as possible.
This practice test can be used to familiarize yourself with the test's structure and material, so you know what to expect once you take the full exam.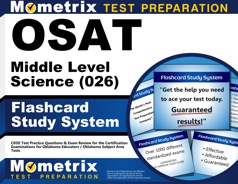 The test covers 81 OSAT Middle Level Science questions. There is one essay ("constructed-response") question. It takes up 15 percent of the test's content and deals with the Foundations of Scientific Inquiry.
The other 80 questions (accounting for 85 percent of the exam) are multiple choice, or "selected-response." They focus on the following subjects:
Earth and Space Science (21 percent)
Foundations of Scientific Inquiry (6 percent)
Physical Science (32 percent)
Life Science (26 percent)
Our OSAT Middle Level Science practice test will prove effective whether used on its own or in conjunction with our companion study guide. Regardless of how you use it, we hope you will choose to incorporate it into your study plan. This resource is 100 percent free for you to use as often as you need. Good luck!