Each and every student out there has their own unique learning styles and needs. As such, it is the job of each and every teacher to get to know their students' needs and figure out how to meet them adequately. This holds especially true for teachers of disabled students.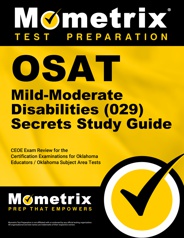 As an educator of students with special needs, it will be your duty to ensure you're able to meet their educational needs in the best way possible. However, since this is such a big job, you'll also have to go the extra mile to prove you're ready.
If you plan to teach in the state of Oklahoma, your final hurdle will be to take and pass the OSAT Mild-Moderate Disabilities exam. Like the other OSAT exams, the Mild-Moderate Disabilities test is designed to assess how ready you are for a teaching career through a series of multiple choice and essay questions focusing on your field and educational knowledge.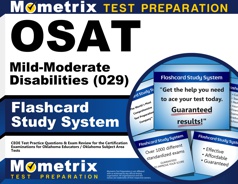 At Mometrix Test Preparation, our main goal is to help you succeed. That's why we've put together an OSAT Mild-Moderate Disabilities (129) practice test. We've conducted only the most thorough research to ensure this free resource is as accurate to the real test as possible. We recommend this practice test for anyone looking to familiarize themselves with a specific OSAT test's contents.
On this test you'll find approximately 81 OSAT Mild-Moderate Disabilities practice questions. There is only one essay ("constructed-response") question, which takes up about 15 percent of the exam's total contents and deals with Case Study—Analysis of Data to Identify and Effectively Address Student Needs.
The remainder of the test is multiple choice ("selected-response"), accounting for 85 percent of test material. It covers such subjects as:
Working in a Collaborative Learning Community (16 percent)
Understanding Students with Mild/Moderate Disabilities (12 percent)
Learning across the Curriculum (45 percent)
Assessing Students and Developing Individualized Education Programs (IEPs)
Individualized Family Service Plans (IFSPs) (12 percent)
Like many of our resources, this OSAT Mild-Moderate Disabilities practice test is 100 percent free for you to use however and whenever you see fit. For best results, we recommend pairing it with our companion study guide, but it will prove effective even when used standalone. Good luck and happy studying!