The Pain Management certification indicates specialization in the field of caring for patients with acute and chronic pain. This pain can be from a variety of sources, but the Pain Management certified nurse is able to properly assess the patient to identify modalities that may help patients to cope with managing their pain.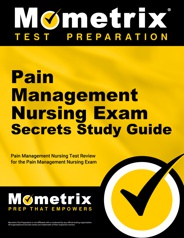 Prepare with our Pain Management Study Guide and Practice Questions. Print or eBook. Guaranteed to raise your score. Get started today!
In order to take the Pain Management certification exam, the applicant must be a licensed Registered Nurse with an Associate Degree or diploma from an accredited 2-year RN program. The RN must have worked at least 2 years in a full-time capacity in pain management or a related field, with at least 2,000 hours within the past 3 years. In addition, at least 30 hours of continuing education hours should have been completed in pain management nursing over the past 3 years.
The Pain Management certification exam is offered throughout the year at testing centers across the United States. The RN has 90 days in which to take the exam after receiving the test admission ticket. The fee to take the exam is $230 for members of the American Nurses Association (ANA) and $370 for non-members.
The exam consists of 175 multiple-choice questions with 25 of those questions used for pretesting purposes for possible use on future exams. The Pain Management certification exam tests the RN's knowledge of specific disease states and conditions that are known to cause acute or chronic pain in the patient. Questions regarding management of the patient's pain through various nursing interventions are also included. There are also questions pertaining to monitoring the patient for treatment effectiveness, as well as providing patient and caregiver education regarding managing pain.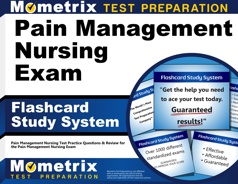 Pain Management Flashcards. Proven Pain Management test flashcards raise your score on the Pain Management test. Guaranteed.
Pain Management certification is valid for 3 years. At the end of that time period, the licensed RN must have completed at least 1,000 hours of employment as a pain management nurse. In addition, at least 75 continuing education hours should have been completed or other educational activities should have been completed as outlined by the American Nurses Credentialing Center.
The fee for renewal is $160 for ANA members and $290 for non-members as long as the practice hour and continuing education hour requirements are met. For those who wish to retake the exam in order to recertify, the fee is $230 for ANA members and $370 for non-members.
For more information regarding the Pain Management certification for the Associate Degree or diploma RN, go to www.nursingworld.org or www.nursecredentialing.org, or visit the American Society for Pain Management Nursing at www.aspmn.org.