Anyone seeking a career as a physician assistant will need to pass the Physician Assistant National Certifying Exam (PANCE) in order to be certified to practice. The test is developed and administered by the National Commission on Certification of Physician Assistants (NCCPA), and covers two broad areas.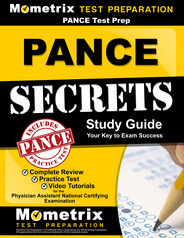 Prepare with our PANCE Study Guide and Practice Questions. Print or eBook. Guaranteed to raise your score. Get started today!
The first category is questions concerning organs and systems in the human body, and the most common medical ailments a PA is likely to encounter. The second category concerns what a PA's responses and actions to these ailments should be. The PANCE consists of 300 questions, in five separate blocks of 60 questions. It's pretty much a day long undertaking; a candidate is given five hours total to complete the test (with breaks in between sessions, totaling 45 additional minutes).
Candidates must first graduate from a PA training program that has been accredited by the Accreditation Review Committee on Education for the Physician Assistant (ARC-PA). After graduation, the Six Years/Six Attempts Rule takes effect: a person must pass the PANCE within six years after graduating, and they are allowed a maximum of six attempts.
If six years elapse, or if the candidate fails the exam six times, he is ineligible to take the test again. The only way to regain eligibility is to graduate from another ARC-PA accredited PA training program. (These are the rules for those people graduating from PA training programs on or after January 1, 2003; the rules are more complex for those who graduated before this day, and for people in those situations it's best to consult the NCCPA website. )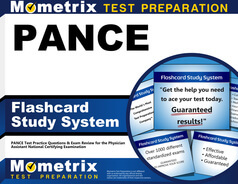 PANCE Flashcards. Proven PANCE test flashcards raise your score on the PANCE test. Guaranteed.
The earliest a person may apply is 90 days prior to graduation from their PA education program, and the earliest date to actually take the test is seven days after graduation. Once an application is approved, the applicant has a window of 180 days in which to take the tests. If a person wants to retake the exam, they must wait at least 90 days to do so. No one is allowed to take the test more than three times in a calendar year.
Currently the fee to take the PANCE is $475, and it must be paid every time a person takes the test, not just the initial attempt. As the PANCE is a very difficult exam to pass, and because the consequences of failure can be so high, many candidates rely on test prep aids before tackling the exam. These are not officially endorsed by the NCCPA, but there is no doubt that they have been the difference between passing and failing for thousands.
PANCE Study Guide
Explore our free PANCE review provided by Mometrix. Check out our premium PANCE study guide to take your studying to the next level. If you benefit from these materials, just click the link below! To compliment our PANCE book, we also offer extensive PANCE flashcards for even more PANCE test prep help.
We hope you enjoy our products! Your purchase helps us make more great, free PANCE certification content for test-takers just like yourself.
Online PANCE Prep Course
If you want to be fully prepared, Mometrix offers an online PANCE Prep Course. The course is designed to provide you with any and every resource you might want while studying. The PANCE Course includes:
Review Lessons Covering Every Topic
600+ PANCE Practice Questions
More than 600 Digital Flashcards
Over 30 Instructional Videos
Money-back Guarantee
Free Mobile Access
and More!
The PANCE Prep Course is designed to help any learner get everything they need to prepare for their PANCE exam. Click below to check it out!