The Physician Assistant National Recertifying Examination, commonly known as the PANRE, is a comprehensive and wide-ranging assessment for men and women looking to enter this burgeoning field of healthcare.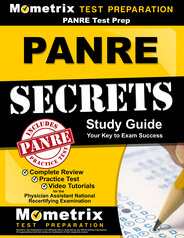 Prepare with our PANRE Study Guide and Practice Questions. Print or eBook. Guaranteed to raise your score. Get started today!
In the task area of pharmaceutical therapeutics, you will need knowledge of the following areas: mechanism of action, indications for use; contraindications; side effects; adverse reactions; follow-up and monitoring of pharmacologic regimens; risks, clinical presentation, and treatment of drug interactions; drug toxicity; methods to reduce medication errors; cross-reactivity of similar medications; and recognition and treatment of allergic reactions.
The skills covered in this section of the PANRE include selecting pharmacological therapy for selected medical conditions, monitoring pharmacologic regimens and adjusting as appropriate, and evaluating and reporting adverse reactions.
In the task area related to applying basic science concepts, the required knowledge includes human anatomy and physiology, underlying pathophysiology, and microbiology and biochemistry.
The skills necessary to succeed in this task area include recognizing normal and abnormal anatomy and physiology, relating pathophysiologic principles, correlating abnormal physical examination findings, and correlating abnormal results of diagnostic tests to a given disease process.
The content of the PANRE can also be classified according to the organ systems: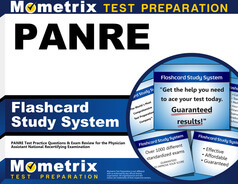 PANRE Flashcards. Proven PANRE test flashcards raise your score on the PANRE test. Guaranteed.
cardiovascular (16% of the exam)
pulmonary (12%)
endocrine (6%)
EENT (eyes, ears, nose, and throat) (9%)
gastrointestinal/nutritional (10%)
genitourinary (6%)
musculoskeletal (10%)
reproductive (8%)
neurologic system (6%)
psychiatry/behavioral (6%)
dermatologic (5%)
hematologic (3%)
infectious diseases (3%)
The PANRE was developed by the National Commission on Certification of Physician Assistants.
PANRE Study Guide
Explore our free PANRE review provided by Mometrix. Check out our premium PANRE study guide to take your studying to the next level. If you benefit from these materials, just click the link below! To compliment our PANRE book, we also offer extensive PANRE flashcards for even more PANRE test prep help. We hope you enjoy our products! Your purchase helps us make more great, free PANRE certification content for test-takers just like yourself.