The Patient Care Technician Exam is an important step in your career. By taking this exam, you will be able to get certified and demonstrate your command of the knowledge and skills most relevant to this job. With that said, it is a challenging exam so it's worth learning more about it and making sure that you do everything you can to prepare for the day of the test.
Q
Who Is Eligible to Take the Patient Care Technician Exam?
A
Before you can take the exam, you need to submit an application along with supporting documentation to demonstrate that you meet the following criteria:
Possess a high school diploma or equivalent, and;
Successfully complete an accredited or state-recognized training program,OR;
Have at least one year of experience working the field you are seeking certification in. This work experience must have occurred within the last 3 years.
If you have not yet met all of these criteria but you expect to within the next 12 months, you can still apply. However, if you do not fulfill all the criteria within the time frame you specified, your certification will be suspended even if you already took and passed the test.
Q
What Will Test Day Be Like?
A
The exam is administered via computer in most testing centers. However, paper and pencil tests are available in certain authorized centers so if you would prefer that option, call in advance to make those arrangements. Either way, on test day, make sure you arrive 30 minutes early in order to check in. Bring your valid (meaning not expired) government issued ID.
If your current address is different form the address on the ID you are bringing to the testing center, make sure to bring proof of address as well. A current utility bill or other piece of mail bearing your name and address will work for this purpose. Once in the exam room, you will have 2 hours to complete a total of 120 questions. That includes 100 scored questions and 20 unscored questions.
Q
What Will I Be Tested On?
A
The questions are regularly updated and based on job analysis so as to make sure that the exam is testing you on the knowledge and skills that are most relevant to your career as a patient care technician. Here is a brief outline of the kinds of things you will be expected to know:
Patient Care – 45 Questions
Compliance, Safety, and Professional Responsibility – 20 Questions
Infection Control – 11 Questions
Phlebotomy – 14 Questions
EKG – 10 Questions
As mentioned, there will also be 20 unscored questions distributed across these 4 categories. Since they aren't identified, you just need to treat all questions as scored questions. This means you need to factor that into your time management strategy during the exam.
Q
When Will I Find Out If I Passed?
A
Your final score is calculated on site so you will find out immediately whether you have passed or failed. However, official results and the certificate will be mailed to you within the following 7 to 10 days. If you would like your scores to be sent anywhere else, you can make this request at the time of registration. If you did not pass the exam, you can schedule your next attempt while you're at the testing center but your next appointment has to be at least 30 days after the date of your first attempt.
Q
How Long Do I Need to Study for this Exam?
A
Depending on how comfortable you are with the material, you'll want to spend anywhere from about 3 to 8 weeks preparing for this exam. If you don't feel confident in your current knowledge or you know that you struggle with test taking, be sure to give yourself the extra time you need to study, build your confidence, and work on your test taking strategies.
Even if you are eager to get it over with, it's better to take the extra time now before your first attempt than it is to rush into it, fail the test and having to go through the whole process all over again.
A great place to start is with the Mometrix Study Guide and Mometrix Flashcards. These tools have been designed by experts according to the exact specifications of this test. You'll get an easy to follow, chapter by chapter breakdown of all the essential information. Then, you'll be able to apply that knowledge to the practice questions provided and by quizzing yourself (or better, having a friend quiz you) with the flashcards. Plus, if you do struggle with test taking, the guide comes with proven test taking strategies to help you deal with those tricky question and keep the stress at bay.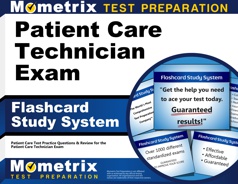 Patient Care Technician Flashcards. Proven Patient Care Technician test flashcards raise your score on the Patient Care Technician Exam. Guaranteed.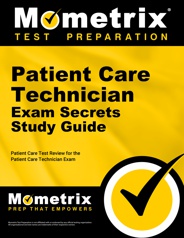 Prepare with our Patient Care Technician Study Guide and Practice Questions. Print or eBook. Guaranteed to raise your score. Get started today!