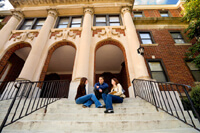 One fact about graduate school is indisputable: it is expensive. However, options are available to help you pay for graduate school. These options include loans, scholarships, fellowships, and assistantships. The articles in this section provide an overview of your financial aid options. What kinds of government and private loans are available for graduate school and what paperwork do you need to complete in order to qualify for these loans? How do you find sources of scholarships and fellowships? How can you land a teaching or research assistantship and what benefits do assistantships typically provide in terms of salary and reduced tuition? If you plan to work during graduate school, are tuition reimbursement benefits available from your employer? Read the following articles to find the answers to these questions and other financial aid questions you have about financing graduate school
Financial Aid and the Council of Graduate Schools
Once you start receiving acceptance letters, you still have some decisions to make. Unfortunately, you won't receive all of your acceptance letters and offers of financial aid on the same day. This means you may be trying to decide whether to accept one school's offer when you don't even know whether another school has accepted you.
Fortunately, the Council of Graduate Schools (CGS) has addressed this issue. The CGS is an organization dedicated to advancing graduate education and research. More than 500 colleges and universities in the United States and Canada are members of the CGS. To make it easier for you to decide which graduate school to attend, the CGS passed a resolution concerning financial aid. According to this resolution, you have until April 15 to respond to financial aid offers. If you accept an offer of financial aid, you can later withdraw your acceptance with no repercussions until April 15. After April 15, however, your acceptance becomes a commitment and you will need a written release from the first program if you decide to switch to a different program. In fact, programs cannot offer you a financial aid package after April 15 unless you show written releases from previous offers you accepted. This resolution gives you time to review all of your acceptance letters and financial aid offers and choose the best one for you.
Financial Tips for Graduate School
Your time in graduate school is likely to be some of the leanest years of your life when it comes to finances. Follow these tips to help you pay for school with as little debt as possible.
Lower your current debt
If you already owe a lot of money on credit cards and car loans, that means you have that much less money to pay for graduate school. Get those loans and bills paid off as quickly as possible.
Stop the shopping
The months before you start graduate school are not the time to be buying a new car or making other major purchases. Make do with what you have for as long as you can.
Keep working as long as you can
It's fine if you plan to quit your job or switch to a part-time job so you can focus on your graduate studies. But don't quit too soon so you can take a long vacation before school starts. Work as long as you can and save every penny – you will need it later.
Plan ahead
Financial planning can help you survive your years of graduate school. First, figure out how much you spend for current living expenses. It may help to write down everything you spend for a few weeks so you include small expenses that you might otherwise forget.
Once you have an idea of how much money you are spending for your current living expenses, see whether there are any areas in which you can cut expenses. Then, figure out how much extra money you will need for:
Tuition
Books
Conferences
Travel
Additional living expenses if you will be moving to a new town with a higher cost of living
Moving expenses
This process should give you a good idea of how much money you will need for your years of graduate school. Don't forget to plan for the year or two during which you will be writing your dissertation.
Scholarships and fellowships
Scholarships are less plentiful for graduate school than for undergraduate school. However, some scholarships are still available. Check the Internet and with your graduate schools and professional organizations to see what scholarship opportunities might be available.
Fellowships are among the most lucrative options for funding graduate school. Fellowships generally offer generous stipends and a guaranteed source of funding. In addition, the fellowship can often lead to an internship and even a job.
Some ways that you can find scholarships and fellowships include:
Database searches on the Internet. Free scholarship searches are available that can help you find scholarships and grants for which you might be eligible. Note that there are also scams on the Internet promising you scholarships for a price. Do not be fooled! Any offer that promises scholarships or that charges money is likely not legitimate.
Online directories. These websites link you to potential sources of funding.
Books. Many books are available that list sources of financial aid.
Assistantships
Most students end up paying for their graduate school with research and teaching assistantships because these options are more plentiful. Assistantships typically offer tuition remission or a stipend during the school year.
Another option
Another option to consider is borrowing money from your family. If you do borrow money, make it professional by drawing up a payment agreement and schedule. And remember, you still need to report family contributions on your financial aid form.
What are Fellowships?
Finding funding for your graduate school education can be a challenge. Fewer scholarship and grant programs are available than for undergraduates, leaving many graduate students to rely on student loans. However, another option is to look for fellowships to help pay your tuition, fees, and living expenses. There are two main types of fellowships: institutional fellowships and portable, or external, fellowships. Institutional fellowships are given by a specific university to a student who will study at that university. Portable fellowships, on the other hand, offer students more freedom, as they allow you to choose any university that matches your scholarly interests. These types of fellowships can be offered by the federal government or by independent organizations. They are often based on need or merit and may be specific to a field of study or demographic group. In addition, recipients of portable fellowships may be required to repay the fellowship amount by working for a specified time in the industry.
Both institutional and portable fellowships may be specifically applied to different times of your graduate program. For example, some fellowships are designed to provide you with financial support as you work on your dissertation. These fellowships are also called dissertation grants.
To find fellowship options:
Talk to the professors at both your undergraduate school and in your graduate program.
Check the Internet.
Check with professional organizations, corporations, and foundations.
Check with federal agencies that are involved with your field of study.
Fellowships are sometimes not available to students in their first year of a doctoral program. As you are searching for fellowships, be sure to check whether you will be eligible as a first-year student.
Preparing Your Fellowship Applications
Fellowship applications often come in the form of an RFP, or Request for Proposal. When you find a fellowship for which you want to apply, keep the following questions in mind as you prepare your proposal:
What are the eligibility criteria?
When is the application due?
How many fellowships are awarded each year?
Do you need to apply through your graduate program or as an individual?
What criteria will the selection committee use to evaluate the proposals?
What information do you need to include as part of your proposal?
You will usually need to include the following items in your proposal:
A biography
Your Graduate Record Examination (GRE) scores
Transcripts
Letters of recommendation
An essay that discusses your qualifications, area of research, achievements, etc
Including all of the requested items shows that you can follow directions and focus on details.
Your goal in your application is to sell yourself to the selection committee, convincing its members that you are the right choice for this fellowship. Therefore, you need to focus on how your work will further the goals of the funder and that your area of research is something it wants to fund. Take some time to investigate the funder so you understand its goals and culture and can reflect its vision in your essay.
Completing the FAFSA
The FAFSA, or Free Application for Federal Student Aid, is required for student loans and possibly other financial aid you might be seeking for graduate school. You will need to complete a FAFSA every year you are in school. You can complete the FAFSA online or on paper.
Below are documents you will need to complete your FAFSA:
Your Social Security number or, if you are not a US citizen, your alien registration or permanent resident card.
Your driver's license number.
W-2 forms and other records of earnings for the previous year.
Federal income tax return for yourself (and your spouse, if you are married) for the previous year.
Your parents' federal income tax return for the previous year ( if you are a dependent student).
Records of untaxed income including child support, Social Security, and veteran's benefits.
Current bank and investment statements.
Current investment records, such as business and investment mortgage information, business and farm records, stocks, and bonds.
You typically have until the end of June to turn in your FAFSA if you want to receive aid for the fall semester. However, you will want to complete the FAFSA as early in the year as possible so you will know early how much aid you can receive. Work on getting your tax returns done quickly in the year so you can get the FAFSA done too.
Successfully Seeking Scholarships
Scholarships aren't quite as plentiful for graduate students as they are for undergraduates. Make the most of the scholarship opportunities you find by following these scholarship tips:
Start early
When it comes to scholarships, procrastinating can cost you money. If you are an undergraduate planning to go directly to graduate school, you should begin looking for scholarships as early as your junior year. If you are out in the workforce, begin your search about 18 months before you plan to return to the classroom. By starting early, you will give yourself time to not only find scholarships for which you are eligible, but also to complete paperwork and applications without missing deadlines.
Put in some hours
It's going to take some time and effort to find scholarships for which you are eligible. Go on the Internet and search for graduate school scholarships. Buy a book listing available scholarships. Talk to the financial aid office at your school about scholarship opportunities.
Also look specifically for narrower scholarships such as those intended for people:
Studying in a particular field.
With a specific racial or ethnic heritage.
From a particular part of the country or world.
With ties to a particular business or religion.
By applying for these narrower scholarships, you reduce the number of people against whom you are competing.
Avoid scams: Don't pay for any scholarship searches and don't trust anyone who guarantees you a scholarship.
Check with your intended school
As you apply to schools, ask them about what scholarships and other financial aid options they have. They may offer additional scholarships and fellowships specifically for their own students. Check with both the financial aid office and with the directors of your program of study.
Student Loans for Graduate Schools
No one wants to leave graduate school with a load of student loan debt, but sometimes loans are your last option for financing school. What government loan options are available for graduate students?
Perkins Student Loans
As a graduate student, you can receive up to $6,000 a year through the Perkins Loan program. These loans are available to both full-time and part-time graduate students and have an interest rate of 5 percent. The loans are offered directly by the school you attend, and you will repay the loan to the school or the school's agent. You have up to 10 years to repay the loan, depending on how much you borrow.
The amount you actually receive through a Perkins loan is based on financial need, the amount of other aid you are receiving, and the amount of money your school has available to lend. The most you can receive through Perkins Loans is $40,000, which includes any Perkins loans you received as an undergraduate.
Stafford loans
Stafford loans come in two types: FFEL (Federal Family Education Loan) loans and direct loans. The main differences between them is that FFEL loans come from private institutions such as banks and credit unions while direct loans come from the federal government. However, eligibility rules and loan amounts are different.
As a graduate student, you can borrow up to $20,500 a year through the Stafford Loan Program, with a maximum total debt of $138,500 allowed. The interest rate for these loans is 6.8%. You do not need to show financial need to get the loan, but if you do show financial need, the government pays the interest on up to $8,500 of the loan for you:
While you are in school.
For six months after you leave school.
If you defer the loan.
Depending on how much you borrow, you have 10-25 years to repay Stafford loans.
PLUS loans
PLUS loans (Parent Loans for Undergraduate Students), or Graduate PLUS in the case of graduate school, also come in two types: FFEL and direct. PLUS loans are actually loans that parents can take out to help pay for their children's education. The interest rate for PLUS FFEL loans is 8.5 percent, and the interest rate for PLUS Direct loans is 7.9 percent. You don't have to demonstrate financial need to get a PLUS loan, but you do need to pass a credit check.
The maximum amount you can borrow through a PLUS loan each year is the student's cost of attendance minus the amount of other financial aid. To apply for any of these federal loans, you must file the FAFSA. For PLUS loans, your parents must also complete a PLUS application.
Using Your Job to Pay For Graduate School
One of the potential benefits of working for a few years before you go to graduate school is that your employer may offer a tuition reimbursement or tuition assistance program. With such programs, your employer pays for all or part of your education. If you are considering going back to graduate school some time, look for a job that offers a tuition benefit.
Some questions you may want to check out about your company's tuition reimbursement program include:
Is the benefit grade-related? In other words, do you have to earn a certain grade in the class (such as a B or better) in order to receive reimbursement?
If the coursework has to be job-related, how does the company define job-related? Are only courses related to your current job covered, or are courses related to a potential future job within the company also covered?
How long do you have to be employed by the company before you can use the tuition reimbursement program?
How long will it take to be reimbursed for your tuition expenses?
Are you contractually obligated to stay with the company for a certain length of time after you complete the course? If you leave earlier, do you have to repay the money spent on your tuition?
Can you be reimbursed for tuition for online classes or only for traditional classes?
Does the company pay 100% of the tuition or a lesser amount? Is there an annual cap on payments? How about a lifetime cap?
With tuition assistance, your graduate school plans may be within your reach. Find out now whether your company offers benefits of which you can take advantage.
Surviving Your Teaching Assistantship
Working as a teaching assistant is a common way for graduate students to earn a salary and score reduced tuition. As a teaching assistant, you find yourself in the awkward position of being on the other side of the desk with little to no teaching experience. In addition, if you entered graduate school straight from your undergraduate years, you are likely not much older than most of your students. Add to this the fact that you need to balance teaching with your own coursework, and you may begin to wonder whether you can handle it all.
To help you survive as a teaching assistant, it is important that you always maintain a professional relationship with your students. Even if you are the same age, you cannot go out to a party or a bar with your students. You definitely cannot, ever, date one of your students. Your role is not to be cool or to be friends. If you fall into this trap, you risk losing your authority in the classroom, the possibility of good references later from your professors, and even, ultimately, your assistantship.
Older graduate students can be a big help to you in the classroom. Ask them for ideas for assignments and classroom exercises and seek their advice about disciplinary issues. They may have old syllabi you can borrow as you plan your class. If possible, visit one of their classes so you can see how they interact with students and pick up some tips and tricks you can use in your own classroom.
Keep your own class schedule in mind as you prepare the schedule for the course you are teaching. Try to coordinate your schedule so you will not have a load of papers or exams to grade just when you are trying to study for an exam yourself.