There are many considerations when you are contemplating obtaining your personal trainer certification. There are many different programs to choose from, and some eligibility requirements are stringent. The examination is tough, but the benefits to certification more than outweigh the difficulties of acquiring your certification. Job opportunities are increased with a certification, as are the chances of making an increased salary. Use this information to determine whether a personal trainer certification is for you.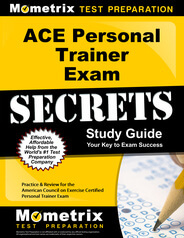 Prepare with our Personal Trainer Study Guide and Practice Questions. Print or eBook. Guaranteed to raise your score. Get started today!
The first thing to consider about getting a personal trainer certification is whether or not your personality type is one that is compatible with the job of a personal trainer. A personal trainer works with people on a one-on-one basis to motivate them and instruct them on the proper ways to exercise, build muscle, tone up, and become fit.
Personal trainers are expected to advise clients about nutrition, willpower, and proper ways to work out to maximize efforts. A personal trainer must be outgoing and able to communicate well with others. He or she must be a positive person with a motivating nature.
Being active, fit, and healthy is another requirement of a personal trainer. (Who wants to be trained by someone who doesn't demonstrate that he or she knows about fitness and practices it in his or her daily life?) A personal trainer must also be adaptive and have a flexible schedule in order to meet with clients on their time.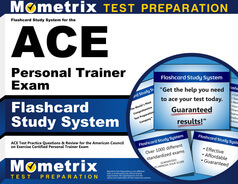 Personal Trainer Flashcards. Proven Personal Trainer test flashcards raise your score on the Personal Trainer test. Guaranteed.
There are many programs and curriculums that provide the basis for the personal trainer certification. Make sure the program and curriculum you choose is one that provides you the best options for your needs.
Ensure the program you select is accredited by the NCAA (National Commission for Certifying Agencies). If it is not accredited, you have no guarantee of its acceptance or recognition throughout the United States or the rest of the world. Accredited programs are generally more recognized by large gym chains and franchises.
Consider cost. Some programs are simply too expensive for your budget. Determine what you can spend and find a program that fits your payment abilities. Some programs include workshops or seminars to prepare you for the examination. Some curriculum provide study materials. Based on what you can spend, pick a program that suits your needs.
Meet the eligibility requirements. Every program has eligibility requirements. Don't select a program that you are not eligible for when you're ready to sign up.
Check with possible employers in the area to discover which programs and certifications they accept. If you complete a program that is not recognized by potential employers in your area, it doesn't benefit you.
Select a program that is convenient for you. With today's modern technology, many programs are offered online. If you are not in an area in which a program is offered, you may wish to choose an online program that teaches through distance learning. Some programs allow you to work on your own schedule, at your own pace, too.
Many different programs exist for obtaining your personal trainer certification. The National Academy of Sports Medicine (NASM) offers a comprehensive program that is widely accepted throughout the United States and abroad.
The ACSM certification (American College of Sports Medicine) includes a complete program that educates a personal trainer to work well with clients and other groups. The American Council on Exercise (ACE) program prepares personal trainers to provide clients with challenging programs of fitness and lifestyle modifications to optimize their health. The National Federation of Personal Trainers (NFPT) also provides a program that gives personal trainers the tools and abilities to competently train individuals.
Make sure you are eligible for a basic personal trainer certification program. Most programs require candidates to meet a set of essential criteria before being accepted as a student or applicant. Requirements often include:
You must be at least 18 years of age at the time of application.
You must have a high school education (or the equivalent) as the minimum level of education that you've received.
You should have at least two years of personal experience in fitness or other sports/athletic training.
You must commit to adhering to the standards set forth by a general code of conduct that includes both ethical and legal guidelines.
The examination for personal trainer certification includes knowledge and expertise in several areas. Students must have extensive knowledge of human anatomy and exercise physiology in order to pass the test for certification. Other areas usually on a test for certification are: nutrition, wellness, fitness program design, client screening and consultation, professional and legal practices, and injury management and prevention.
There are many benefits to obtaining your personal trainer certification. Your skills and abilities are recognized and your reputation may precede you as an expert and professional. Your credentials let a prospective client or employer know you've put in the work and displayed the dedication to obtain your certification.
Some programs allow their personal trainers to obtain discounts on liability insurance and be listed in an international or national database for marketing and networking opportunities. Certified personal trainers always benefit from higher salaries and more quality employment opportunities than their uncertified counterparts.
Possible career fields for those with a personal trainer certification may include working for a school or collegiate system, training for an athletic team, being employed by a large gym or training facility, working with clients individually, and assisting at community centers or with recreational programs. Many certified personal trainers join the military and use their skills to train soldiers. Others specialize in working with injured athletes, older adults or children.
Become a Personal Fitness Trainer