The American Council on Exercise (ACE) is a nonprofit health coach and exercise professional certification group that looks to ensure the highest industry standards are met by those working in the health and exercise industry. By offering certification through standardized tests like the ACE Personal Trainer Certification Exam, ACE ultimately seeks to expand healthcare and healthy lifestyles around the world.
ACE provides certification that is accredited by the National Commission for Certifying Agencies (NCAA), which is particularly focused on certifying professionals who work in healthcare, fitness, wellness and similar subject areas.
How Can I Register for the ACE Personal Trainer Certification Exam? What Prerequisites Are There?
The ACE Personal Trainer Certification Exam is a computer-based exam. To register, interested participants should visit the ACE website where they can provide their address and other personal information to find an exam location and set up an appointment time that is most convenient for them.
Participants in the exam will be asked to pay $399 to take the Personal Trainer Certification Exam.
However, there are several requirements that candidates must satisfy before they are eligible to sit for the exam. These prerequisites include:
Must hold a current, government-issued piece of identification
Must be at least 18 years old
Must possess CPR/AED certification at the time of registration that will still be valid when the exam is taken
Must have completed high school or the equivalent
What Items Must I Bring to the Personal Training Certification Exam from ACE and What Items Are Prohibited?
Participants in the ACE Personal Trainer Certification Exam must bring their admission ticket and current government-issued identification with photo and signature with them to the exam. They will be provided with a basic, four-function calculator and are not allowed to bring their own calculators. They are also prohibited from bringing dictionaries or other study supplies, purses or bags, cell phones, food or drink, among other items.
What Specific Content Appears on the ACE Exam for Personal Trainer Certification?
Every ACE certification exam consists of 150 multiple-choice questions, with 125 of these being scored and 25 of them being "experimental." The specific content that appears on the ACE Personal Trainer Certification Exam is as follows:
Interviews and assessments – 23%
Program design and implementation – 31%
Program modification and progression – 26%
Professional conduct, safety, and risk management – 20%
What Test-Taking Strategies Are Recommended for the ACE Certification Exam for Personal Trainers?
ACE recommends a handful of tips for those taking its standardized exams, such as the Personal Trainer Certification Exam. The group recommends that candidates pace themselves, read each question carefully without skimming, anticipate answers to questions before reading each potential response carefully, don't overanalyze questions, eliminate the least plausible options before answering and answer every question because there is no penalty for guessing.
What Score Do I Need to Pass the Exam for Personal Trainer Certification from ACE?
Scores for participants in the ACE Personal Trainer Certification Exam are determined by the number of questions they answered correctly; then they are converted to a scaled score in a range of 200 to 800 points. The passing score is set at a scaled score of 500 points, so those who earn scores of 500 or more will receive ACE certification.
Exams are scored as they are completed and candidates will receive their personal exam scaled score and the pass/fail status as soon as they submit their completed exam.
How Can I Get a Passing Score on the ACE Certification for Personal Trainers Exam?
ACE recommends that those preparing for its personal trainer certification exam spend time studying several knowledge-specific texts, including the ACSM's Resources for the Personal Trainer, the ACE Personal Trainer Manual and the NCSA's Essentials of Personal Training.
Because the exam consists of a large number of multiple choice questions and no penalties are given for guessing answers, it is also recommended that prospective participants spend a large bulk of their study time reviewing with the combination of a study guide and set of study flashcards. For instance, Mometrix Test Preparation offers both a custom-made study guide and a set of customized study flashcards that can be leveraged to prepare for the exam.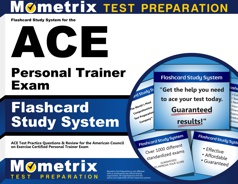 Personal Trainer Flashcards. Proven Personal Trainer test flashcards raise your score on the Personal Trainer test. Guaranteed.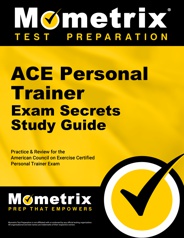 Prepare with our Personal Trainer Study Guide and Practice Questions. Print or eBook. Guaranteed to raise your score. Get started today!