The HR Certification Institute (HRCI) offers a certification called the Professional in Human Resources (PHR). According to the HRCI, this exam focuses on the technical and operational aspects of human resource practices.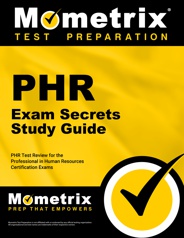 Prepare with our PHR Study Guide and Practice Questions. Print or eBook. Guaranteed to raise your score. Get started today!
If you're on this page, there's a good chance you're taking the PHR exam in the near future, or are at least considering the possibility. Regardless of how soon you're due to take the PHR exam, you can rest assured that you've come to the right place!
At Mometrix Test Preparation, we strive to offer the most thorough information about every standardized test issued across the country, including the PHR test.
Here you can learn everything you need to know regarding this important exam, as well as find various study tools designed to help you succeed on the exam so you can move on to the next phase of your professional and academic goals.
Before we delve into the details of the PHR test, we feel it is first important to talk about exactly what this exam is for. The PHR test is also known as the "Professional in Human Resources" test.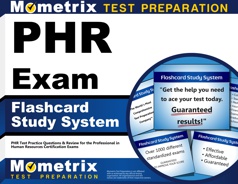 SPHR Flashcards. Proven PHR test flashcards raise your score on the PHR test. Guaranteed.
It is administered exclusively to professionals looking to enter the field of human resources, and evaluates their comprehension of all of the necessary skills related to the job. As such, the PHR test is an important part of your PHR certification requirements.
The PHR exam is constantly kept up to date in order to align with the ever changing demands of the human resources field. In order to score well on the exam, test takers must polish their awareness of national hiring laws as well as the various concepts and skills exclusive to HR management.
While the content of the exam may prove challenging to some, earning a passing score will allow you to earn your PHR certification and, as a result, move on to the next phase of your career plans.
How the PHR Exam Works
The PHR exam currently spans around 175 questions. 25 of those questions fall under the exam's "pretest" category, and do not count toward your score. The remaining 150 will be graded accordingly. The test will be presented primarily within multiple choice format. You will be expected to complete the full exam within a three hour time span.
Each of the exam questions falls under one of the five following knowledge categories:
Employee and Labor Relations is the largest portion of the test, clocking in at 39 percent of the exam's questions. This category's questions will involve the various protocols relating to the expectations and management of employees under a company.
Business Management is the second largest category on the exam, taking up approximately 20 percent of the exam's questions. It will evaluate your ability to utilize data about your place of work in order to make the best possible business decisions. Questions under this category may will generally evaluate your comprehension of analytical properties, the rules and legislation of the HR industry, the theory of management, the various protocols in place for governing a corporation, how to create official reports and communicate with your staff, and similar aspects of the field.
Total Rewards amounts to 15 percent of the exam's content. This category deals with the types of benefits you can offer to your employees, as sanctioned by the official rules of HR management. This includes the likes of assistance, retirement packages, and health care, as well as vacation time, sick days, and information pertaining to payrolls.
Learning and Development forms the smallest category of the exam, making up 10 percent of the overall content. This category will offer questions relating to how to present information and work with your staff to improve workflow and otherwise offer more comprehensive forms of employee training.
Talent Planning and Acquisition accounts for 16 percent of the exam's content. Its purpose is to assess, according to business standards, your ability to gauge and hire highly qualified workers. In order to answer questions under this category, you will have to utilize your comprehension of business metrics, specific vocabulary relating to business planning, how to evaluate potential new employees, and et cetera.
We Have the Tools You Need
The Mometrix Test Preparation team understands just how important this exam is to your future career goals. That's why we've put together only the best and most comprehensive study tools for you. You can locate these tools on this page, and refer to them as often as you need while you study. We specifically offer two different types of study tools for you to choose from, which can be used separately or in conjunction with one another.
Our PHR study guide is ideal for those who may feel unsure of where to start when it comes to studying for the exam. Our study guide features full explanations of each section of the exam, as well as sample test questions. By using this study tool, you can gain a deeper understanding of the ins and outs of the PHR exam.
If you would like a more hands-on example of how the test works, we also offer a PHR practice test. Through this tool, you will be able to read and work through several practice questions, all of which are closely modeled after the contents of the real PHR exam. Use this study tool to learn more about your weaknesses and strengths with the material, so you can adjust your study efforts accordingly.
We hope these two tools will prove invaluable to you as you study for the PHR test. Good luck!
PHR Study Guide and Online Course
Explore our free PHR review provided by Mometrix. Check out our premium SPHR study guide or PHR online prep course to take your studying to the next level. Our online course includes lessons, practice questions, videos, and flashcards to prepare you for test day. If you benefit from these materials, just click the link below! To compliment our PHR book, we also offer extensive flashcards for even more PHR exam prep help. We hope you enjoy our products! Your purchase helps us make more great, free PHR certification content for test-takers just like yourself.
Self-Assessment Module