Anyone in the state of Florida who wants to work in law enforcement or corrections must take and pass the Criminal Justice Basic Abilities Test, commonly referred to as the CJBAT. The test assesses whether candidates have the basic skills needed to enroll in a certified training center.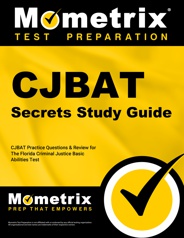 Prepare with our CJBAT Study Guide and Practice Questions. Print or eBook. Guaranteed to raise your score. Get started today!
The Florida Department of Law Enforcement uses various locations to deliver the test to candidates.
You'll need to prepare for this complicated exam, and that's where this guide comes in. We'll tell you what you can expect on test day and offer some outstanding study materials that can help you prepare.
How many questions are on the Criminal Justice Basic Abilities Test?
There are 97 questions on the CJBAT. The test can be taken via computer or as a pencil and paper exam.
How long do I have to complete the exam?
Candidates get an hour and a half (90 minutes) to finish the test.
Is there a fee to take the exam?
Yes, the exam fee is $39.
What's on Criminal Justice Basic Abilities Test?
The exam includes three sections and tests a candidate's language, visualization and reasoning ability across six minumum competencies.
Minumum Competencies:
Written Comprehension
Written Expression
Memorization
Deductive Reasoning
Inductive Reasoning
Personal Characteristics/Behavioral Attributes
CJBAT Sections:
Section I (47 questions) – This section includes questions involving various job-related behavioral attributes. You will have 20 minutes to complete this section.
Section II (10 questions) – This section includes questions involving memorization items, and will ask you to look at images then answer questions about them from memory. You will have 1 1/2 minutes per question in this section.
Section III (40 questions) – This section includes questions about four of your cognitive abilities. These abilites are written comprehension, written expression, deductive reasoning, and inductive reasoning. You will have an hour to complete this section.
Will I need identification on the day of the test?
Yes. You'll need photo identification on exam day.
Can I bring my own calculator on test day?
No. Calculators are prohibited.
What other items are prohibited on test day?
Candidates are not allowed to bring any electronic or photographic device into the test site. These items include mobile phones. Candidates will be allowed to place some personal items, like handbags and backpacks, under their desk.
What is the test's passing score?
In order to pass the exam, you must get a score of 70+ in all three sections of the CJBAT. Furthermore, you must get 30 out of 50 questions correct in sections II and III.
What if I fail the exam? Can I retake it?
Yes, but candidates can only take the test three times per year.
What are the best study materials I can buy?
Mometrix has the study materials you need. Our study guide is written by professionals who understand the test-taking field.  The guide contains a study plan, expert tips on test preparation, advice on how to use clues in questions to select the right answers, and much more. This is the study guide you need to best prepare for the Criminal Justice Basic Abilities exam.