Chemistry is taught in thousands of United States high schools, and qualifies as one of the more complex sciences today's students will have to learn to graduate. Naturally, chemistry teachers will have to prove themselves as being ready to instruct others in this subject. This is where the Praxis II, a standardized test meant to evaluate the preparedness of today's teachers, comes in. Without passing this exam, you won't be able to progress in your teaching career.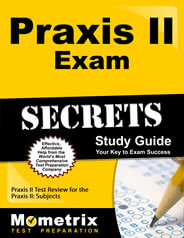 Prepare with our Praxis II Study Guide and Practice Questions. Print or eBook. Guaranteed to raise your score. Get started today!
Like you, we recognize the full importance of this exam, and want to help you prepare as thoroughly as possible. To do so, we present to you our Praxis II Chemistry: Content Knowledge #5245 practice test. Through careful research, we've rendered this practice test as accurate as possible so you obtain a full glimpse of what the real exam will be like.
As such, Praxis II chemistry practice questions for the Chemistry subtest will cover the following topics: Scientific Procedures and Techniques; Basic Principles of Matter and Energy, Thermodynamics; Scientific Inquiry and Social Perspectives of Science; Atomic and Nuclear Structure; Solutions and Solubility, Acid-Base Chemistry; Chemical Reactions, Periodicity; and Nomenclature, Chemical Composition, and Bonding and Structure.
We hope this Praxis II chemistry practice test will be of great help to you as you study. For best results, we recommend pairing this practice test with our Praxis II Chemistry study guide. The practice test is 100 percent free of charge and available to you at any time.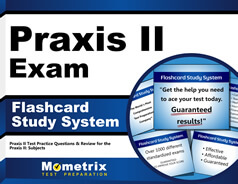 Praxis II Flashcards. Proven Praxis II test flashcards raise your score on the Praxis II test. Guaranteed.
Praxis II Chemistry Study Guide
Explore our free Praxis II Chemistry review provided by Mometrix. Check out our premium Praxis II Chemistry study guide to take your studying to the next level. If you benefit from these materials, just click the link below! To compliment our Praxis II Chemistry book, we also offer extensive Praxis II Chemistry flashcards for even more Praxis II Chemistry test prep help.
We hope you enjoy our products! Your purchase helps us make more great, free Praxis II Chemistry certification content for test-takers just like yourself.
Click Here for Praxis II Practice Test