Earth and Space Science can be a fascinating subject, and an engaging instructor makes it all the more fascinating. If you're planning to become an Earth and Space Science teacher in the United States, you may be obligated to take the Praxis II before you can progress into the professional world.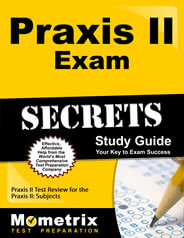 Prepare with our Praxis II Study Guide and Practice Questions. Print or eBook. Guaranteed to raise your score. Get started today!
The concept of this exam may intimidate you, but you shouldn't be afraid. Mometrix Test Preparation is here for you every step of the way. To help you study to your fullest potential, we've written and published a Praxis II Earth and Space Science: Content Knowledge #5571 practice test. We've worked hard to ensure the test is as accurate a mirror of the full exam as possible.
This will enable you to familiarize yourself with the Praxis II test and better know what to expect come test day.
For this exam, our Praxis II earth and space science practice questions will center on the following subjects: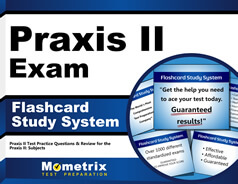 Praxis II Flashcards. Proven Praxis II test flashcards raise your score on the Praxis II test. Guaranteed.
Astronomy
Basic Principles and Processes
Earth's Atmosphere and Hydrosphere
Tectonics and Internal Earth Processes
History of the Earth and its Life-Forms
Earth Materials and Surface Processes
Like every Praxis II earth and space science practice test we've written, this resource is 100 percent free and designed to pair perfectly with our companion Earth and Space Science study guide. Feel free to use them both to enhance your studies!
Click Here for Praxis II Practice Test