The Praxis Earth and Space Sciences: Content Knowledge exam is designed for those seeking positions as secondary school earth and space science teachers. Usually, participants have already completed a bachelor's degree program in earth and space science education or are close to doing so before they take the exam.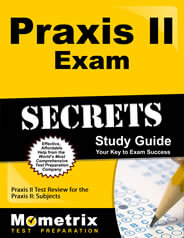 Prepare with our Praxis Study Guide and Practice Questions. Print or eBook. Guaranteed to raise your score. Get started today!
The test questions were developed to reflect standards from the National Science Education Standards and the National Science Teacher Association.
How Do I Register for the Earth and Space Sciences: Content Knowledge Exam from Praxis?
To register for the Praxis Earth and Space Sciences: Content Knowledge exam, prospective participants should first create a Praxis account on the ETS website. Upon creating the account, prospective participants will have to provide some basic background information, review terms and select a testing location, date and time that works best for them. The Praxis Earth and Space Sciences: Content Knowledge exam is computer-based and given at standardized testing locations around the world.
Upon registering, prospective participants will have to pay a $120 registration fee using a credit/debit card or PayPal. They will receive access to an admission ticket, which they should print and bring to the testing center.
What Can I and Can I Not Bring to My Testing Appointment for the Praxis Earth and Space Sciences Content Knowledge Exam?
Participants in the Praxis Earth and Sciences: Content Knowledge exam should bring with them an admission ticket and photo ID with name, signature and photograph.
They are not permitted to bring a calculator to the exam. They are also forbidden from bringing phones, watches, jewelry except for wedding and engagement rings, hats, pencils and erasers, jackets and many other personal items.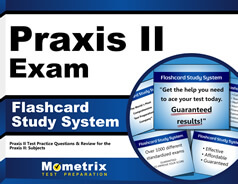 Praxis Flashcards. Proven Praxis test flashcards raise your score on the Praxis test. Guaranteed.
What Specific Content Do I Need to Study to Pass Praxis' Content Knowledge, Earth and Space Sciences Exam?
The Praxis Earth and Space Sciences: Content Knowledge exam consists of 125 selected-response questions. Participants are given two and a half hours to complete the full exam. The exam content is broken up into six main categories, each of which contains a different number of questions and makes up a different percentage of the full exam. The specific content breakdown, along with a sample of the subcategories within each main section, is as follows:
Basic Processes and Principles (15 questions, 12%)

Techniques, history and methodology of science
Principles of energy and matter
Society, technology and science

Internal Earth and Tectonics Processes (21 questions, 17%)

Theories of plate tectonics
Characteristics of earthquakes
Characteristics of volcanoes

Earth Surface and Materials Processes (29 questions, 23%)

Mineral identification
Changes to Earth's surface over time
Earth's material cycles

The History of Earth and its Life Forms (17 questions, 14%)

Rocks as a record of Earth's history
Fossil records
Theories of Earth's formation

The Hydrosphere and Atmosphere of Earth (24 questions, 19%)

Water's effects on Earth systems
Energy transfers in water cycles
Structure and composition of the atmosphere

Astronomy (19 questions, 15%)

Earth's motions and their consequences
Components of the solar system
Characteristics of stars
What Is the Best Study Strategy to Get a Passing Score on the Praxis Content Knowledge for Earth and Space Sciences Exam?
Because the Praxis Earth and Space Sciences: Content Knowledge exam is so heavily focused on a broad range of subject fundamentals, prospective participants will be best served by focusing their study efforts on a review of these fundamentals through a study guide. In order to reproduce their knowledge of these fundamentals on selected-response questions, they will also want to utilize a set of flashcards to drill that fundamental information into their memories.
Many participants in the exam have found success by leveraging the combination study guide and flashcard set provided by Mometrix Test Preparation.