For prospective teachers seeking a career as a teacher for elementary grades, you will need to pass the Praxis Elementary Education: Instructional Practice and Applications Exam as part of the certification process. The scope of the test is broad, covering reading, math, science, art, and social science. So you definitely need to make sure you are fully prepared to succeed on all aspects of this test.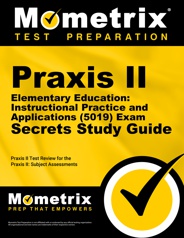 When Should I Register for This Test?
There are five testing windows throughout the year. Choose a testing window that leaves you enough time to study and prepare your test-taking strategy. Then, register as early as possible to ensure you get the exact appointment and testing center that are most convenient to you.
At the time of registration, be prepared to pay an exam fee of $146 and make any arrangements you might need for disability accommodations. Also, make sure you print out the admission ticket you receive after your registration is complete. You will need to bring this with you on the day of the test in order to be admitted into the exam room.
What Will I Be Tested on in the Praxis Elementary Education Instructional Practice and Applications Exam?
There are 120 scored multiple choice questions and 4 short essay questions divided between five content categories. Take a look at the brief outline below to get a sense of what you're going to need to know: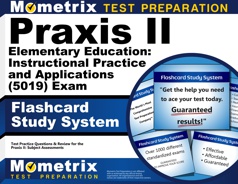 Reading and Language Art — 37 Questions

Foundations of reading
Literature and informational texts
Writing
Language, vocabulary, and grammar
Speaking and listening

Math — 31 Questions

Numbers and operations
Proportional relationships
Number theory
Algebra
Geometry
Data, statistics and probability

Science — 20 Questions

Scientific inquiry, processes, and concepts
Life sciences
Health
Space and earth sciences
Physical sciences

Social Studies — 17 Questions

Information processing
History
Sociology and anthropology
Geography
Civics, economics, and government

Art, Music, and Physical Education — 15 Questions

Various art media, concepts, and techniques
Elements of music
Concepts of physical education
Praxis Elementary Education Instructional Practice and Applications Practice Test
Praxis II Elementary Education Instructional Practice & Applications (5019) Exam Practice Test
Within each of the five categories above, you'll be tested on your knowledge of the subject itself (according to the standardized curriculum), your command of instructional strategies and appropriate lesson planning, and your ability to effectively use different types of assessments to measure a student's progress within each of the content categories.
For the four short essay questions, you'll be given prompts that asks you to create curriculum, instruction designs, and assessment strategies that are developmentally appropriate and effectively teach concepts within math, science, social studies, reading and language arts.
Clearly addresses all aspects of the prompt.
Demonstrates a strong command of the content and appropriate application of pedagogical theory.
Provides well supported examples where appropriate and includes strong explanations of logic.
When Will I Find Out If I Passed?
You will get an unofficial score report immediately after you finish at the testing center. However, this score will not include your results from the short essay question so you need to wait for your official score report to know for sure whether your score meets your state's minimum standards. This report will be available online within 10-16 business days after the date of your exam.
In the meantime, check with your state certification board (or the board in the state were you wish to teach) to find out exactly what score you need in order to qualify for teacher certification in that state.
What's the Best Way to Prepare for the Praxis Elementary Education Instructional Practice and Applications Exam?
Your exact study plan will depend on what your specific needs are. However, you do need to make a concrete study plan. To get the most out of your study sessions, you need to have a clear direction of what you will focus on in each session, how much time you will spend, and what your target outcomes are.
To make this plan, pick up the Mometrix Study Guide. In addition to providing a complete overview of everything you will be tested on, it comes with tips and a sample study plan so that you can stay organized and make sure you are using each and every minute of your study session in the best way possible.
Combine the guide with the Mometrix Flashcards for even better results. These will also help maximize your study sessions because using flashcards is one of the most effective methods for learning a large amount of information and improving your recall speed. By the time you're in that exam room, you'll feel confident and ready to knock that exam out of the park!