The Praxis English to Speakers of Other Languages (ESOL) Exam measures a candidate's understanding of both the English language itself as well as the pedagogical theory and practice necessary to teach that language to non-native speakers. It is required in most states for those seeking a career in ESOL education.
How Long Does the Test Take?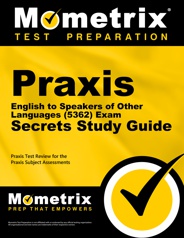 You should plan to spend a total of about 3 hours or a little more at the testing center. This includes 30 minutes for checking in and getting settled and then 2 hours and 30 minutes for the test itself. You might also want to add another 15-20 minutes for any questions or concerns you might have after the test.
The most important thing to remember here is that you should arrive 30 minutes before your appointment begins. Checking in has to be completed by the time your test starts. There will be no late admissions to the exam room and there will be no refunds for being late. So make whatever arrangements are necessary to ensure that you get there early!
What Will I Be Tested On?
You will be expected to complete a total of 120 multiple choice questions. Of those, 20 will include a listening component. These listening questions will all be in the first subject category (see outline below). Here's a quick overview of what sort of information the questions will cover:
Foundations of Linguistics and Language Learning — 48 questions (including 20 listening questions)

Two Listening Sections lasting 15 minutes each
Linguistic theory
Language and culture
Second-language learning
Literacy

Planning, Implementing, and Managing Instruction — 36 questions

Instructional theory
Materials
Teaching techniques
Classroom and student management

Assessment — 18 questions

Various types of tests and standards
Appropriate use of tests
Interpretation and application of test results

Cultural and Professional Aspects of the Job — 18 questions

Role of ESL teacher
Cultural understanding
Legan and ethical issues
Professional development
What Is the Minimum Score Needed to Pass the Praxis English to Speakers of Other Languages Exam?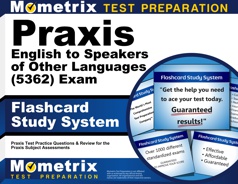 The Praxis English exam is used across many states in the US, and there is, as of yet, no federal minimum standard. This means that the minimum score differs from state to state, so you need to check with the certification board in your state (or the state where you want to teach).
With that said, you will be given a scaled score ranging from 100 to 200 and, depending on the state, you'll likely need to aim for a score somewhere between 165 and 185. This is just a frame of reference, however. You definitely should check with your local certification board to find out exactly what score they require.
The good news is that your score can transfer from state to state. So, if you're planning to move or unsure where you're going to teach, you'll be able to use your current Praxis score as long as it meets the minimum requirements of the state you're moving to.
Do I Need to Study for the Praxis English to Speakers of Other Languages Exam?
This test is heavily content driven and very specifically geared toward assessing your command of the principles, theories, and practices of teaching English to non-native speakers. This means that you absolutely need to study for this test, even if you are fresh out of college or a certification program where you studied this exact subject. It's very important to refresh your memory and make sure you are able to easily and quickly recall the information within the limited time frame you have for the test.
The best way to do this is with the Mometrix Study Guide and Mometrix Flashcards. The guide provides a comprehensive overview of the established TESOL/NCATE standards complete with subject by subject breakdowns and clear explanations. It also comes with practice questions that will help you get comfortable with the kind of phrasing and topics you'll be encountering on test day.
The flashcards act as a perfect complement to the guide in that they provide another means of reviewing that same material. You can easily toss these flashcards in your bag and pull them out for quick study sessions whenever you have a few minutes to spare. Plus, they come with extra practice questions to help you get even more comfortable with the kinds of questions you're going to see on the test!