If you plan to be involved in children's education, it's important to understand what influences them in today's world. No matter what generation you work with, family always creates the biggest impact, but the forces that influence familial development change over time.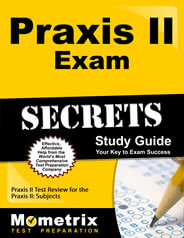 Prepare with our Praxis II Study Guide and Practice Questions. Print or eBook. Guaranteed to raise your score. Get started today!
Family and Consumer Science specialists understand this best of all. If you're studying to enter this field, you not only have this important taking ahead of you, but will have to prove you're worth your salt in order to progress professionally. Your final goalpost is the Praxis II, which is administered to aspiring educational professionals throughout most of the United States.
The Mometrix Test Preparation team has put together a Praxis II Family and Consumer Sciences #5122 practice test to help you as you study for this exam. This resource is the best way to familiarize yourself with the full exam, and will allow you to gain a sense of your strengths and weaknesses well ahead of test day.
This practice test also paints an accurate picture of what you can expect from the real exam, with Praxis II family and consumer sciences practice questions covering such relevant topics as: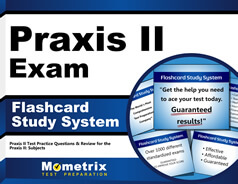 Praxis II Flashcards. Proven Praxis II test flashcards raise your score on the Praxis II test. Guaranteed.
Resource Management; Food and Nutrition
Foundations of Family and Consumer Sciences Education
Housing and Interior Design
Human Development and Interpersonal Relationships
Textiles, Fashion, and Apparel
For best results, we suggest using this Praxis II family and consumer sciences practice test alongside our companion Family & Consumer Sciences study guide. Good luck, and study hard!
Click Here for Praxis II Practice Test