You're an aspiring secondary education teacher who wants to teach science. How do you know you have the skills and knowledge to succeed? You take the Praxis General Science Content Knowledge Exam. But there's a lot to this test, and the information below will help you as you prepare. Also, we'll tell you about an amazing study guide that will give you insights into the exam.
Who should take the Praxis General Science Content Knowledge Exam?
The exam is meant for beginning secondary education teachers in general science. The exam tests the knowledge level of candidates who want to teach science at this level. The questions are generally covered in introductory college science courses, though some could be more advanced.
How many questions are on the exam, and how long does it take to complete?
There are 135 questions on the exam. Candidates have 2.5 hours to complete it.
What categories will the test cover?
The test has five main content categories, with each category testing knowledge in as many as nine different subcategories. For example, the category "Physical Science" has several subcategories that include chemistry and physics. The categories and subcategories are explored in more detail below. Please note that the number of questions per category are approximations.
Scientific, Methodology, Techniques, and History (15 questions). This section has seven subcategories, including data collection, data interpretation, and laboratory safety procedures. Candidates will be tested on a host of subjects including data trends; how to safely dispose of materials; major scientific developments; and basic energy and matter concepts.
Physical science (51 questions): In this category, candidates are tested on basic principles, chemistry, and physics. Areas covered include, the structures of matter and atoms; the energy/matter relationship; the periodic table of elements; and concepts in chemical reactions.
Life Science (27 questions). This section has nine subcategories covering cell function and reproduction; basic genetics; and basic anatomy and physiology of animals, including the human body. Candidates can expect to see questions on the cell cycle; evolution; how plants function; reproduction; ecosystems, and more.
Earth and Space Science (27 questions): This category has questions in five areas, including earths bodies of water, astronomy, and meteorology and climate. Candidates are likely to be tested in the areas of rocks and minerals (and their formation); the basic structure of the Earth; water; the bodies of water on Earth; and more.
Science, Technology, and Society (15 questions): The four subcategories include the impact of science and technology on the environment and society, and the application of science and technology in daily life. Topics include exploring space; how aquifers are being depleted; conservation; nutrition; disease; and more.
Where can I take the Praxis General Science Content Knowledge Exam?
There are hundreds of testing centers across the country. Finding a center convenient to your location should not be a problem.
How much does it cost to take the test?
The test costs $120.
What items should I bring, and not bring, to the testing center?
Please bring an acceptable form of government identification.
The list of what you can't bring is far longer. All electronic items, such as cellphones, are prohibited. Personal items, such as handbags and backpacks, are also prohibited. Please note that not all testing centers have secure lockers for personal items.
How do I know if I've passed the test?
Each state sets its own passing criteria, so please check with your state. Most test results are available two to three weeks after completing the exam.
So, you want to take the test but you don't have a reliable study guide. Mometrix is here to help. Our Praxis General Science Content Knowledge Exam study guide has been written by professionals and provides everything you need, from study tips to exam secrets. Need to study on the go? Our flashcards is the perfect tool. Our flashcards let you quiz yourself or get help from a friend.
Do yourself a favor – don't wait to start your studies – and don't wait to get our outstanding study materials.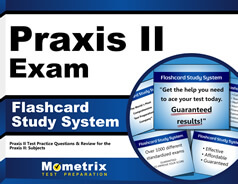 Praxis Flashcards. Proven Praxis test flashcards raise your score on the Praxis test. Guaranteed.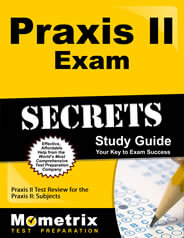 Prepare with our Praxis Study Guide and Practice Questions. Print or eBook. Guaranteed to raise your score. Get started today!