Middle school mathematics is commonly acknowledged as one of the most challenging subjects to teach, if only because so many students are averse to it! Outside of being able to capture and keep your students' attention, there's much you'll need to know on a practical level in order to succeed in the classroom. In most states, you'll have to earn a passing score on the Praxis II Middle School Mathematics exam to prove you're capable of the job.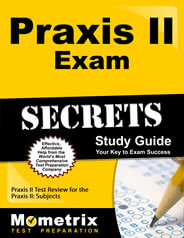 Prepare with our Praxis II Study Guide and Practice Questions. Print or eBook. Guaranteed to raise your score. Get started today!
If you're on the lookout for study tools as you prepare for this exam, consider our Praxis II Middle School Mathematics (5169) practice test.
It is the ideal resource for anyone interested in getting to know the ins and outs of the exam's contents before test day arrives.
This practice exam focuses on all of the same subjects as the real exam: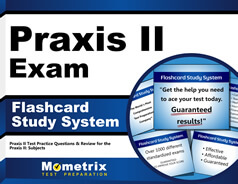 Praxis II Flashcards. Proven Praxis II test flashcards raise your score on the Praxis II test. Guaranteed.
Geometry and Data (38 percent)
Arithmetic and Algebra (62 percent)
The real exam features a total of 55 Praxis II Middle School Mathematics questions.
For the most thorough study experience, we suggest pairing this Praxis II Middle School Mathematics practice test with our companion study guide. However, this 100 percent free tool should fit well into your study plan no matter how you choose to use it.
Praxis Middle School: Math Practice Test
Click Here for Praxis II Practice Test