Those who are interested in a career in music education at any grade level will need to take the Praxis Music Content Knowledge Exam as part of the licensing and certification process. The test will measure a candidate's competency and skills in music history, literature, theory, practice, and instruction.
When Can I Register for the Praxis Music Content Knowledge Exam?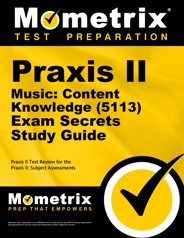 The test is offered continuously throughout the year at testing centers located across the country. So you can register whenever you want to. However, seats are given on a first come, first serve basis so it's important to register as early as possible to make sure you get the date, time, and location that you prefer. If possible, try to register about 6 to 8 weeks in advance. This will also give you plenty of time to review the material and prepare for the exam.
What Will I Be Tested on?
The exam covers four content areas within the field of music knowledge and about half of the questions in each section will involve listening to recorded musical excerpts while the other half will just be normal multiple choice questions. Take a look at the brief outline of the exam below:
Music History and Literature – 9 listening questions, 9 regular questions

The history of major developments, styles, and periods in music
The style of a variety of world music styles and their function in their cultures of origin
Various sources of printed and electronic information on music history and literature

Theory and Composition – 9 listening questions, 10 regular questions

Auditory analysis of music
Recognition of melody, harmony, and rhythm
How musical sounds vary
Interpretation and analysis of music in written form
Application of basic music theory concepts for composition, orchestration, and arranging instrumental and vocal parts

Performance – 12 listening questions, 15 regular questions

Critical listening skills
Ability to identify errors
Basic conducting techniques
Interpretation of notation and expressive elements of performance
Score markings and style periods
Basic accompaniment techniques
Strategies for preparing musical scores for rehearsal and performance
Instrumental and choral/vocal warm-up techniques
Instrumental and choral/vocal tuning and intonation techniques
Concert etiquette for performers and audiences
Effective techniques for communication with an audience in a performance setting
Practical relationship between acoustics and performance

Pedagogy, Professional Issues, and Technology – 56 regular questions

Instructional strategies for different class settings
Local, state, and national standards in planning and instruction
Classroom management techniqu3es
Planning and differentiating instruction
Accommodating diverse learning styles and abilities
Modifying instruction and accommodating student needs
Assessment strategies
Selecting appropriate repertoire for the classroom and for performance ensembles
Teaching vocal production and performance techniques
Teaching instrumental techniques
Common vocal and instrumental performance challenges
Organizing and preparing concert programming
Promoting care and maintenance of instruments and materials
Common pedagogical approaches
Developing sight-reading skills
Teaching improvisational techniques
The way the exam is structured, you will first respond to all of the listening questions across all four categories. After you've completed that, you will then answer all of the regular questions across all four categories.
What Is the Minimum Passing Score?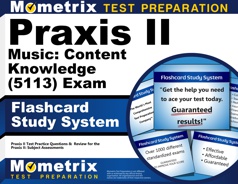 Even though this exam is used across almost the entire country, there is no federal standard so each state and territory is responsible for setting its own minimum passing score. What this means for you is that you'll need to check with the certification board in the state where you want to teach to find out what score you will need to pass.
What's the Best Way to Prepare for This Test?
To succeed on this exam, you will need to spend a few weeks reviewing music history, literature, theory, and teaching standards. This is a lot to tackle in a short amount of time. So the best way to make sure you cover everything is to get the Mometrix Study Guide and Mometrix Flashcards.
These study aids have been meticulously crafted by a team of experts who know music and especially know the Praxis Music Content Knowledge Exam. So by using the guide and flashcards, you can rest assured that you are getting all of the essential information in a way that is geared to help you both understand and apply it in the way that the test will ask you to.
You'll get easy to follow explanations, tons of practice questions, studying tips, and proven test taking strategies. By the time test day arrives, you'll be fully prepared to pass this exam and take the next step toward your career in music education!