The Praxis Physical Education: Content Knowledge Exam is used to assess a test taker's understanding of the knowledge and skills essential for a career in physical education. Candidates usually take this test shortly after (or right before) completing their bachelor's degree in physical education, exercise science, or a similar field.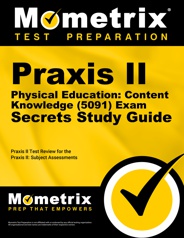 How Should I Prepare for Test Day?
In order to make sure you are relaxed and ready to perform your absolute best on test day, follow these guidelines:
Dress comfortably and bring a light sweater or jacket that you can take on or off as necessary during the exam.
Eat a nourishing breakfast before your test.
Arrive at least 30 minutes before your appointment to check in.
Avoid complications during check in by leaving prohibited items at home or in the car. This includes all electronics, bags, study materials, food, or beverages. Basically, just bring in your ID and leave everything else.
If you require any special accommodations on test day for a disability or another issue, you should make these arrangements when you register.
What Material Will Be Covered on the Test?
There will be a total of 120 multiple choice questions covering four main content areas relevant to your career in physical education. Take a look at the overview below to get a better idea of what you'll be expected to know on exam day:
Content Knowledge and Student Growth and Development – 36 Questions

Core concepts in anatomy and physiology, exercise physiology, biomechanics, kinesiology, motor development, and movement
Current and historical trends in physical education
Liability and legal considerations
Developmentally appropriate learning and practice opportunities
Appropriate and effective instruction based on students' cultural and ethnic backgrounds, personal values, home environments, and family structures

Management, Motivation, and Communication – 30 Questions

Principles of classroom management
Psychological and social factors that affect learning and performance.
Organization and allocation of resources to provide equitable learning experiences for all students
Motivating students and promoting positive relationships
Effective verbal and nonverbal communication
Communicating with respect and consideration to students, parents, and colleagues

Planning, Instruction, and Student Assessment – 30 Questions

Teaching skill movement, physical activity, and fitness
Applying movement concepts and effective strategies for learning in physical education
Current trends, laws, and issues affecting appropriate physical education activities
General and specific safety guidelines and injury prevention procedures
Accurate assessment of student skills, performance, and fitness
Appropriate assessment for students with disabilities
Accurately and fairly interpreting assessment results.

Collaboration, Reflection, and Technology – 24 Questions

Current educational issues
Interdisciplinary integration of knowledge and skills
Designing, developing, and implementing student learning activities that use information technology
Use of technology in communication, instruction, assessment, record keeping, etc.
What Score Do I Need to Pass?
While the Praxis Physical Education: Content Knowledge Exam is used in all states, the minimum score requirements are different depending on which state you will be teaching in. You'll need to check with the state certifying board in the state where you plan to work to find out what score you need to pass.
The score is transferable so if you aren't yet sure which state you will be teaching in, find out the score requirements for all the states you are considering and then aim to achieve the highest score required. This way, you'll be qualified to teach in any state you choose.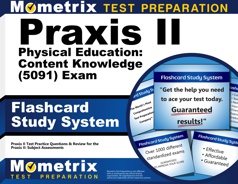 Do I Need to Study for the Praxis Physical Education: Content Knowledge Exam?
The short answer: definitely. Even if you feel confident in your understanding of all the concepts mentioned in the outline above, it's still worth spending at least a couple of weeks reviewing everything to make sure you are not just familiar with the material but know it backwards and forwards.
The best way to gain that level of mastery over the material is to use the Mometrix Study Guide and Mometrix Flashcards. These study aids have been crafted by a team of experts who know this material and know this exam. They've written easy to understand chapters that explain all of the core concepts you will need to know. Plus, they also come with proven test-taking strategies that you can use to get through all 120 questions, even when you encounter one that stumps you.
The flashcards are especially useful for people on a tight schedule. If you don't have a lot of time to spend studying, take the flashcards with you and squeeze in a few minutes of studying whenever you can. A few minutes here and there throughout the day will add up and ensure that the material stays fresh in your mind.