There's no skill more important than literacy, yet unfortunately there still remains a small percentage of the American population that struggles with reading. As a reading specialist, it will be your job to help close this gap, whether you're working with children or adults. Before you can get started in this important career, however, you have to first earn a passing score on the Praxis II Reading Specialist exam.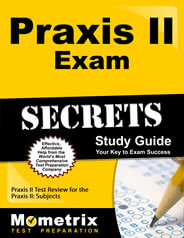 Prepare with our Praxis II Study Guide and Practice Questions. Print or eBook. Guaranteed to raise your score. Get started today!
Mometrix Test Preparation specializes in study resources designed to help you conquer any exam.
Our Praxis II Reading Specialist #5301 practice test is no exception.
On this mock test, you will find content very similar in format to what will appear on the full exam, including Praxis II reading specialist practice questions featuring such knowledge categories as: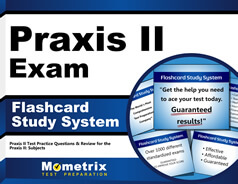 Praxis II Flashcards. Proven Praxis II test flashcards raise your score on the Praxis II test. Guaranteed.
Analysis of Individual Student Case Study
Assessment and Diagnostic Teaching
Professional Learning and Leadership
Leadership Skills and Specialized Knowledge of Pedagogical Principles and Instructional Practices
Reading and Writing Development
You can use this Praxis II reading specialist practice test either standalone or alongside our Praxis II Reading Specialist study guide.
Praxis Reading Specialist Practice Questions
Click Here for Praxis II Practice Test