Reading is one of the most important skills to master, which is why beginning readers need only the most competent teachers. Enter the Praxis II Teaching Reading: Elementary Education exam, designed to evaluate the readiness of incoming reading teachers across the United States.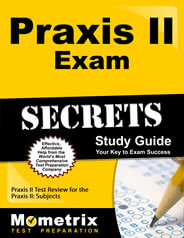 Prepare with our Praxis II Study Guide and Practice Questions. Print or eBook. Guaranteed to raise your score. Get started today!
If you want to score well on this important exam, you'll have to be as prepared as possible. To help guide you toward success, the Mometrix Test Preparation team would like to offer you our Praxis II Teaching Reading: Elementary Education (5203) practice test.
This free study tool is designed to help familiarize you with the test's material. The exam's questions branch into three subjects, two of which have their own subtopics.
The first is Writing in Support of Reading (27 percent), the umbrella subject for Reading and Writing as Tools for Inquiry and Research and Interdependence of Reading and Writing Development.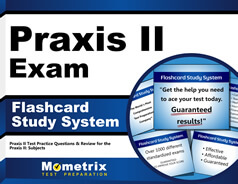 Praxis II Flashcards. Proven Praxis II test flashcards raise your score on the Praxis II test. Guaranteed.
The second is Reading Development (46 percent), which covers Reading Comprehension Strategies Across Text Types, Phonemic Awareness and Oral Language Development, Development of Reading Fluency and Reading Comprehension, Word-Analysis Skills and Vocabulary Development, and Phonics and Alphabetic Principle.
The third and final topic is Assessment and Diagnostic Teaching of Reading (27 percent).
We hope you will choose to incorporate our Praxis II Teaching Reading: Elementary Education practice test into your study plan. It pairs best with our corresponding study guide.
Click Here for Praxis II Practice Test