The world is such an old planet, it's no surprise it possesses an extensive history. A similar notion goes for the United States, which—while a relatively young country—has a deeply complicated past.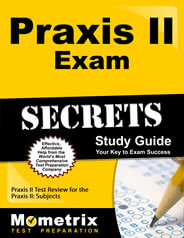 Prepare with our Praxis II Study Guide and Practice Questions. Print or eBook. Guaranteed to raise your score. Get started today!
If you're planning to teach these subjects, there is not only a lot of information you must absorb, but be able to effectively pass on to your students. The Praxis II World and US History exam is meant to assess both of these elements of your teaching ability.
The Mometrix Test Preparation team wants to see you succeed. To ensure you're able to earn the best score possible on this important exam, we want to present you with our Praxis II World and U.S. History: Content Knowledge #5941 practice test.
Designed through careful observation of the full test's contents, this practice test features Praxis II world and u.s. history practice questions pertaining to: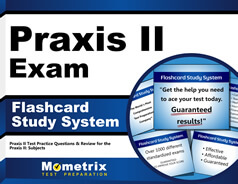 Praxis II Flashcards. Proven Praxis II test flashcards raise your score on the Praxis II test. Guaranteed.
Historical Thinking Skills
World History to 1450 C.E.
United States History: 1877 to the Present
United States History to 1877
World History: 1450 C.E. to the Present
All of these topics are vital to your success as a World and US History teacher.
This Praxis II world and u.s. history practice test is 100 percent free and is best used in conjunction with our companion study guide.
Click Here for Praxis II Practice Test