Most states across the US will require you to take and pass the Praxis World and US History Content Knowledge exam before becoming a teacher of that subject at the secondary level. In order to succeed on this exam and in your career, you'll need an expert level grasp of world history spanning from about 8000 BCE to today and American history from pre-Columbian civilizations until now.
What Should I Do on Test Day?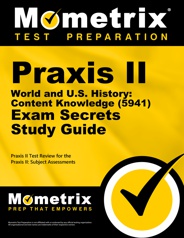 The Praxis World and US History Exam is offered during five testing windows available throughout the year, each one about two weeks long. So you'll have to pick an appointment within a testing window that is far away enough that you have enough time to prepare.
Because it's not available year round, it is extremely appointment that you don't miss your appointment. Plan in advance to show up 30 minutes. Make sure you account for traffic, even if none is reported. And, above all, make sure you wake up early enough that you have enough time to arrive early without rushing or stressing out. You want to be punctual, but you also want to be calm, confident, and ready to knock this test out of the park.
Make sure you eat a satisfying, but not too heavy, breakfast and to dress in layers so that you can stay comfortable at the testing center even if the room turns out to be either too cold or too hot. Before leaving the house, double check that you have your valid, government-issued ID and your test admission ticket.
What Do I Need to Know for the Praxis World and US History Test?
You'll be tested on your knowledge within four key time periods as well as your ability to think critically about and teach that historical knowledge to your students. These five sections will each have about 30 questions for a total of 120. Take a look below for a quick overview of the content you'll be expected to know:
World History to 1450 CE
World History from 1450 CE to Present
US History to 1877
US History from 1877 to Present
Historical Thinking Skills
All questions are multiple choice questions, and you will have two hours to complete the entire exam. This gives you about a minute per question, so it's important that manage your time effectively.
When Will I Find Out If I Passed?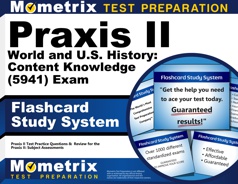 Right after you take the test! Your unofficial score will be available as soon as you complete the exam. So you'll know right away whether you need to retake the exam or not and you can schedule that retake, if necessary, right there at the test taking center. Your official score report that you can use for verification purposes when applying for teaching positions will arrive about two weeks later.
Whether or not you "passed," however, actually depends on the state where you plan to teach. There isn't a nationwide minimum score necessary so you'll need to check with the certification board in the state to find out what score you should be aiming for.
How Should I Prepare for the Praxis World and US History Exam?
The bulk of your study time should be spent really making sure that you have a thorough grasp of the history that will be covered on this exam. However, do not neglect the other skills you will need for this exam. The fifth section is less about knowing specific dates or events and more about your ability to analyze the significance of those events and cultivate an understanding and interest in history for your students.
Moreover, you'll need general test-taking skills such as quick recall and effective time management. So it's very important to plan out your study sessions carefully to make sure you are spending that time in the most efficient way possible. To help you with that, use the Mometrix Study Guide and Mometrix Flashcards. These study aids will not only be a great resource for reviewing all five core content areas, they'll also provide you with plenty of extra tools for a well-rounded and comprehensive study plan.
You'll get tips for building a custom study schedule that is tailored to your exact needs. You'll be able to use the flashcards to work on your memory and recall speed. And you'll even get tons of practice questions where you can apply your knowledge to exactly the kinds of questions you're likely to see on the test!