The Property Casualty Test accredits licensed insurance agents to sell property and casualty insurance. Property and casualty insurance is sold to businesses and individuals to cover worker's compensation; employee benefit payouts; and financial losses from events such as fires, floods, and accidents.
Candidates are given four hours to complete the Property Casualty Exam, which is almost always taken on a computer. Candidates can register to take the test online. The Property and Casualty Sections are separated on the exam.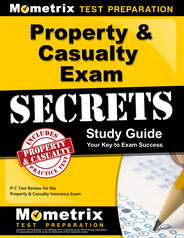 Prepare with our Property and Casualty Online Study Guide and Practice Questions. Print or eBook. Guaranteed to raise your score. Get started today!
The eight main topics in the Property Section are:
Insurance regulation
General insurance knowledge
Property insurance basics
Dwellings
Homeowners
Commercial package policy
Business owners
Other insurance types
There are also eight basic topics covered in the Casualty Section: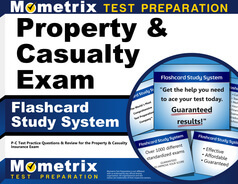 Property and Casualty Online Flashcards. Proven Property and Casualty Online test flashcards raise your score on the Property and Casualty Online test. Guaranteed.
Insurance regulation
General insurance
Casualty insurance
Homeowners
Auto
Commercial package policy
Business owners
Other forms of insurance coverage
Property & Casualty Insurance Exam
Individuals seeking their property and casualty insurance license must complete some prerequisite class time hours, along with passing the Property Casualty Test. Candidates may register for the Property Casualty Test before completing their education hours; however, they cannot actually sit for the exam until these hours are completed.
Here are some basic steps to getting your Property and Casualty Insurance License:
Get your Property Casualty Test application online and pay the necessary fees.
Have your application notarized.
Obtain your examination permit, which is valid for 90 days.
Schedule a test time. You must have your permit in hand to schedule a test date.
Obtain proof of your educational prerequisite (36 hours of approved education).
Bring proof of prerequisite, a photo ID, and exam registration confirmation number to the test site.
After you have passed the test, complete your license application.
Provide the necessary materials for a criminal background check.
It is highly recommended that Property Casualty Test candidates take plenty of time to study before the exam. Many tools, books, and online resources are available to help candidates study for the Property and Casualty Insurance Exam.
If you fail the Property Casualty Test, you can retake it. However, some states may require you to wait 60 days before retesting if you have already failed the exam twice.
Laws governing insurance licensure vary from state to state, so individuals looking to receive their property and casualty insurance license should research the rules that apply to them.
Property and Casualty Insurance Study Guide
Explore our free Property and Casualty Insurance review provided by Mometrix. Check out our premium Property and Casualty Insurance study guide to take your studying to the next level. If you benefit from these materials, just click the link below!
To compliment our Property and Casualty Insurance book, we also offer extensive Property and Casualty Insurance flashcards for even more Property and Casualty Insurance test prep help. We hope you enjoy our products! Your purchase helps us make more great, free Property and Casualty Insurance certification content for test-takers just like yourself.