Pearson VUE administers several real estate sales exams across the United States, including state-specific exams designed for realtors and brokers, as well as a national exam for real estate salespersons and brokers. Depending on the state in which you live, the specifics of your real estate sales exam may differ; however, commonalities exist between real estate sales exams, and the national exam is necessary for most candidates seeking licensure as realtors, salespeople, and brokers. Make sure to check with your state's real estate board or commission to ensure you are taking every necessary step toward becoming a licensed realtor or broker.  
How do I register to take the Real Estate Sales Exam?
Candidates who desire to become licensed realtors, salespeople, or brokers must complete all pre-licensure coursework and education before applying to sit for the real estate sales exam. Again, every state has its own specific requirements for licensure in the real estate field; however, to take the national exam, you will want to have completed relevant education before registering and reserving your seat via the Pearson VUE website. In the State of Texas, for instance, candidates must submit a broker or real estate salesperson licensure application to the Texas Real Estate Commission (TREC) before registering for the exam. Once candidates receive notification of their eligibility, registration for the exam is possible via the Pearson VUE website or by calling Pearson VUE. Electronic fingerprinting is also required in multiple states, including Texas.
How much does the Real Estate Sales Exam cost?
Fees for the various real estate exams required nationally and by state vary; in the State of Texas, the fee is $54 for the real estate sales exam. Make sure to check with your particular state to determine what fees you will be assessed.
What is the passing score for the Real Estate Sales Exam?
Because there are multiple versions of each real estate sales exam, at the state level and nationally, there are multiple scoring criteria. Make sure to check with your state to ensure you understand the scoring criteria. At the completion of the exam, you will receive an immediate 'pass' or 'fail' score, and official score reports are generally available, depending on the state, within 5-10 business days.  If you need to retake the exam, you can register to do so after waiting at least 24 hours.
What does the Real Estate Sales Exam cover?
The national real estate exam, designed for sales agents and brokers, consists of 80 scored multiple-choice questions that cover several imperative areas. The national exam also contains 5 pretest questions that are un-scored. Because you will not be able to tell the difference between un-scored and scored questions, make sure to answer each item to the best of your ability. The following outline provides the categories and general content for each area assessed on the national real estate exam:
Real property characteristics, property use, and legal descriptions

Real property versus personal property
Real property characteristics
Legal descriptions
Encumbrances, and public and private land use

Forms of ownership, including title transfers and recording

Ownership, rights, interests, and estates
Deed, title, recording and transfer of title

Appraisal and property value

Concept of value
Appraisal process
Methods of estimating value, Broker Price Opinions (BPO)

Real estate contracts and agency

Types of contracts
Elements of valid contracts
Contract performance
Sales contract
Licensee-client relationship, types of agency
Creation and termination of agency
Parties of a transaction, licensee obligations

Real estate practice

Responsibilities of brokers
Brokerage agreements
Fair Housing
Risk management

Property disclosures and environmental issues

Property conditions, environmental issues
Disclosure obligations and liability

Financing and settlement

Financing concepts, components
Lender requirements
Federal financing regulations, regulatory bodies
Settlement and closing transactions

Real estate math calculations

Property area calculations
Property valuation
Compensation and commission
Loan financing costs
Settlement costs
Investment
Property management calculations
Test Preparation
Now that you know the basic expectations and general content of the Real Estate Sales Exam, your next step is preparation. The best means of passing the Real Estate Sales Exam on your first attempt is to thoroughly prepare using the most comprehensive test preparation materials you can find. For test-takers like you, Mometrix Test Preparation has designed the Real Estate Sales Exam Secrets study guide. The Real Estate Sales Exam Secrets study guide includes authentic practice test questions, along with expertly written tips for improving memory, reducing test anxiety, and enhancing overall test performance.  In addition to the Real Estate Sales Exam Secrets study guide, Mometrix offers the most comprehensive Real Estate Sales Exam Flashcards. Read the Real Estate Sales Exam Secrets study guide, test your knowledge with the Real Estate Sales Exam Flashcards and practice test questions, and pass the Real Estate Sales Exam on your first attempt.  

Real Estate Sales Flashcards. Proven Real Estate Sales test flashcards raise your score on the Real Estate Sales test. Guaranteed.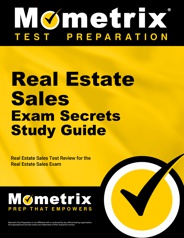 Prepare with our Real Estate Sales Study Guide and Practice Questions. Print or eBook. Guaranteed to raise your score. Get started today!