People with physical disabilities can need help in any number of areas, including mobility, hearing or motor skills. But what technology is best suited to help improve their lives? Trained professionals can help select the best technology solutions. Those professionals have likely taken, and passed, a certification exam that attests to their expertise in the areas of assistive technology.
The Rehabilitation Engineers and Assistive Technology Society of America (RESNA) offers the Assistive Technology Professional (ATP) Examination. It's a 200-question test, and those who pass have demonstrated their knowledge in their field. Here, you'll find information about the exam.
Where can I take the RESNA Assistive Technology Professional test? How long do I have to complete it?
RESNA uses tests centers to administer the exam. There are more than 600 test centers across the country, and candidates can locate the one closest to them with their zip code. Candidates have four hours to complete this computer-based exam.
Candidates, at the end of the test, will receive a preliminary grade. This test is graded on a pass/fail basis. The pass/fail is determined by a cut score. Candidates must pay a $100 application fee and a $500 exam fee.
Candidates who fail the exam may retake it as often as they need. There is a $250 fee for test retakes taken within the one year of the last test sitting.
Can anyone take the exam?
No. Candidates must meet educational and work requirements that greatly vary. For example, a candidate with a high school diploma or GED must have 6,000 hours of experience in 10 years and 30 hours of assistive technology training. A candidate with a master's degree in special education must have 1,000 hours of experience in six years. Make sure to closely check the requirements.
Once they receive approval to take the exam, candidates have a 90-day test window. Candidates may reschedule their exam for a $25 fee. Candidates who cancel their test may be eligible for a partial refund of fees. The initial certification is good for two years. There is a $150 recertification fee for an additional two-year period.
What are the RESNA Assistive Technology Professional Examination test categories?
The test has five categories, each of which test a broad range of knowledge.
Assessment of need is 29 percent of the exam, and it tests several items that include:

Assessing client needs and expectation
Records and plans review
Understanding environmental factors, including behavioral, educational, and physical, that relate to using assistive technology
Prioritizing goals/needs
Matching the right assistive technology based on abilities and limitations

Development of intervention strategies, action plan covers approximately 29 percent of the test, and includes these items:

Integrating feedback, from the client and team members, during trial opportunity
Training support needs (identifying or assisting)
Matching technology features with client functional abilities and preferences
Comparing current or previously used technology with technology under consideration

Implementation of Intervention (once funded) covers 23 percent of the exam and includes:

Training clients how to properly use the equipment
Educating client on device warranty, maintenance and other needs
Product verification for several factors including safety and quality

Evaluation of Intervention (follow-up) is about 19 percent of the exam and covers troubleshooting equipment, outcome documentation and other subjects
Professional conduct involves, among other things, being compliant with RESNA's code of ethics.
What are the test center policies and procedures?
Make sure to arrive early on test day — at least 15 minutes — because any candidate more than 15 minutes late won't be allowed to take the test. Bring your test confirmation information and one form of government identification that contains your photo and signature. Remember, the name on your government ID must exactly match the name on your test confirmation letter. No personal items of any kind — food, drink, electronic devices, jackets, hats — will be allowed in the testing room and must be placed in a locker at the testing center.
This sounds like a lot to study for. What study tools would you recommend?
Mometrix has an excellent study guide that can help you prepare for the RESNA Assistive Technology Professional Examination. The guide, written by professionals in the test-taking field, will help you understand the parts of the test that tend to be most problematic for candidates. Our flashcards are another excellent study tool that makes it easy to study on the go. Have a few minutes at a coffee shop? Pull out the flashcards for a few minutes of study. These are excellent tools.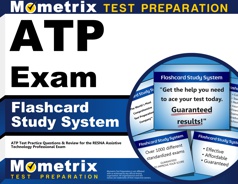 ATP Flashcards. Proven ATP test flashcards raise your score on the ATP test. Guaranteed.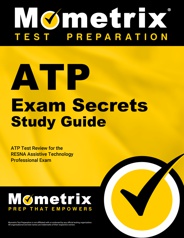 Prepare with our ATP Study Guide and Practice Questions. Print or eBook. Guaranteed to raise your score. Get started today!