The Registered Health Information Technician (RHIT) credential is a professional certification necessary for a career as a health information technician. The RHIT exam is administered by the American Health Information Management Association (AHIMA).
Who is Eligible to Take the Exam?
You must apply to the AHIMA and receive approval before registering to take the exam.
Both online and paper applications are accepted.
You must meet one of the following academic eligibility requirements:
Complete the academic requirements for an associate's degree in a health information management (HIM) program accredited by the Commission on Accreditation of Health Informatics and Information Management Education (CAHIIM).
Be a student enrolled in your final term of study in a CAHIIM-accredited RHIT program. You are considered eligible to take the exam if you have completed your coursework but have not yet graduated or if you have graduated and are waiting for your official transcripts.
Graduate from an HIM program approved by a foreign association with which AHIMA has a reciprocity agreement.
How Do I Schedule My Exam?
Applicants who are approved will receive a letter with information about scheduling their exams.
You may cancel and reschedule the exam up to 15 days before to the scheduled exam date at no charge. Rescheduling or cancelling between 14 days and 24 hours prior to the exam date will result in a $30 charge. You cannot reschedule an exam less than 24 hours before the exam time.
If you fail to appear for the scheduled exam or are more than 15 minutes late, you will not be allowed to take the exam and will forfeit exam fees.
What Do I Need On Exam Day?
You will need to arrive at least 30 minutes before your scheduled exam time. You must present a primary form of identification containing your signature and picture and a second form of identification showing your signature. You may not bring a calculator, cell phone, or any other electronic devices.
You will receive a score report immediately following the exam and can view and print a certificate online.
What is the Format of the Exam?
The RHIT exam consists of 130-160 multiple-choice questions, including 20 pretest questions that appear randomly throughout the exam and are not scored. You will be given 3.5 hours for the exam.
What is the Content of the Exam?
The RHIT exam questions are distributed as follows to evaluate your knowledge and abilities across seven domains including the following tasks:
Data Content, Structure, and Information Governance (19%-25%)
Access, Disclosure, Privacy, and Security (14%-18%)
Data Analytics and Use (12%-18%)
Revenue Cycle Management (19%-25%)
Compliance (13%-17%)
Leadership (9%-12%)
What's the Best Way to Prepare for the RHIT Exam?
Be prepared for the RHIT exam! Mometrix study guides and flashcard study systems are painstakingly researched and written to help you achieve a passing score. Together, the RHIT Exam Flashcards Study System and the RHIT Exam Secrets Study Guide will help you master the test-taking strategies you need and learn how best to apply the knowledge you already have to have a successful exam day.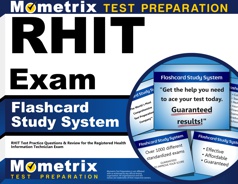 RHIT Flashcards. Proven RHIT test flashcards raise your score on the RHIT test. Guaranteed.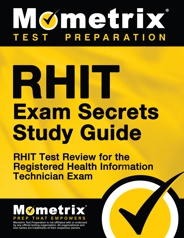 Prepare with our RHIT Study Guide and Practice Questions. Print or eBook. Guaranteed to raise your score. Get started today!