A medical assistant is someone who performs clinical and administrative tasks in a health care environment. These tasks can vary between greeting clients, scheduling appointments, conducting follow-ups, filing, billing, and updating patient records.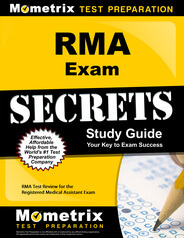 Prepare with our RMA Study Guide and Practice Questions. Print or eBook. Guaranteed to raise your score. Get started today!
Although some physician's offices may provide on-the-job training, most people who are interested in working in this field need at least a two-year associate's degree or one-year certificate from a vocational or technical school. There are many advantages to getting a diploma or certificate in the field, including advancement opportunities and a higher medical assistant salary.
The certification for medical assistants, offered by the American Association of Medical Assistants (AAMA), is a credential that shows competence in the field. The AAMA is regarded as holding the highest standards in the profession. The certified medical assistant (CMA) collects data regarding patients' physical, psychological, spiritual, cultural, and social needs.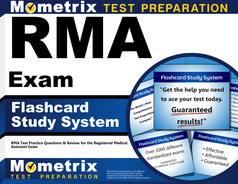 RMA Flashcards. Proven RMA test flashcards raise your score on the RMA test. Guaranteed.
The CMA records and reports information to a physician concerning a patient's condition and his or her reactions to medications or treatments. He or she prepares patients for examination, procedures, and treatment. The CMA obtains patient histories and vital signs and assists the physician during treatment, examination, and testing of patients.
Some CMAs provide instructions to patients and their families regarding medications and treatment or prepare and maintain supplies, equipment, and examination rooms. The CMA is a member of the clinical team and should be able to function in any area of the clinic.
To qualify for the exam, the applicant must have completed an accredited medical assisting program. This exam is offered at testing sites throughout the country with a cost of about $125 for AAMA members. It is recommended that candidates recertify every 60 months in order to ensure their continued competency and knowledge.
RMA Study Guide
Explore our free RMA review provided by Mometrix. Check out our premium RMA study guide to take your studying to the next level. If you benefit from these materials, just click the link below! To compliment our RMA book, we also offer extensive RMA flashcards for even more RMA test prep help. We hope you enjoy our products! Your purchase helps us make more great, free RMA certification content for test-takers just like yourself.