A doctor's office needs a lot of parts to make it run smoothly for patients. Registered Medical Assistants are an important part of any practice. These professionals carry out a wide array of duties that can include showing patients to examination rooms, handling insurance company inquiries, and scheduling appointments. Those who want to be in this field must pass the Registered Medical Assistant Certification exam, which is administered by the American Medical Technologists association. What's on the exam? What are the best study guides I can get to help me prepare? This guide provides the answers.
What are the eligibility requirements to take the Registered Medical Assistant Certification exam?
Candidates must meet one of four criteria involving education, military service, work or teaching experience. Please consult the American Medical Technologists website for specifics.
What is the fee to take the exam?
The exam fee is $120.
How many questions are on the exam?
The exam has 210 questions.
How long does it take the complete the Registered Medical Assistant Certification exam?
The exam test time is two hours.
What's on the test?
The exam contains three main sections:
General Medical Assisting Knowledge. Topics covered include body systems, including reproductive, nervous, and respiratory; factors that influence wellness, including nutrition and exercise; defining and spelling medical terms; medical law and ethics, including consent and disclosure laws and proper ethical practices; patient and interpersonal relations; patient education and instruction in various areas, including hygiene, treatment and medication, and safety; medical laws and regulation; and the Patient Bill of Rights.
Administrative Medical Assisting. Topics include insurance terminology and plans; insurance claims; coding; bookkeeping, including terminology, patient billing, and collections; office accounting procedures; maintaining fee schedules; understanding bankruptcy and small claims and collection procedures; understanding payroll procedures and records; how to treat patients; maintaining confidentiality; scheduling; chart and records management; and office safety.
Clinical Medical Assisting includes medical and surgical asepsis; sanitizing equipment, the examining room, and instruments; disinfecting equipment and instruments; sterilizing solutions; keeping sterilization record logs; identifying instruments, like forceps and scissors; understanding blood pressure, pulse, and respiration; procedures for taking temperature, including oral and rectal; physical examinations, including obtaining medical history, examination methods; pediatrics; obstetrics and gynecology; terminology in clinical pharmacology; and prescriptions and drugs.
Where can I take the test?
The American Medical Technologists association has contracted with a private testing company to deliver the Registered Medical Assistant Certification exam to candidates. There are hundreds of locations across the country.
When can I take the test?
Candidates can take the exam every day, except Sundays and certain holidays.
When should I arrive at the test center to take the Registered Medical Assistant Certification exam?
Please arrive at least 30 minutes before your exam time so you have plenty of time for check-in procedures. Any candidate who arrives late may not be allowed to take the exam.
What type of identification will I need on test day?
Please bring two forms of identification. One must have your photo, and both must contain a signature. A driver's license, passport, or state-issued ID are all acceptable.
Will I need to bring a calculator on test day?
No. Calculators are not permitted.
What is the passing score?
The scores have been converted to a 0-100 scale. The minimum passing score is 70.
When will I receive my test scores?
Candidates will receive their scores at the conclusion of the exam.
What if I fail the test?
Candidates may retake the exam provided they wait at least 45 days after their previous attempt. Candidates can take the test a maximum of four times during their lifetime.
I need outstanding study materials to help me prepare for the Registered Medical Assistant Certification exam. What do you suggest?
The study materials from Mometrix are the best you can get. Our study guide contains a comprehensive study review of the topics that include the human nervous system, the lymphatic system, managed care, coding tools, and dozens of additional topics. Our flashcards are the perfect portable study tool that helps you quickly solve difficult test questions. These portable cards make it easy to study anywhere. These are the materials you need to help you prepare for this difficult exam.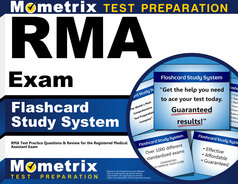 RMA Flashcards. Proven RMA test flashcards raise your score on the RMA test. Guaranteed.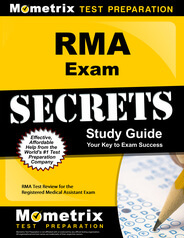 Prepare with our RMA Study Guide and Practice Questions. Print or eBook. Guaranteed to raise your score. Get started today!