The School Nurse certification indicates specialization in the care of school-age patients with an emphasis on nursing care and interventions of those specific problems which affect this population. School Nurses are employed by school districts to provide nursing care and medication administration within the elementary and secondary schools, as well as at the collegiate level.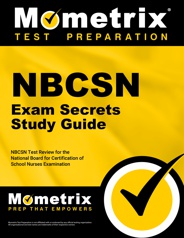 Prepare with our NBCSN Study Guide and Practice Questions. Print or eBook. Guaranteed to raise your score. Get started today!
In order to take the School Nurse certification exam, the applicant must be a licensed Registered Nurse who is currently employed in the field of school nursing. Though not required, it is recommended that the RN completes at least 3 years of employment as a School Nurse before taking the certification exam.
Once the application for the School Nurse certification exam has been processed, a 2-week window will be assigned in which the RN can take the exam. This 2-week window is available in the Winter and Summer only. The exam is offered at testing centers throughout the United States. The fee to take the School Nurse certification exam is $275 for all applicants.
The NBCSN exam consists of 250 multiple-choice questions and the RN is allotted 4 hours in which to complete the exam.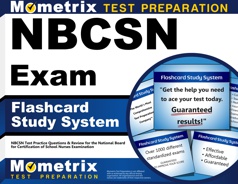 NBCSN Flashcards. Proven School NBCSN test flashcards raise your score on the NBCSN test. Guaranteed.
The exam tests the RN's knowledge of the health problems that may commonly be seen in the school setting, along with nursing assessment and appropriate interventions in this population. There are also questions pertaining to ethical and professional issues.
The School Nurse certification is valid for 5 years. At the end of that time period, the licensed RN should have completed at least seventy-five (75) contact hours for recertification by continuing education. The fee to recertify is $175.
For more information regarding the School Nurse certification for licensed RNs, go to the National Board for Certification of School Nurses web page at www.nbcsn.com or the National Association of School Nurses web page at www.nasn.org.