Any person who works at a financial services firm that sells nothing but variable annuities and mutual funds, and wants to move up in the company, should take the Series 26 exam from the Financial Industry Regulatory Authority. The official name of the Series 26 test is the Investment Company Products Variable Contracts Limited Principal Qualification Examination.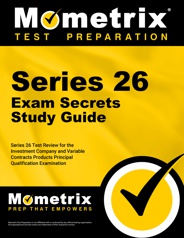 Prepare with our Series 26 Study Guide and Practice Questions. Print or eBook. Guaranteed to raise your score. Get started today!
In other words, it's the test you take in order to qualify to supervise and manage employees who sell mutual funds and variable annuities. Testing firms give the Series 26 test in offices all over the country; you should be able to take it on any day of the week except Sunday.
It costs $75 to register and take the test. Don't bother bringing note paper or a calculator, as you're not allowed to bring them in-they'll be provided by the testing center.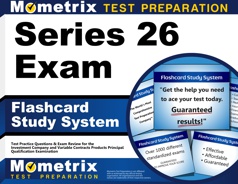 Series 26 Flashcards. Proven Series 26 test flashcards raise your score on the Series 26 test. Guaranteed.
The exam takes two and a half hours to complete, and you'll be asked to answer 110 multiple choice questions. In order to pass, you'll need to get at least 77 of them correct (70%). Since Series 26 is an exam designed to test you for overseeing sales reps, a big percentage of the questions will naturally be about hiring qualified candidates, training them, and managing and supervising their sales activities.
About half the questions will cover these subjects. In addition, you'll be tested on keeping good records, and the ins and outs of the laws covering the sales of mutual funds and variable annuities. The Series 26 exam can mean a significant boost to your responsibility and income over the life of your career, and with diligent study and proper test preparation there's no reason you can't pass it.