The Series 27 is the Financial Operations Principal exam geared toward licensing people who want to work as a financial operations manager at a Financial Industry Regulatory Authority (FINRA) member firm. This requirement falls under the Securities Investor Protection Act of 1970 and was created to protect investors as it relates to broker dealer financial responsibility.
No formal degree is required to take this exam or additional licenses. A candidate may have a FINRA member sponsor him or her for the test, or he or she can apply individually. It is important, however, to have broker dealer operations knowledge to be successful. Many times the person holding the Series 27 license will be the chief financial or operations officer of a firm.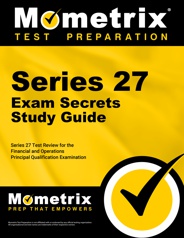 Prepare with our Series 27 Study Guide. Print or eBook. Guaranteed to raise your score. Get started today!
This job can be in a variety of settings and is primarily responsible for the legal and ethical standards of a FINRA member firm.
The Series 27 consists of 145 multiple choice questions. The test taker is given three and a half hours to complete the exam, and three to ten questions are pretest, which means they do not count toward the pass rate of the test.
The pass rate for the Series 27 exam is 70%, and the cost to take the test is $115. Calculators and scratch paper are not allowed in the testing center. A testing proctor provides all the items that are needed. The exam was designed using a bell curve, which means that the test begins with fairly easy questions and then progresses to more difficult. Toward the end of the exam, test questions get easy again.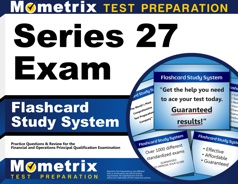 Series 27 Flashcards. Proven Series 27 test flashcards raise your score on the Series 27 test. Guaranteed.
There are seven sections to the Series 27 exam. The sections of the test are on record keeping and reporting, capital requirements, customer protection, municipal securities rule-making board regulations, federal reserve board regulations, uniform practice rules, and other relevant practices. The largest section of the exam is capital requirements.
Protecting the public is the primary concern of FINRA; therefore, the Series 27 exam tests on Securities & Exchange Commission (SEC) rules as they pertain to exemptions, confirmations of trades, and transmission of payments. Customer privacy and Securities Investor Protection Corporation (SIPC) rules are important to know. Insider trading and securities fraud rules and uniform practice codes are important to know.
The person who takes this exam is responsible for overseeing the safekeeping and preservation of records and broker deal financial reporting. This means that he or she is knowledgeable in how purchases and sales of securities are recorded as well as receipts and ledgers.
The person with the Series 27 license knows the number of years records should be preserved and how often reports and statements should be filed. Of course, the understanding of SEC rules such as 17a-8 and 17a-11 are important to know as well as FINRA and National Association of Securities Dealers (NASD) rules of conduct.
Click Here for Series Test Breakdown