The Series 3 license, otherwise known as the National Commodity Futures Examination, is required of a person to be able to sell commodities, future contracts, options, and hedging. These types of securities are considered to be the riskiest types of investments; therefore, a separate exam is required to determine eligibility to sell these instruments.
This very complex exam is not provided often, and the requirements to take the exam and registration process are equally as daunting. There are two parts to the Series 3 exam; the first part has eighty-five questions on market knowledge, and the second part has thirty-five questions on regulations.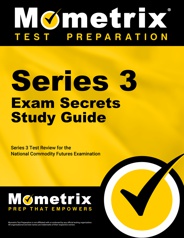 Prepare with our Series 3 Study Guide and Practice Questions. Print or eBook. Guaranteed to raise your score. Get started today!
Part 1 of the Series 3 tests competencies in the futures market and futures contracts. It also tests an individual's knowledge in hedging and speculative theory and terminology. Knowledge of margin requirements, price limits, and types of orders and accounts are required. Basic hedging, calculations, spreading, and options are provided on the Series 3 test.
Part 2 of the test covers topics such as commodity pool operator (CPO)/commodity trading advisor (CTA) regulations, arbitration procedures, and the Commodity Futures Trading Commission (CFTC) Commodity Exchange Act Enforcement. The test taker should be very familiar and knowledgeable with all aspects of commodity regulations and futures trading to be successful on this test.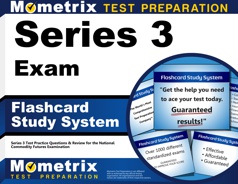 Series 3 Flashcards. Proven Series 3 test flashcards raise your score on the Series 3 test. Guaranteed.
The testing time for the Series 3 is two and a half hours, and it consists of 120 multiple-choice questions. The cost for the exam is $115, and the test taker must be sponsored by a Financial Industry Regulatory Authority (FINRA) firm. Besides this examination fee, other licensing fees may also apply. The Series 3 is administered by FINRA, which some people might remember as the National Association of Securities Dealers (NASD).
This multiple-choice test is administered any day of the week at sites across the United States as well as internationally. A 70% passing score is required on both parts of the exam. In addition, many agents take the Series 31, which allows the selling of managed futures, which are part of a mutual fund portfolio.
In some instances, a person may not be permitted to take the Series 3 exam but may be allowed to sit for other exams. Before registering for the test, test takers should check the National Futures Association (NFA) Web site for proficiency requirements.
In addition, exemptions may be permitted for some individuals, depending on the business of the firm. The NFA was established to help answer broker questions and to safeguard market integrity and protect investors industry wide.
Series 3 Study Guide
Explore our free Series 3 review provided by Mometrix. Check out our premium Series 3 study guide to take your studying to the next level. If you benefit from these materials, just click the link below! To compliment our Series 3 book, we also offer extensive flashcards for even more Series 3 exam prep help.
We hope you enjoy our products! Your purchase helps us make more great, free Series 3 certification content for test-takers just like yourself.
Click Here for Series Test Breakdown.