The Series 62 exam, otherwise known as the Corporate Securities Limited Representative Qualification Exam, is taken by candidates interested in becoming limited agents for corporate equities and debt securities. No prerequisite license or qualifications are required prior to taking the Series 62 exam.
It is provided by the Financial Industry Regulatory Authority (FINRA), and a candidate must have a FINRA member firm sponsor him or her to take the exam. Upon passing this exam, the registered representative may trade all stocks and bonds, warrants, rights, real estate investment trust (REITS), mortgage-backed securities, money markets, and closed-end investment companies.
The Series 62 is a comprehensive exam consisting of 120 multiple-choice questions. Candidates are given two and a half hours to complete the test, and a 70% is required for a passing grade. Testing centers by Prometrics administer the test electronically around the country with exam results provided immediately upon completion. As with most tests, the center administrator provides scratch paper and calculators if needed.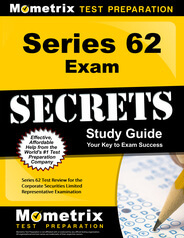 Prepare with our Series 62 Exam Study Guide and Practice Questions. Print or eBook. Guaranteed to raise your score. Get started today!
The Series 62 is sometimes compared to the Series 7 exam, although you should not expect any questions on mutual funds, options, or municipal bonds. A Series 62 license is not sufficient to trade open- and closed-end mutual funds or exchange traded funds. A person interested in taking this test usually wants to transact in corporate securities and or private placements. The Series 7 exam has almost double the question as the Series 62 (250 questions, with a passing score of 72%); however, both tests are equally as challenging.
The Series 62 exam is a more detailed exam, with topics on the NASDAQ marketplace, orders, and executions. The test questions for the Series 62 are based upon National Association of Securities Dealers (NASD) guidelines, whereas the Series 7 test is New York Stock Exchange (NYSE)-based.
Preparing for the test can be done many different ways, from buying or borrowing test books to paying a training center or private tutoring. There are typically four sections to the test, which cover topics on securities and investments, corporate securities in the marketplace, evaluations and customer accounts, and industry regulations.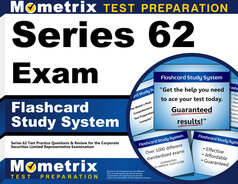 Series 62 Exam Flashcards. Proven flashcards raise test scores on the Series 62 exam. Guaranteed.
To perform well on the test, a person should have solid equity securities knowledge and experience. An equity security is either a common or preferred stock. In some cases, the test will use different words to describe the same thing (i.e., NASDAQ Market Center Execution System vs. NMCES), so be prepared to know your acronyms. Of course, as with taking any exam, make sure you read the question properly and look for key words or phrases that might be clues to the correct answer.
Series 62 Study Guide
Explore our free Series 62 review provided by Mometrix. Check out our premium Series 62 study guide to take your studying to the next level. If you benefit from these materials, just click the link below! To compliment our Series 62 book, we also offer extensive Series 62 flashcards for even more Series 62 test prep help.
We hope you enjoy our products! Your purchase helps us make more great, free Series 62 certification content for test-takers just like yourself.
Click Here for Series Test Breakdown