The Investment Company and Variable Contracts Representative Qualification Examination, or Series 6 exam, was developed by the Financial Industry Regulatory Authority (FINRA). The exam is given to determine whether an individual can successfully perform their job as an entry-level Investment Company and Variable Contracts Products Representative.
Q
Who is eligible to take the exam and how can I register?
A
There are no prerequisite requirements to take the Series 6 exam. However, an individual must be associated and sponsored by a FINRA member firm before they can take the Series 6 exam. It is the FINRA member firm that will file your application.
Q
How is the exam formatted?
A
The Series 6 exam is computer-based and consists of 105 multiple-choice questions. 100 of these questions are scored while the other 5 are pretest questions. Test-takers will have a total of 135 minutes to complete the exam.
Q
What is the passing score?
A
In order to pass the exam, a test-taker will need to score a 70%.
Q
What happens if I don't know an answer?
A
If you don't know the answer to a question, there is no penalty for guessing. It is better to answer every question than to leave questions blank.
Q
Will I be able to use a calculator?
A
Yes. A basic electronic calculator along with a whiteboard and dry erase markers will be provided to you by exam administrators.
Q
What will I be tested on?
A
The exam covers four major content areas:
Function 1 –

Regulatory fundamentals and business development (22 questions):

This section of the exam tests a person's knowledge of general industry regulations; registration, qualification, continuing education, and termination of employment of associated persons; permitted activities for non-registered and registered associated persons.
FINRA By-Laws: Includes definitions and qualifications to become a member; definition of disqualification; and ineligibility of certain people for Membership or Association.
FINRA Rules: This includes electronic filing requirements for uniform forms; registration requirements; associated persons exempt from registration; supervision; and reporting requirements.
Securities Exchange Act of 1934: Includes definitions and application of title; registered securities association; and fingerprinting of securities industry personnel.
Investment Advisors Act of 1940: includes registration of investment advisers; findings; and definitions of investment advisors as well as persons associated with an investment advisor.

Soliciting business by contacting and building relationships with customers and prospects through different forms of communication:

You will need knowledge of product definitions and classifications; appropriate use of professional designations; definition of regulated investment company by the Internal Revenue Code.
FINRA Rules: A candidate will need knowledge of communications with the public; telemarketing; customer account information; requirements for the use of investment analysis tools; and networking arrangements between members as well as financial institutions.
Securities Act of 1933: Topics will include fraudulent interstate transactions; communications not deemed a prospectus; and prohibitions relating to interstate commerce and the mails.
Investment Company Act of 1940: Includes general definitions; definition of investment company; exemptions; and classification of investment companies.

Products and Services:

The candidate should have knowledge of network arrangements; regulations related to marketing and/or prospecting; how to explain and deliver content as well as any other disclosures.
FINRA Rules: Include payments to unregistered people; use of manipulative, fraudulent; or other deceptive behavior; and SIPC information.
Securities Exchange Act of 1934: includes topics such as manipulative and deceptive devices; definitions of application, and employment.
Securities Act of 1933: Unlawful representations; definition and terms used in regulation D; and summary prospectuses.
Investment Company Act of 1940: Unlawful representations and names; investment company names.

Seminars and other public forms:

The candidate should have knowledge of regulations regarding communications with the public; standards and approval of communications; definitions of retail communications as well as other types of communications including public appearances and seminars.
FINRA Rules: 2210, and 2211.
Securities Act of 1933: includes topics such as generic advertising; and investment company sales literature.
Investment Company Act of 1940: Section 30(b), and rule 34b-1.

Function 2 (47 questions) –

Function 2 of the exam tests an individual's knowledge of evaluating customers' financial information; identifying investment objectives; providing information on investment products; and making suitable recommendations. The candidate must also have knowledge of disclosures and economic events.
FINRA Rules including but not limited to: 2010, 2090, 2111, 1230, 2000, 2040, 2060, 2111, 2150, 2320, 2330, 2330(b), and 2330(e).
Knowledge of types of underlying securities; tax considerations; and types of investment returns.
Securities Exchange Act of 1934: Section 3(a), 20A, 21A, rule 10b-5.
Securities Act of 1933: Promotion of efficiency; definitions; competition.
Investment Company Act of 1940: Change in investment policy; payments or distributions; offers of exchange.

Function 3 (21 questions) –

Function 3 focuses on opening, maintaining, transferring, and closing accounts and retaining appropriate account records.

FINRA Rules: 2090, 2251, 2267, 3150, 3250, 4510 Series, 11870.
NASD Rules: 2510, 3310
Securities Exchange Act of 1934: Rules 17a-3, 17a-3(a)(9), 17(a)-3(a)(17), Rule 17a-4, Rule 17a-4(b)(6), Rule 17a-8.
USA Patriot Act: Section 326, 314, 352

Function 4 (10 questions) –

This section focuses on obtaining, verifying, and confirming customer purchases and sale instructions.
FINRA Rules: 2232, 4514, 5310, 4510, 4515, 5310, and 10860
NASD Rules: Customer account statements.
Securities Exchange Act of 1934: Includes topics including but not limited to rule 10b-10; rule 17a-3 (a)(6) and (a)(7).
Federal Reserve Board: Regulation T – credit by brokers and dealers
Q
How can I prepare for the Series 6 exam?
A
The Series 6 exam may be complicated, but with the right study materials, you can pass with a grade you are proud of. Mometrix Test Preparation has designed both a detailed study guide and flashcards that contain all the information you will need in order to pass the Series 6 exam. You are even given sample questions that help you apply what you have studied. Mometrix is a great study resource for those taking the Series 6 exam.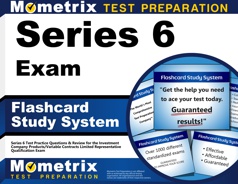 Series 6 Flashcards. Proven Series 6 test flashcards raise your score on the Series 6 test. Guaranteed.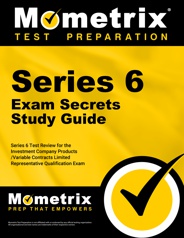 Prepare with our Series 6 Study Guide and Practice Questions. Print or eBook. Guaranteed to raise your score. Get started today!