If you are someone interested in providing limited investment advice or selling investment company securities, such as mutual funds, variable annuities, and unit investment trusts (UITs), the Series 6 license is a credential you can use to pursue such a profession.
The Series 6 exam is called the Investment Company/Variable Contracts Products Limited Representative Qualification Examination and is used to qualify persons seeking to become registered representatives under the Investment Company Act of 1940.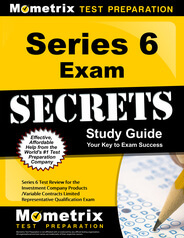 Prepare with our Series 6 Study Guide and Practice Questions. Print or eBook. Guaranteed to raise your score. Get started today!
The exam is divided into six sections and heavily weighted on questions that pertain to interactions with customers. There are approximately eight questions on securities markets, investment securities and economic factors; twenty-three questions on securities and tax regulations; eighteen questions on marketing, prospecting, and sales presentations; thirteen on evaluation of customers; twenty-six on product information, including investment company securities and variable contracts; and twelve on opening and servicing customer accounts.
Typically, a firm that is a Financial Industry Regulatory Authority (FINRA) member sponsors an individual to take the test. Registration and testing taking usually takes place close to the candidate's place of residence. A sponsoring firm may require a criminal background check before it endorses a candidate.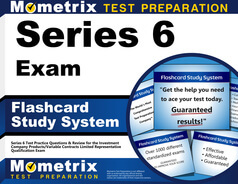 Series 6 Flashcards. Proven Series 6 test flashcards raise your score on the Series 6 test. Guaranteed.
The Series 6 exam consists of one hundred multiple-choice questions. The questions get progressively harder as the test taker progresses through the test. It is important to prepare for the test by using test booklets and study guides or by visiting training centers to help you become familiar with the subject matter.
The questions on the test are straight forward, with only one correct answer each. Each question undergoes a rigorous process to be admitted onto the test, and updates to the test are done periodically to reflect changes in industry standards. The Series 6 exam is computer generated, with random questions given.
Series 6 Exam Prep
Click Here for Series Test Breakdown.
Exactly one hundred questions contribute to a person's score; however, an additional five questions are given on the test, which are unscored. Each question is worth one point, and it takes a score of 70% to pass the exam. A candidate taking the test should try to answer as many questions as possible to get the highest score.
Although scrap paper is not allowed, a person is allowed to bring a calculator to the test, being that some questions require calculations. One of the great things about this test is that there is no waiting to get the results. As soon as you are done, the computer automatically calculates the number of answers you scored correctly. You will know immediately if you passed or failed the test. You will get a readout of how you performed on each topic area; however, for security reasons, your answers to exact questions are not provided.
A financial background or college degree is not a requirement of the test; however, prerequisite knowledge in investment securities and trading could be beneficial. Success in the field could also be attributed to someone who has an interest in helping people make money and save for the future.
It is important to know that the Series 6 is considered a limited license because the holder is restricted to providing only investment advice on the products licensed to sell. Many times, the holder will be asked to provide advice outside the scope of his or her qualifications, which will then jeopardize his or her license, and he or she could be barred from selling securities again. Many firms will audit the activity of their employees to protect themselves.
To find out more information on the administration of the Series 6 exam, you may contact any of these three agencies: Securities Exchange Commission, FINRA-formerly the National Association of Securities Dealers (NASD)-or the Securities Industry Council.
Series 6 Study Guide
Explore our free Series 6 review provided by Mometrix. Check out our premium Series 6 study guide to take your studying to the next level. If you benefit from these materials, just click the link below! To compliment our Series 6 book, we also offer extensive flashcards for even more Series 6 exam prep help. We hope you enjoy our products! Your purchase helps us make more great, free Series 6 certification content for test-takers just like yourself.
Click Here for FINRA Series Tests