The Financial Industry Regulatory Authority (FINRA) Securities Industry Essentials (SIE) exam was introduced in October, 2018, to determine test-takers' basic knowledge of the securities industry. As an introductory-level exam, the SIE is focused on the foundational aspects of working in securities, including the different types of products available and the investment risks they present, how regulatory groups operate in the space and the structure of securities markets.
But passing the SIE alone is not enough to qualify someone to register with FINRA and pursue work in the securities market. There is an additional qualification exam tailored toward different types of business within the space to take as well.
Online Series SIE Prep Course
If you want to be fully prepared, Mometrix offers an online Series SIE Prep Course. The course is designed to provide you with any and every resource you might want while studying. The Series SIE Course includes:
Review Lessons Covering Every Topic
700+ Series SIE Practice Questions
More than 325 Digital Flashcards
Money-back Guarantee
Free Mobile Access
and More!
The Series SIE Prep Course is designed to help any learner get everything they need to prepare for their Series SIE exam. Click below to check it out!
Q
Am I Eligible To Take The SIE Exam?
A
Anybody who is aged 18 years or older is allowed to take the SIE exam, even if they are not associated with a securities firm.
Q
How Is The SIE Exam Administered?
A
The SIE exam is a computer-administered test and a tutorial on taking the exam is provided beforehand. The exam includes 10 pretest items to complete that do not contribute toward the final score, which are scattered randomly throughout the exam.
The SIE exam does not penalize test takers for guessing, so, strategically, it is encouraged to never leave an answer blank.
Candidates are given one hour and 45 minutes to complete the exam. They are not permitted to bring reference material into the exam.
The exam costs a proposed $60 to take.
Q
How Is The SIE Exam Scored?
A
All SIE exam scores are assessed on a common scale that is designed to account for variations in difficulty that might occur on the different sets of exams.
Q
How Is The SIE Exam Structured?
A
The SIE exam totals 75 multiple-choice questions. According to FINRA's content outline for the test, it consists of four sections covering the following:
Knowledge of capital markets (16 percent of total exam, 12 items)
Understanding of products and their risks (44 percent of total exam, 33 items)
Understanding trading, customer accounts and prohibited activities (31 percent of total exam, 23 items)
Overview of regulatory framework (9 percent of total exam, 7 items)
Q
What Content Does The SIE Exam's Capital Markets Section Cover?
A
The capital markets section of the SIE exam covers four major subsections, as well as a set of financial regulations:
The Regulatory Entities, Agencies and Market Participants Subsection:

The purpose, mission and jurisdiction of the Securities and Exchange Commission
The purposes and jurisdictions of self-regulatory organizations
Other regulators like the Department of the Treasury, the Federal Reserve and the Federal Deposit Insurance Corporation
The role of market participants like investors, transfer agents and depository and clearing corporations

The Market Structure Subsection:

Types of markets, from primary to fourth market

The Economic Factors Subsection:

The Federal Reserve Board's impact on market stability and businesses
Business economic factors like the purpose of financial statements and the effects on bond and equity markets
International economic factors like gross domestic product and exchange rates

The Offerings Subsection:

The roles of participants like investment bankers and municipal advisors
Types of offerings, from public security offerings to initial public offerings and more
Shelf registrations and distributions
The reasons behind offering documents and delivery requirements
Regulatory filing requirements and exemptions
Q
What Content Does The SIE Exam's Understanding of Products Section Cover?
A
The understanding of products and risks section of the SIE exam covers two major subsections, as well as a set of financial regulations:
The Products Subsection:

Types of equity securities, like common stock and warrants
Debt instruments like treasury securities and corporate bonds
Options, like puts and calls and the difference between equity and index
Packaged products and types of investment companies, like closed-end funds and open-end funds
Municipal fund securities such as 529 plans and ABLE accounts
Direct Participation Programs
Real Estate Investment Trusts
Hedge Funds
Exchange-Traded Products

The Investment Risks Subsection:

The definition and identification of risk types, such as capital risk and liquidity risk
Strategies for mitigating risk
Q
What Content Does The SIE Exam's Understanding Trading, Customer Accounts And Prohibited Activities Section Cover?
A
The understanding of understanding trading, customer accounts and prohibited activities section of the SIE exam covers three major subsections, as well as a set of financial regulations:
The Trading, Settlement And Corporate Actions Subsection:

Knowledge of orders and strategies, including bid-ask and trade capacity
Investment returns
Trade settlement
Corporate actions and their impacts

The Customer Accounts And Compliance Consideration Subsection:

Account types and characteristics
Customer account registrations
Anti-Money Laundering
Books, records and privacy requirements
Communications with the public

The Prohibited Activities Subsection:

Market manipulation
Insider trading
Other prohibited activities, such as the use of fraudulent devices and the financial exploitation of seniors
Q
What Content Does The SIE Exam's Overview Of Regulatory Framework Section Cover?
A
The overview of regulatory framework section of the SIE exam covers two major subsections, as well as a set of financial regulations:
Self-Regulatory Organization (SRO) Regulatory Requirements For Associated Persons Subsection:

Registration and continuing education

Employee Conduct And Reportable Events Subsection:

Employee conduct including potential red flags
Reportable events including private securities transactions and reporting of political contributions
Q
How Can I Do Well On The SIE Exam?
A
The SIE exam tests applicants on the foundational knowledge behind the regulation-heavy work in the securities market. Furthermore, the multiple-choice nature of the questions and the absence of penalties for guesses means that a basic knowledge of all of the terms, rules and issues present on the test is critical. As such, applicants are encouraged to spend considerable time with flash cards, drilling on the vocabulary and differences between regulations.
It's also important to engage with a specifically-designed study guide that takes into account the structure and content on the SIE exam.
SIE Study Guide
Explore our free SIE review provided by Mometrix. Check out our premium SIE study guide to take your studying to the next level. If you benefit from these materials, just click the link below! To compliment our Quality Auditor Certification book, we also offer extensive SIE flashcards for even more SIE test prep help. We hope you enjoy our products! Your purchase helps us make more great, free SIE certification content for test-takers just like yourself.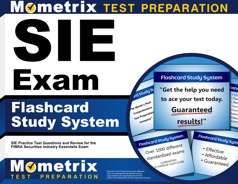 FINRA SIE Flashcards. Proven FINRA SIE test flashcards raise your score on the FINRA SIE test. Guaranteed.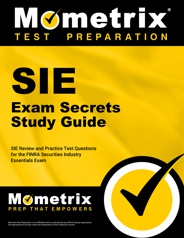 Prepare with our FINRA SIE Study Guide and Practice Questions. Print or eBook. Guaranteed to raise your score. Get started today!