The HR Certification Institute (HRCI) offers a certification called the Senior Professional in Human Resources (SPHR). According to the HRCI, this exam focuses on the technical and operational aspects of human resource practices.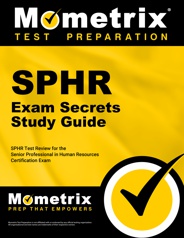 Prepare with our SPHR Study Guide and Practice Questions. Print or eBook. Guaranteed to raise your score. Get started today!
It's fair to say the business work could not operate quite as smoothly without the expert assistance of human resource managers. This particular branch of business management is highly specialized to ensure qualified new employees are able to join a company as needed, as well as keep the work environment as beneficial, healthy, and efficient as possible.
Performing this type of work is no easy task. As such, the vast majority of hiring managers in today's business world have undergone extensive training in order to be able to perform their jobs well.
If you're visiting this page, there's a good chance that you're already well aware of the importance of the duties of a human resource manager. This page contains information pertaining to the SPHR exam, also known as the Senior Professional in Human Resources exam.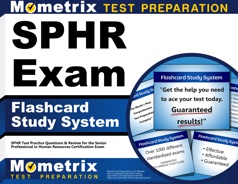 SPHR Flashcards. Proven SPHR test flashcards raise your score on the SPHR test. Guaranteed.
This test operates in a similar vein to its sibling exam, the PHR exam. However, the contents of the SPHR test are a bit more advanced to match the demands of the position; rather than simply knowing the basics of working as a human resource manager, you will also have to prove your understanding of the concepts related to the field on a more abstract, advanced level.
Because the role of SPHR is a higher level position, the SPHR exam is a higher level test.
Due to the sheer amount of training you'll need for the job, you cannot start working as an SPHR without first earning your SPHR certification—a process that involves earning a passing score on the SPHR test. Further below you can find more information about this important exam, as well as various SPHR study materials designed to enhance your chances of success.
About the SPHR Exam
Like the PHR test, the SPHR exam will feature exactly 175 questions. 25 questions on the exam will have no bearing on your score whatsoever; these are "pretest" questions, and are there solely for trial purposes. The remainder of the test counts toward your score, so you will want to answer them to the best of your ability. You will find a large amount of multiple choice questions featured on the exam. Furthermore, the exam is also timed. All test takers will receive exactly three full hours to finish the exam.
Each question on the exam pertains to one of the knowledge categories discussed below:
Employee Relations and Engagement makes up 20 percent of the content featured on the exam. The purpose of this category is to assess your ability to foster a healthy and productive work culture within your place of work.
Leadership and Strategy is the largest category to be featured on the exam, taking up 40 percent of the test's content. This category's questions will require you to display your comprehension of the various elements that go into managing a human resources team on an analytical level. You can expect to find many strategy-based questions, some of which will offer scenarios and ask you to figure out the best possible solution to a problem.
Total Rewards clocks in as one of the smallest exam categories, accounting for only 12 percent of the exam. Questions under this category focus on how well you can gauge the level of fairness employees hold toward their benefits, such as insurance and pension packages.
Learning and Development also makes up 12 percent of the exam questions. This category deals with your ability to thoroughly educate employees on the protocols and information relevant to the business.
Talent Planning and Acquisition accounts for the remaining 16 percent of the test. Questions under this category will assess your understanding of how to best reach out to highly qualified potential employees and hire them into the company.
Our Study Materials
In order to earn the best possible score on this exam, you'll need only the best SPHR study materials at your disposal. We're here to help you in this regard. You can access two important study tools for the SPHR further below on this page. These tools, specifically, are our SPHR study guide and our SPHR practice test. Each of these study tools serves a different purpose.
Our study guide is ideal for crafting the best possible study plan, especially if you find yourself stuck on how to focus your study efforts at any point during the preparation period. This tool will give you fully explained examples of test questions for the SPHR, as well as detailed descriptions of each area of the test and how to prepare for them.
Our practice test was developed through careful research, and is meant for those who want to dive directly into the test materials to learn how the exam will work. You can use our practice test to get an up close view of the exam, as well as learn which areas you may need to brush up on before exam day.
Both of these tools are designed to help you gain the best possible understanding of the SPHR test, so you can succeed on exam day. We hope you will choose to incorporate these tools into your study plan. Happy studying, and good luck!