The Safety Trained Supervisor (STS) certification exam is meant to offer participants the chance to prove their safety and health knowledge. It is often required in order to obtain a position as a first-line supervisor, manager or other position whose work has high-level safety requirements. It is administered by the Board of Certified Safety Professionals (BSCP).
Some of the most common positions that require STS certification are in the manufacturing, transportation and utilities fields, as well as facility services, maintenance and healthcare social assistants and support management. It's a certification for workplace leaders who oversee the health and safety of their coworkers.
Q
Am I Eligible to Take the STS Certification Exam?
A
In order to qualify for taking the STS certification exam, a participant must have completed at least 30 hours of formal health and safety training, either through a single or multiple training classes. Many different safety and health courses, conferences, company training sessions, etc. are appropriate and can count toward these hours.
STS certification candidates must also have at least two years of health and safety supervisory experience or at least four years of related work experience (provided this is a minimum part-time position of 18 hours per week) in any industry.
Q
How Do I Apply for the STS Certification Exam?
A
Those who are interested in taking the STS certification exam must apply to BCSP, which will determine their eligibility. Candidates need to provide their contact information, training information, experience information, an application agreement and validation of the payment of the application.
BCSP will select, at random, 5 percent of the applications to fully audit and those selected will have to provide their training and experience documentation.
There is a one-year eligibility period during which candidates can pay for their STS certification exam through the BCSP website or a certification services phone number. Candidates are authorized to take the exam on the day that it is purchased up until they have passed the exam or their one-year eligibility period ends.
Candidates can extend their eligibility time limit once during their term and this extension remains valid for one year.
Q
How Is the STS Certification Exam Administered?
A
The STS certification exam is a computer-based test administered by Pearson VUE at testing locations throughout the world. A tutorial will be provided at the beginning of the exam so that candidates can familiarize themselves with the computer-delivered process.
Candidates can schedule their own breaks during the exam, which must be taken outside of the testing room but inside of the testing building. It is recommended that candidates arrive early for the exam, as those who are 15 minutes late or more will not be permitted to enter the exam room. Candidates must bring a valid, government-issued identification.
BCSP allows calculators in its exams. Examinations are closed book and candidates cannot reference outside materials during the test.
Q
How Is the Content on the STS Certification Exam Divided?
A
Candidates for the STS certification exam are allowed two hours to complete it. The exam consists of 100 multiple-choice items, each with four possible answers and only one correct answer. Each item includes all of the information needed to answer the question. There are five main domains of exam content, each of which makes up a different percentage of the overall exam and covers different specific knowledge areas.
According to BCSP, the domain breakdown and some specific content areas within them are as follows:
Domain 1: Safety Program Implementation (13.8 percent of total exam)

Job safety and hazard analysis
Basic audit or inspection protocols
Inspection requirements

Domain 2: Hazard Identification and Control (47.1 percent of total exam)

Hierarchy of controls
Energy isolation procedures
Safety procedures associated with rigging and hoisting

Domain 3: Health Hazards and Basic Industrial Hygiene (9.2 percent of total exam)

Chronic health hazards and controls
Acute health hazards and controls
Environmental conditions that can impact worker health or safety

Domain 4: Emergency Preparedness and Management (11.5 percent of total exam)

Fire protection methods and classifications
Fire safety requirements
Basic first aid, cardiopulmonary resuscitation and automated external defibrillator

Domain 5: Leadership, Communication and Training (18.4 percent of total exam)

The BSCP code of ethics
Conflict resolution techniques
Training requirements for a project or job task
Q
What Score Do I Need to Pass the STS Certification Exam?
A
All candidates for the STS certification exam are measured against a single minimum passing score. This score is based on the total possible score for the exam, so candidates don't have to achieve a minimum score in each individual domain. Though all scored items have the same weighting.
BCSP uses the "Modified Angoff Method" to set its passing scores, which is a method that asks a panel of experts to individually rate each examination item against the requirements for a minimally-qualified candidate. It is meant to create a minimum passing score that is based on the aggregated difficulty of each test item.
Candidates will be given a pass/fail result upon completion of the STS certification exam at the testing facility. Those who pass will not receive their results. Those who fail will be given their results so that they can utilize them to better prepare for retaking the exam.
Q
How Can I Get a Passing Score on the STS Certification Exam?
A
In order to pass the STS certification exam and prepare for a career focused on workplace health and safety, candidates must spend considerable time drilling on the vast material that appears on the test. The easiest and most efficient way to do so is to utilize Mometrix Test Preparation's available flashcards and study guide, made specifically to provide success on the STS certification exam.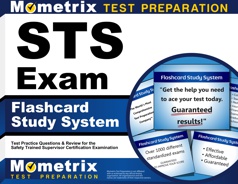 STS Flashcards. Proven STS test flashcards raise your score on the STS test. Guaranteed.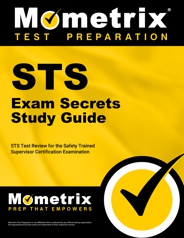 Prepare with our STS Study Guide and Practice Questions. Print or eBook. Guaranteed to raise your score. Get started today!