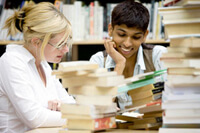 Graduate school is unlike any other experience you have had in your life. You will be immersed into one field of study, and increasing your knowledge level in that field will be your one main goal. Your classes may well be all in one building, and your classmates will all be others students studying the same field as you. You will experience both close friendships and rivalries. You will need to learn to network and publish papers. You may both attend and present at professional conferences. You will need to choose an advisor who will help you, but ultimately you are responsible for your own schedule and time management. Are you ready for the adventure of graduate school? The information in the next articles will help you make a smooth transition to graduate school so that you can survive the next few years with grace, humor, and maybe even a little bit of a social life
Choosing An Advisor
Choosing an advisor is an important step of your graduate school career. Your advisor helps you select courses and may also direct your thesis or dissertation. Follow these tips to choose the best advisor for you.
Choose a professor with similar interests
An advisor who shares your interests will be able to help you:
Select coursework that will further your career goals.
Conduct research projects.
Select a thesis or dissertation project that you will be able to finish.
Find internships.
Meet influential people in the field.
Choose a professor who contributes to the field
An advisor who contributes research and articles to the field will be well-respected and will understand the research process.
Choose a professor you respect
You will be meeting regularly with your advisor, and your advisor will be offering comments and criticism on your work. If you respect your advisor's work and opinions, you will be more accepting of the input.
Choose a professor who wants to be your advisor
Being an advisor is often not a matter of interest for professors. Choose someone who will offer help readily and enthusiastically. Talk to some students who are or have been advised by your potential advisers to find out what the advisers are like to work with.
Choose a professor who will give you opportunities
You want opportunities to do research, write, get some articles published, go to conferences, etc. Choose an advisor who will offer these types of opportunities to you and will support you as you do your work.
Take Control of Your Grad School Career
Although your advisor's role is to help you choose courses and to direct your thesis and dissertation, you also need to be proactive. Your advisor is busy with his or her own career and with advising other students. No matter how great your advisor is, ultimately you are the one who cares the most about your grad school work and future career. To take control over your grad school career:
Decide what your ultimate goal for grad school is. Is there a particular field of study you want to explore? A job you want after you get your degree? Keep your goal in mind at all times, and make sure that every class and every project moves you closer to that goal.
Find out what requirements you must complete to get your degree.
Keep track of your own progress.
Know what classes you want to take each semester before you meet with your advisor, and be prepared to defend your choices.
Of course, your advisor still plays an important role in your grad school success. He or she can help you get into classes that might otherwise be full, get extra lab time, write recommendation letters for you, and even help you find a job once you have received your degree. Take responsibility for maintaining a relationship with your advisor by keeping your advisor informed about your progress and asking for advice and help once in a while.
Developing Your Schedule
You actually need to develop two different types of schedules: a long-term schedule that includes all the courses you need to complete your degree, and a semester or quarter schedule that lists what courses you are going to take for the next semester. Obviously, you need to make sure that your quarterly or semester schedule moves you closer to your goal of finishing school. You might even make a list of the classes you need to take so you can check them off as you go along. Some things to keep in mind as you plan your schedule include:
Prerequisite classes. Are there any classes you need to take before you can take other classes?
Irregular classes. Some classes aren't offered every semester. You need to grab these classes when they are available.
Popular classes. Some classes are just hard to get into because the professor is well-known or well-liked or the class is required by several programs. Make sure you sign up early for these classes.
Hard classes. Some classes are just harder than others. If you are taking a class with a reputation for being tough, try to pair it with easier classes that semester.
Don't count on your advisor to always know what you need to take and when you need to take it. Do your homework and lay out your own schedule. But if you do have questions about which class to take, especially when it comes to electives, be sure to ask your advisor's opinion.
How Slow Can You Go?
How many classes should you take a semester when you are in graduate school? If you were used to taking five or six classes a semester as an undergraduate, you may be surprised to find that graduate students typically take one to three classes a semester. If you have a family and a full-time job, one class will be enough. If you are single, not employed, well-organized, and able to handle stress, then you may be able to tackle three classes a semester. Don't feel that you always have to take the same number of classes. Maybe you know that you are always busier in the spring than the fall, so you decide to take only one class in the spring and two in the fall.
As you decide how many classes to take, you need to balance the burnout you might feel from being overloaded with too many classes against the burnout you might feel from taking year after year of classes. In addition, consider the financial cost of stretching out your graduate program. Which option will cost more in the long run: working and taking fewer classes for a longer time or attending school full time and getting a better-paying job more quickly?
You also need to consider any financial aid requirements. Your fellowships and other financial aid may require you to take a certain number of course hours a semester. If you're not sure how many courses to take, talk to your advisor.
Attending Professional Conferences
If you have the opportunity to attend professional conferences in your field while you are a graduate student, take the time to do so. Although you may not feel that you have the money or the time for conferences, they offer several benefits, offering you the chance to:
See and hear what students and professors at other schools are studying and researching to help you gain ideas for new directions in your own research.
Meet people and have a chance to discuss ideas and research.
Glimpse the professional world of your field of study.
Meet professionals in your field.
Attend presentations and panel discussions covering the latest research in your field.
Network with other students, teachers, and professionals in your field, developing contacts and friendships that could lead to an internship or job.
Visit exhibitors displaying the latest equipment and technologies related to your field.
Meet scouts and recruiters who can help you with your job search.
See examples of conference presentations so you can present yourself at later conferences.
To help you afford professional conferences, see whether other students who are going might be interested in sharing a room. Also check to see whether the conference offers a student rate for attending. To make the most of the conference, bring your business cards and updated resumes. Attend networking events and ask your professors to introduce you to others in the field.
Presenting at Conferences
Although attending professional conferences is a great way for graduate students to network and learn from others in the field, presenting at a conference is even better. When you present at a conference, you gain visibility and make positive impressions on professors, recruiters, other students, and future colleagues. To help you prepare for your presentations, follow these suggestions:
Find out how long your time slot is and make sure your talk is the right length.
As you prepare your presentation, organize it logically as you would a research paper, with an introduction, a body, and a conclusion.
Practice in front of an audience of people who will give you useful feedback. You can also record your presentation and analyze your own performance. Move about as you plan to during the actual presentation so it will feel natural to you.
Know who your audience will be and tailor your presentation and amount of detail to their level of knowledge and interest.
Present a professional, relaxed appearance: dress appropriately, speak slowly, and maintain eye contact.
If you are using presentation software to make slides, plan to spend about two minutes on each slide. Make sure the text on the slides is readable: a good rule of thumb is no more than five words to a line and seven lines to a slide. Also include pictures and other graphics to illustrate your ideas.
Do not read from a script or from the slides. Have notes and paraphrase the slides.
Before the presentation begins, check to make sure that any equipment you need, such as a projector and computer, is set up and working.
Prepare handouts of your presentation so the audience won't have to take extensive notes.
Managing Your Time in Grad School
Succeeding in graduate school requires you to manage your time wisely. You have papers to write, research to do, and reading to complete. If you have an outside job or an assistantship, you have additional responsibilities there. And if you have a home, family, or at least a social life, that adds another layer of activities. By managing your time, you will be able to set priorities and accomplish everything you need to accomplish. Follow these tips to help you manage your time.
Set your goals and priorities
As a graduate student, you are going to have to learn that you can't do everything. Think about all the activities you do. What is the most important to you? What can you let go of for at least a little while? Write down your short- and long-term goals and post them somewhere where you can see them regularly. This will help you maintain your focus and say no when you need to.
Create a schedule
You will be better able to stay organized and manage your time if you create a schedule and stick to it as much as possible. By following a routine, you will ensure that you have time for everything you need to get done.
To help you create your schedule, make to-do lists and write everything down in a calendar or planner. You can even color-code your entries to help you track when assignments are due, when you have tests, etc. Make sure your schedule includes a regular time every day to study.
Make time for yourself
When a schedule is overloaded, the first activity many people sacrifice is self-care. However, if you don't take proper care of yourself, you will get burned out and may even make yourself ill. Make sure you take time to sleep and eat regularly, to eat healthy foods, and to get exercise.
Break down
Break big assignments and projects down into smaller tasks so you don't get overwhelmed or procrastinate. As you complete the smaller tasks, you will feel a sense of accomplishment and be more motivated to finish.
Good time management skills will not only help you succeed in graduate school, they will help you stay sane while you're at it!
Organization: Key to Grad School Success
In grad school, you can be awash in paper, from exams that have been returned to papers you need to grade or research data you need to evaluate. If you don't keep everything organized, you will waste your time and energy looking for stuff instead of crossing off items on your to-do list. Follow these tips to get yourself organized.
Develop a filing system
You need a filing system for both printed and digital paperwork. Use labeled or color-coded files and folders to help you keep track of school papers, work papers, bills, research materials, potential dissertation materials, personal items, and other documents.
Make a rule for yourself that you always re-file paperwork when you are done with it.
Set up a study area
A quiet and private study area will help you keep your schoolwork organized and in one place. (In addition, if you always study in one place, your family, friends, and roommates will learn not to bother you when you are in the 'study zone.') Equip your study area with a desk, comfortable chair, good lighting, resource materials such as a dictionary and style guide, and general office supplies such as a stapler and file folders.
Use your planner
Your planner can do more than remind you of appointments and deadlines. Use it to jot down notes, reminders, e-mail addresses, etc. That way, you will always know where your notes are instead of searching your desk for the piece of scrap paper on which you wrote your notes.
Organize your class work
Use a binder for each class, with dividers for class notes, assigned readings, handouts, and other materials. You can keep the syllabus for each class in the binder to remind you of deadlines and class guidelines.
Organize your computer
Set up a folder on your computer for each class and keep all your papers and downloaded materials in that folder.
De-clutter
If you find that you have slipped and started to let your paperwork pile up, don't panic or give up! Just set aside some time to go through everything. File what you need and recycle what you don't. Then you'll be back on track to an organized grad school life.
Impressing Your Professors
You never get a second chance to make a first impression, as the saying goes. You want your professors to develop an impression of you as a hard worker, smart, and studious. To make a good impression on your professors:
Be on time for class.
Look as if you are focused and paying attention in class.
Participate in classroom discussions.
Don't work on other items on your to-do list during class time, whether it's an assignment for another class or balancing your checkbook.
Sit toward the front of the classroom.
Be respectful of the professor's time. Don't show up five minutes before his or her office hours are over and ask to go over a 30-page research paper.
Turn in your assignments on time.
If you have a problem, discuss it with the professor yourself. Do not ask one of your parents to call the professor for you.
Smile and be friendly.
Be polite and respectful in your attitudes and behavior.
Your relationship with your professors is crucial to your success in graduate school. These are the men and women who will be teaching you, advising you, mentoring you, overseeing your research, and serving on your dissertation committee. Make sure that they see you as the excellent student you are.
Developing a Professional Network
Grad school provides a good opportunity for you to develop a professional network that you will be able to draw on throughout your academic and professional career. To develop your professional network, you need to attend conferences, publish papers, and make an effort to meet established researchers. One good approach when you are at a conference is to approach people whose presentations you found interesting and ask them additional questions. Any time you meet others in your field, be prepared to ask them questions about their research and to answer questions about your own work. A simple 'What are you working on?' is an excellent way to begin a conversation. Be sure to bring business cards that you can pass out to the people you meet.
Once you meet people, the next step is to continue contact through phone conversations, e-mails, and conversations in forums and networking sites. Send e-mails asking questions or sharing (nonconfidential) information about your research. You can also offer to review papers that these contacts are seeking to have published and ask them to review your own papers.
Some other ways you can expand your professional network is to:
Volunteer on conference organization committees.
Review new books in your field.
Give seminars at other universities.
Write conference and workshop papers.
Organize a panel or a workshop at a conference.
Tutor and mentor other graduate students and undergraduates.
Do research projects with others in your field.
If you aren't confident in your networking abilities, remember that it is a skill you can practice and learn. Like all skills, networking will get easier the more you do it.
Grad School Social Networking Websites
Used appropriately, social networking websites can be good a way for you to network with other people in your field. Most social networking sites allow you to join or create special interest groups so you can interact online with other people who share your academic and career interests. Many of these sites include features that you can use to connect with others and advance your career, such as:
Profile pages listing your professional credentials.
Personal blogs.
Links to online colleagues.
Electronic invitations to real or online events.
Instant-messaging chat features.
To use social networking sites to your advantage, follow these tips:
Be sure to keep your online profile professional at all times. Do not post inappropriate images or statements that could damage your reputation or hurt your career. Remember that many employers check social networking websites as part of the interview process.
Be careful that you do not discuss any confidential information, such as research data that are not yet published.
Although you may be tempted to vent about one of your professors, be cautious about putting anything in writing on a social networking site. Assume that anything you say can be read by anyone. Use the social networking site to share questions and debate ideas, but save your venting for personal conversations with a trusted friend.
Publishing Papers
Publishing papers in professional journals is a good way to establish your credentials as a contributing member of your field.
What should you write?
To be published, a paper needs to present original, important ideas. Your advisor can help you develop ideas. In addition, you should always read papers in the journals to which you want to submit your paper. Reading other articles will help you see what kind of topics are of interest to people in your field.
Who is your audience?
Your first step in writing should be to determine your potential audience. Knowing your audience will determine not only what you write but how you write it and what language you use. Are you writing for a lay audience that will need more background and fewer details? Or for a more specialized audience that is interested in the technical details? Can you use technical jargon and abbreviations without explanation?
What do you want to say?
As you write, make sure to state the point of your paper clearly. State what problem you have researched and why a solution is important. Explain your procedures and results. If other researchers have addressed a similar problem, explain how your methods and results are superior.
Can you write well?
You need to use excellent writing skills. If you are not confident in your writing skills, have a friend look over your paper for typographical mistakes, spelling errors, and grammatical problems.
You should also show a draft to your advisor or other professors and students, and ask for their advice and feedback. You can also ask researchers in your field from other schools to read your paper and offer comments.
What if your paper is rejected?
If your paper is rejected, you will probably receive comments from reviewers with suggestions for improvement. Take the opportunity to rewrite the paper, addressing the reviewers' comments, and then try submitting it again.