You've suffered a severe injury — maybe even one that's life threatening — and you're rushed to the hospital emergency room. One of the first care professionals you're likely to encounter is a Trauma Certified Registered Nurse (TCRN).
These nurses have received specialized training in the medical areas needed to help save lives. To attain this advanced designation, candidates must take an exam to receive certification as a TCRN. This guide breaks down the test, and offers a handy resource to help you prepare.
Who administers the Trauma Certified Registered Nurse exam?
The Board of Certification for Emergency Nursing (BCEN) administers the exam.
What licenses do I need to qualify to take the exam?
Candidates must have a current registered nurse license from the United States or its territories; a nursing certificate that is the equivalent of an RN license in the USA is also acceptable. In addition, BCEN recommends 20 to 30 hours of trauma care coursework, and an average of 1,000 practice hours per year (for two years) in trauma nursing.
How long does the certification last?
The certification lasts for four years, and can be renewed provided the candidates meet certain qualifications and pay a fee.
How much does it cost to take the Trauma Certified Registered Nurse exam?
Members of any of these organizations pay $230 — the Emergency Nurses Association, the Air & Surface Transport Nurses Association, and Society of Trauma Nurses. Non-members pay $370.
How do I apply to take the test?
You apply online through the Board of Certification for Emergency Nursing. Once you're approved, you have 90 days (the testing window) to take the exam.
It's test day. When should I arrive?
Please arrive 30 minutes before your scheduled testing time. Candidates who arrive more than 15 minutes late might not be allowed to take the test.
What do I need to bring to the testing center?
You will need to bring two current and valid forms of identification — a government issued ID, such as an unexpired driver's license or passport; and secondary ID that must include either you name and signature, or your name and photo. Please note that the name on your identification must match, exactly, your name on your exam registration documents. If they don't, you won't be allowed to take the test, and you will forfeit all fees.
Are there any items that won't be allowed in the testing center?
There is a long list of items you will be prohibited from taking into the testing center. The short of it is — no personal belongings (think watches, wallets, purses, coats, hats, and the like) and no electronic devices of any kind, like cellphones. Using an electronic device during the test is prohibited and will result in the candidate being dismissed.
How long does the Trauma Certified Registered Nurse exam take to complete?
You have three hours to complete the exam.
How many questions are on the test?
There are 175 questions on the exam. Of those,150 are scored, and 25 pre-test questions are not scored.
How many content areas are there on the test?
There are six content areas. The number of parenthesis denotes the number of items in each category.
Clinical practice, head and neck (29 items): Covers brain and spinal trauma, ocular and neck trauma, and facial fractures
Clinical practice, trunk: (36 items): Includes items on trauma to the thoracic and abdominal regions. Thoracic areas include injuries to the chest wall as well as pulmonary, cardiac, and great vessel injuries; abdominal regions include organ injuries and more. There's also a section that covers, among other items, trauma in pregnant patients.
Clinical practice, extremity and wounds: (25) Covers trauma to the musculoskeletal area, as well as surface and burn trauma. the subjects covered in the musculoskeletal area include vertebral, pelvic and soft tissue injures, extremity injuries and amputations, and compartment syndrome. In the surface and burn trauma area, subjects tested include chemical, electric, and thermal burns, as well as inhalation injuries.
Clinical practice, special considerations (22 items): Examines psychosocial issues related to trauma, shock, and two types of syndromes — systemic inflammatory response and multiple-organ dysfunction syndrome.
Continuum of care for trauma (21 items): Includes patient safety and transfer, end of life issues, injury prevention, and more
Professional issues (17 items): Covers staff safety, regulations such as HIPPA, ethical issues, and other items
What if I need to take a break during the test?
Breaks are allowed, but you won't get extra time to finish your exam. If you take a break, you will not be allowed to access personal belongings unless you have obtained prior permission to do so.
When will I know my test score?
You will receive your score after you have completed the exam.
What if I need to reschedule my date to take the Trauma Certified Registered Nurse exam?
You can reschedule, once, provided you do so at least two business days prior to your test date, and you reschedule within you original 90-day testing window. Candidates who need to reschedule more than once or reschedule outside of their testing window must get a new authorization from the BCEN. Fees will apply.
Wow. That's a lot to digest. Fortunately, Mometrix has an amazing array of study guides and flash cards to help you study for — and pass — the Trauma Certified Registered Nurse exam.
Our group of highly trained professionals have designed a comprehensive study guide provides specifics on how to tackle the questions you'll be asked.
Our large, easy-to-read flashcards help in two ways. The cards make it simple for a classmate to help quiz you on the questions you'll need to know to pass the Trauma Certified Registered Nurse exam. The cards also help you learn through repetition.
For these reasons, and more, our test preparation materials are the ones you need to help you succeed.
TCRN Exam Overview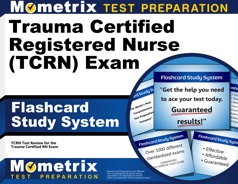 TCRN Exam Flashcards. Proven TCRN test flashcards raise your score on the TCRN test. Guaranteed.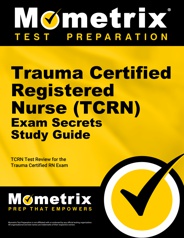 Prepare with our TCRN Exam Study Guide and Practice Questions. Print or eBook. Guaranteed to raise your score. Get started today!