How do students develop word skills? Can they understand what they're reading? How can they develop strong writing skills? Those are among the challenges that face educators who want to teach English Language Arts and Reading. In Texas, educators who want to teach these subjects in grades 4 through 8 must take and pass the TExES English Language Arts and Reading 4-8 (117) exam.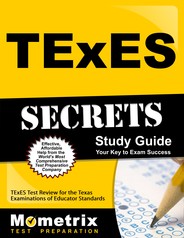 Prepare with our TExES Study Guide and Practice Questions. Print or eBook. Guaranteed to raise your score. Get started today!
Teachers who pass this test show they have the knowledge to teach these important subjects to students in Texas. Yes, the test is a tough one meant to challenge an educator's knowledge base. Here's an overview of what's on the test, and a look at the best materials available to help you prepare.
How many questions are on the TExES English Language Arts and Reading 4-8 (117) test?
This test, which is taken on a computer, has 100 selected-response questions.
How much time do I have to finish the test?
The total test time is five hours. That includes 15 minutes to prepare for the test, and 4 hours and 45 minutes to take the exam.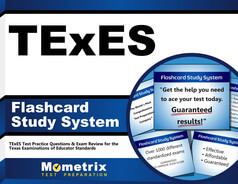 TExES Flashcards. Proven TExES test flashcards raise your score on the TExES test. Guaranteed.
What is the fee to take the test?
All candidates pay a $116 test fee.
What is the passing score for the TExES English Language Arts and Reading 4-8 (117) test?
The passing score is 240.
What's on the exam?
The test has two main content areas.
Language Arts, Part I: Oral Language, Early Literacy Development, Word Identification Skills and Reading Fluency. This section contains roughly one-third of the exam's content. Topic coverage areas include oral language development processes; linguistic processes; assessments and how to use them to determine student needs; word identification, reading fluency, and English language conventions; listening skills strategies; the development of alphabetic skills; literacy development; and understanding word analysis errors and how to use that information in future instruction.
Language Arts, Part II: Reading Comprehension and Assessment, Reading Applications, Written Language, Viewing and Representing and Study and Inquiry Skills. This section contains roughly two-thirds of the exam's content. Topic includes reading comprehension curriculum; reading comprehension assessments, both formal and informal, to determine student needs; reading proficiency enhancement; texts, like dictionaries and glossaries, to bolster the understanding of words; writing conventions; spelling instruction; writing skill development; writing voices and styles; visual images interpretation and analysis; and study and inquiry skills.
How can I access my test score?
Scores will be available through a candidate's testing account.
When will my exam scores be available?
Test scores should generally be available within five days of the exam date.
Are there certain times of year I can take the TExES English Language Arts and Reading 4-8 (117) test?
Candidates can take the test all year-round. The testing centers, however, are closed on certain holidays. Please consult the Texas Education Certification Program website for specifics.
Where can I take the test?
Candidates take the test at private test centers that have been hired by the Texas Education Agency to deliver the exam. You can do an online search for the test center nearest you. Centers are available in Texas and throughout the country.
Will I need to show identification on test day?
Yes. Anyone taking the test must bring a primary and supplemental form of identification. A driver's license or other government-issued identification can serve as the primary form of ID.  The supplemental ID must contain your name and photo or a name and signature.
Should I arrive at the test center early?
Yes. Please arrive early because if you're more than 15 minutes late, you might not be allowed to take the exam. If that happens, you'll forfeit all exam fees.
Can I bring personal items into the test room?
No. There's a long list of prohibited items, including electronic devices and certain clothing items. Please consult the test policies for a complete list of prohibited items.
This seems like a tough test. What are the best study materials that can help me prepare for the TExES English Language Arts and Reading 4-8 (117) test?
The study materials from Mometrix offer outstanding preparation materials. Candidates can suffer from test anxiety, but our study guide will show you how to overcome that problem. Not only that, these materials offer other valuable insights, including tips on how bits of information can give away the right answers. Our flashcards are the perfect study tool for anyone pressed for time – and really, who isn't nowadays?  These flashcards help you learn through repetition and are easy to review where ever you are. These are the materials you need to help you pass this exam.
Click Here for TExES Practice Test