The Texas Examinations of Educator Standards (TExES) Health exam was created to determine whether or not candidates possess the necessary aptitude and knowledge to function as entry-level educators in the health field in Texas public schools.
Certification through the TExES Health exam is often a prerequisite for those who seek positions teaching the subject of health in Texas schools.
The exam is built around four knowledge standards:
Standard I: Applying knowledge of the relationship between behavior and health and the factors that influence health and behavior
Standard II: Ability to communicate the concepts and purposes of health education
Standard III: Conceptualizing and executing proper health instruction and integrating this instruction with other appropriate content
Standard IV: Understanding the effects of school health instruction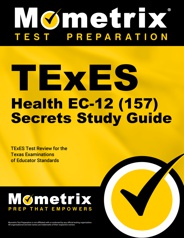 How Do I Register for the TExES Health Exam?
Interested participants can register for the TExES Health exam on the website of the Texas Educator Certification Examination Program (TECEP), the administrative body behind the test. Specific appointment dates and times are determined on a first-come, first-served basis. There is a $116 exam fee.
What Do I Need to Bring to Health Exam from TExES? And What Am I Forbidden from Bringing?
Participants in the TExES Health exam must bring with them two pieces of original and unexpired identification, both of which need to be printed in English in the name in which they registered and bear their name, recognizable photograph and signature.
Acceptable forms of primary identification must be government-issued, such as a driver's license, state identification or passport.
Participants are forbidden from bringing a wide range of items, including cell phones, handwritten or printed materials, backpacks or briefcases, food or drink and unauthorized aids like slide rulers and highlighters.
Calculators are not permitted during the exam.
What Specific Content Is on the Health Exam from the Texas Examinations of Educator Standards?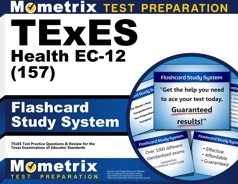 The TExES Health exam is computer-administered and consists of 100 selected-response questions. Participants are given five hours total to complete the exam, with 15 minutes of this total dedicated to a computer-testing tutorial and compliance agreement.
The content on the TExES Health exam is divided into five large domains, each of which contains several content subsets. A sample of the specific breakdown of content in each domain is as follows:
Domain I: Personal health

Human body systems and the processes for human development and growth
Exercises, nutrition and physical fitness and their role in enhancing and maintaining health
Diseases and disorders and how they affect health

Domain II: Interpersonal Relationships

Family relationships and how they are significant for health
Interpersonal relationships and the healthy ways of interacting with people
Sexuality and how it affects health

Domain III: Environmental and Community Safety and Health

Procedures for encouraging safety, responding to emergencies and preventing accidents
The use of alcohol, drugs and tobacco and how they affect health
Community and environmental health

Domain IV: Skills and Resources for Health

Decision-making for informed health choices
Sources of health information and how to access, use and evaluate this information
Health-related services and products and the strategies and skills necessary to be an informed consumer of these

Domain V: School Health Education Program

Planning, evaluating and implementing school health education programs
The role of a school health educator
Effective school health instruction
How Can I Get a Passing Score on the TExES Exam for Health?
Participants in the TExES Health exam must achieve a score of 240 to pass. Scores will be available at 10 p.m. within one to three weeks of completing the exam.
Because the TExES Health exam covers so much detailed health knowledge and educational aptitude within the five major domains that it contains, participants have a relatively clear study path to ensure success. To understand the basic concepts throughout the exam, it is encouraged that TExES Health exam candidates spend a significant amount of their study time reviewing with a customizing study guide, made specifically for this test. Then, to further drill down and memorize the specific knowledge within each of these domains, participants are encouraged to leverage a set of study flashcards customized for this knowledge.
The combination of the proprietary study guide and set of study flashcards provided by Mometrix Test Preparation offers the tools necessary to complete such a recommended study regimen and achieve a passing score on the exam.