The TExES Special Education EC-12 (161) exam helps determine whether candidates have the basic skills to teach special education in the Texas Public Schools system. The exam tests knowledge in several content areas, and it's as tough as you might imagine.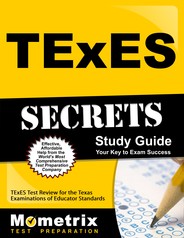 Prepare with our TExES Study Guide and Practice Questions. Print or eBook. Guaranteed to raise your score. Get started today!
You'll need more than this guide to help you understand the test. You'll also need a study system that can help you prepare, and we have one for aspiring special education teachers. 
What do I need to know about the TExES Special Education EC-12 (161) exam?
There are 150 multiple-choice questions on the test, which is taken on a computer. The test time is five hours. The test fee is $131.
What topics are on the test?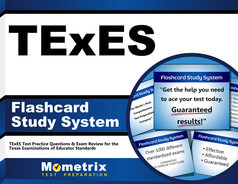 TExES Flashcards. Proven TExES test flashcards raise your score on the TExES test. Guaranteed.
The exam tests knowledge in four content areas called domains. Each domain tests a specific competency. All the topics are specific to teachers who want to teach special education. They are:
Understanding individuals with disabilities and evaluating their needs. This section contains two competencies that tests for an understanding of how students with and without disabilities learn; behavioral disorders; human development and the impact on disabilities in the developmental process; how culture and environment impact the child and family; ethical concerns during evaluations; evaluation strategies; background information gathering; and the ability to properly communicate evaluation results
Promoting student learning and development. This section contains seven different competencies. Candidates are tested on collaboration to create lesson plans; effective and efficient use of instructional time; understanding how cultural factors can impact relationships; functional behavior assessments; and understanding services and programs that can help students and families in transition planning
Promoting student achievement in English language arts and reading and in mathematics: This domain has two competencies that test knowledge in areas that include English language arts and reading instruction; reading comprehension strategies; writing convention development; assessment methods in math; numbers and number systems; and mathematical reasoning
Foundations and professional roles and responsibilities. This section contains three competencies and covers special education models, theories and philosophy; due process rights; special education regulation; and fostering relationships.
It's test day for the TExES Special Education EC-12 (161) exam. What are the testing center procedures?
Please arrive at the test testing center no later than your test reporting time, which is 30 minutes before the start of the exam. If you arrive after your test reporting time, you won't be allowed to take the exam and you will forfeit all test fees.
Personal items aren't allowed in the test room. Electronic devices (cell phones, tablets, etc.) are prohibited. Candidates wearing large jewelry items will be asked to remove them. Clothes and outwear (coats, jackets) could be inspected by test center personnel. It's best not to bring any electronics or personal items.
You'll need government issued identification that contains a photo and signature. You may be asked to provide a secondary form of identification, so it's best to bring a secondary ID, like a student ID card.
You can see why this is a tough test to pass. And you can see why you need an excellent study guide. Mometrix offers a step-by-step study guide that will help you navigate the most difficult parts of the TExES Special Education EC-12 (161) exam. Our flashcards are an amazing tool that can help you study anytime of the day or night, wherever you are. The flashcards will also help you master the most difficult parts of the test and help you better understand the exam. These are terrific tools that can help you succeed.