The Pre-Admission Content Test (PACT): Essential Skills (700) is an exam consisting of three subtests that assess the subject-matter knowledge of Texas teacher candidates.
The PACT is used for:
Core Subjects: Early Childhood – Grade 6
Deaf and Hard of Hearing: Early Childhood – Grade 12
Special Education: Early Childhood – Grade 12.
If your focus is one of these three areas, the PACT: Essential Academic Skills may be required.
Who is required to take the PACT?
Candidates to an educator preparation program (EPP) who have not completed at least 12 semester credit hours in the subject area of their desired teaching certificate or has a GPA below 2.5 are required to take the PACT for admission into an EPP. Passing the PACT is required for teacher candidates participating in the intensive pre-service (IPS) route or looking to teach at some Texas charter schools.
Requirements for taking the PACT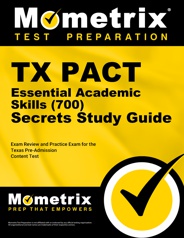 Prepare with our TX PACT EAS Study Guide and Practice Questions. Print or eBook. Guaranteed to raise your score. Get started today!
If the PACT is required, you may take the PACT if you hold a bachelor's degree or in the last semester of classes before receiving a bachelor's degree. The PACT is not given to individuals not seeking certification as a classroom teacher, seeking certification with specific skill and experience requirements, wanting to take the Pedagogy and Professional Responsibilities exam, or if the candidate holds teaching credentials in another state, US territory, or country.
Registration, Location, and Cost
To register for the PACT, you need a Texas Education Agency (TEA) identification number. If this is your first time taking a Texas teacher certification exam, register for your TEA ID at the TEA website. Once you have your ID, register for the exam using the online registration system.
Using your TEA ID, register for the PACT online. The test is administered at Pearson-Vue testing centers located across Texas and nationwide. Each subtest is $56, or $106 for all three subtests delivered in a single testing session. Additional fees may apply.
If you are taking the PACT for the first time, you must register for the whole exam (all three subtests). If you do not pass one or more of the subtests, you can register to take the subtests you did not pass.
After you have registered and paid the fee, schedule your test appointment. Only the test(s) that you are eligible for are available for scheduling. You must sit for your exam within 170 days of registration. The exam is offered throughout the year at testing centers located across Texas and nationwide.
Before you finalize your appointment, you have an opportunity to review your personal information and the test location, date, and time. If any information is incorrect, go back and make the necessary corrections. Once you've verified the information, accept the testing standards and confirm your appointment. The confirmation email is for your information; you are not required to bring it to your test appointment.
Test Day
On the day of your exam, arrive 15 minutes early to complete the required paperwork. Secure your belongings and follow the directions of the test administrators. Everything you need for the exam is provided, and outside resources or tools are not allowed.
PACT Design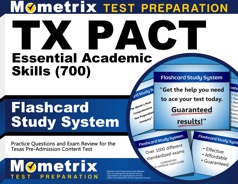 TX PACT EAS Flashcards. Proven TX PACT EAS test flashcards raise your score on the TX PACT EAS test. Guaranteed.
The Texas Pre-Assessment Content Test: Essential Academic Skills is a computer-administrated exam consisting of three subtests. The exam has 126 selected-response questions and one constructed-response question designed to evaluate your readiness to enter an educator preparation program. The questions are based on the Essential Academic Skills framework.
Subtest I: Reading contains 45 selected-response questions. You have one hour and 15 minutes to complete the reading subtest. You are evaluated based on your understanding and knowledge of:
The meaning of words and phrases;
The main idea and supporting details in written material;
Purpose and audience, point of view, and intended meaning;
Critical reasoning to evaluate written material; and
The organization of information in written and graphic forms.
Subtest II: Writing contains 36 selected-response questions and one constructed-response question. You have one hour and 30 minutes to complete the writing subtest. The selected-response questions focus on your understanding of:
Purpose, audience, organization, and development in writing;
Problems in sentence formation; and
The conventions of Standard Written English grammar, usage, and its mechanics.
Subtest II contains the one constructed-response question. In response to a provided topic, you are asked to develop a composition of 300-400 words using standard written English. You are evaluated on your ability to express, organize, and support your opinions and ideas on the position you take. You are assessed on the following criteria:
Purpose and appropriateness – address the assigned topic using language and style appropriate to the specified audience.
Unity and focus – clearly state and maintain a thesis statement.
Development – use relevant and specific support to develop the thesis statement.
Organization – the structure of the response enhances the meaning and follows a logical sequence.
Usage and sentence structure – use effective word choice and varied sentence structure.
Grammar and mechanical conventions – demonstrate correct use of grammar, spelling, capitalization, and punctuation.
It is essential to write about the assigned topic in your own words and within the conventions of English used in the United States. Reference materials are not allowed, and you cannot copy or paraphrase from other work.
Subtest III: Mathematics contains 45 selected-response questions. You have one hour and 15 minutes to complete the math subtest. The competencies evaluated include:
Number properties and number operations
Fundamental principles of algebra
Measurement principles and geometry concepts
Probability and statistics
Problem-solving, reasoning, and mathematical communication
Exam Scoring and Results
Each subtest is scored individually on a scale of 100 to 300, with 240 established as the minimum passing score. Your score report indicates "passed" or "not passed" for each subtest. If needed, you can retake each subtest up to four times.
Your exam results are reported within 28 days of testing, and the reporting schedule is posted on the TEA website. Your report is posted on your TEA account at 10:00 p.m. on the score reporting date. Your report is emailed if you elected to receive an email notification.
Preparation
The PACT: Essential Academic Skills exam is designed to evaluate what you know. If you need the PACT to reach your Texas certification goal, you need the right tools to help you prepare.