Teaching students to communicate well, understand standard English conventions, and write effectively are just a few of the important tasks an educator undertakes in the classroom. In Virginia, teachers must pass the Virginia Communication and Literacy Assessment, an exam that tests communication and literacy skills. The exam, administered by the Virginia Department of Education, tests educator's understanding of standard English convention, grammar, writing, and more. This guide provides an exam overview and a recommendation on study materials to help you prepare for the test.
How many questions are on the Virginia Communication and Literacy Assessment?
The reading subtest has about 40 multiple-choice items. The writing subtest, which has four components to it:
About 40 multiple-choice items
Three short-answer items
One summary assignment
One written composition
How long do candidates have to complete the exam?
Candidates must complete the exam in four hours.
What is the exam's passing score?
The passing score for both tests is 470. The passing score is 235 for each subtest.
When can I take the test?
Candidates can take the exam Monday through Saturday, year-round, except certain holidays.
Where can I take the Virginia Communication and Literacy Assessment??
The Virginia Department of Education has hired a private company to deliver the Communication and Literacy Assessment to candidates. The test company has offices throughout Virginia and the United States. You can perform an online search to find the location closest to you.
What are the exam fees?
Candidates pay $40 per subtest or $80 for both. Candidates also pay a $50 exam processing fee.
What's on the exam?
The test contains two subtests:
Reading Comprehension and Analysis. Topics include:

Words and phrases and their meaning; understanding content; and identifying synonyms and antonyms
Examining written materials for the main idea and supporting details; understanding the sequence of events in a passage; information that supports a paragraph's main idea; and the writing's purpose as in persuading or describing.
Examining a passage for cause and effect; analyzing ideas that are in opposition or agreement; and analyzing stated or implied information from a passage and drawing conclusions.
Evaluating written material using critical reasoning skills; determine position or point of view; the differences between fact and opinion; and examining faulty reasoning.
Writing a summary and outline of written material; interpreting information in graphs, charts, and tables; and presenting information in graphical forms.

Writing Knowledge and Proficiency. Topics include:

Writing for different audiences.
Revising writing to improve focus; identifying off-topic information; and selecting material that supports the passage's main idea.
Ensuring a written passage is effectively organized and understanding transitional words and phrases
Understanding proper paragraph and sentence construction and recognizing wordiness, redundancy, sentence fragments, and run-on sentences.
Subject-verb agreement, pronoun use, and modifiers
Punctuation, capitalization, and misspelled words
Sentence revision to correct grammar and sentence construction
Am I allowed to bring personal items, like electronic devices, into the testing room?
No. Candidates are not allowed to bring any personal items into the testing room. All personal items must be stored at the testing center or left in your vehicle. Please check the test center rules for a list of prohibited items. Banned items include mobile phones, wallets, large jewelry, and watches.
What identification will I need to show on test day?
Candidates are required to show one piece of government-issued ID that contains a photo and signature. A driver's license, military identification, and passport are examples of acceptable forms of ID.
What time should I arrive at the test center to take the Virginia Communication and Literacy Assessment??
Please make sure you arrive ahead of your scheduled test time. Anyone who arrives late will not be allowed to take the test and will lose all exam fees.
When will my test scores be released?
It takes about 10 business days for candidates to receive their scores.
What are the best materials I can buy to prepare for this exam?
The excellent study materials from Mometrix are the best around. They're written by educators who understand the best way to help you prepare for exams like the Virginia Communication and Literacy Assessment. Our study guide contains a comprehensive general strategy review, a study plan, tips on identifying the right answers and much more. Our flashcards will show you how to quickly solve questions while helping you learn through repetition, an effective form of learning. These study materials can help you best prepare.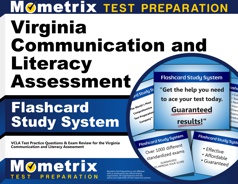 Virginia Communication and Literacy Assessment Flashcards. Proven Virginia Communication and Literacy Assessment test flashcards raise your score on the VCLA test. Guaranteed.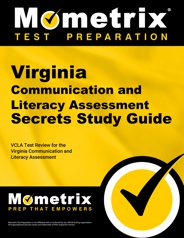 Prepare with our Virginia Communication and Literacy Assessment Study Guide and Practice Questions. Print or eBook. Guaranteed to raise your score. Get started today!