The Veterinary Technician National Examination (VTNE) is a credentialing examination offered by the American Association of Veterinary State Boards (AAVSB). The exam evaluates an entry-level veterinary technician's competency and is one of the requirements for licensure in most states and Canadian provinces.
AAVSB administers the VTNE but does not license, certify, or register veterinary technicians. To obtain credentialing, contact your governing state or provincial body.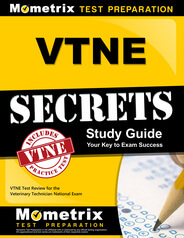 Prepare with our VTNE Study Guide and Practice Questions. Print or eBook. Guaranteed to raise your score. Get started today!
Eligibility
To be eligible to sit for the VTNE, you must be a graduate of an American Veterinary Medical Association (AVMA) program, a graduate of a Canadian Veterinary Medical Association program, or a graduate of a program approved by the governing body of your jurisdiction.
How to register
There are four steps to register for the VTNE. The first step is to verify your eligibility on the AAVSB website. Select your state or Canadian province from the drop-down menu, and follow the instructions provided. Verification of eligibility must be completed before you can submit your application. Some states or provinces have deadlines that differ from AAVSB deadlines. Allow yourself enough time to complete the verification process before your preferred testing date's application deadline. Application windows are as follows: December 17 – February 15 for the spring testing window; April 15 – June 15 for the summer testing window; and August 15 – October 15 for the winter testing window.
The second step is to submit your online application to test at the AAVSB website. Your online application includes the submission of official transcripts and payment of the $325.00 application fee. The application fee is payable by Visa, MasterCard, Discover, or American Express.
After your application and payment are submitted, the third step is to check your application status. Allow two to three weeks for processing and approval. When your application is approved, an eligibility email is sent to you. Once you receive the email, you can move on to the fourth step – scheduling your exam.
When you receive the eligibility email, follow the directions to schedule your exam date, time, and location. The VTNE is offered during three testing windows: March 15 – April 15 (spring), July 15 – August 15 (summer), and November 15 – December 15 (winter). Each window has a registration period, and the exact date and time of your appointment is based on seat availability. The VTNE is administered at PSI testing centers located nationwide.
Online VTNE Prep Course
If you want to be fully prepared, Mometrix offers an online VTNE Prep Course. The course is designed to provide you with any and every resource you might want while studying. The VTNE Course includes:
Review Lessons Covering All the Topics
550+ VTNE Practice Questions
More than 850 Digital Flashcards
Money-back Guarantee
Free Mobile Access
and More!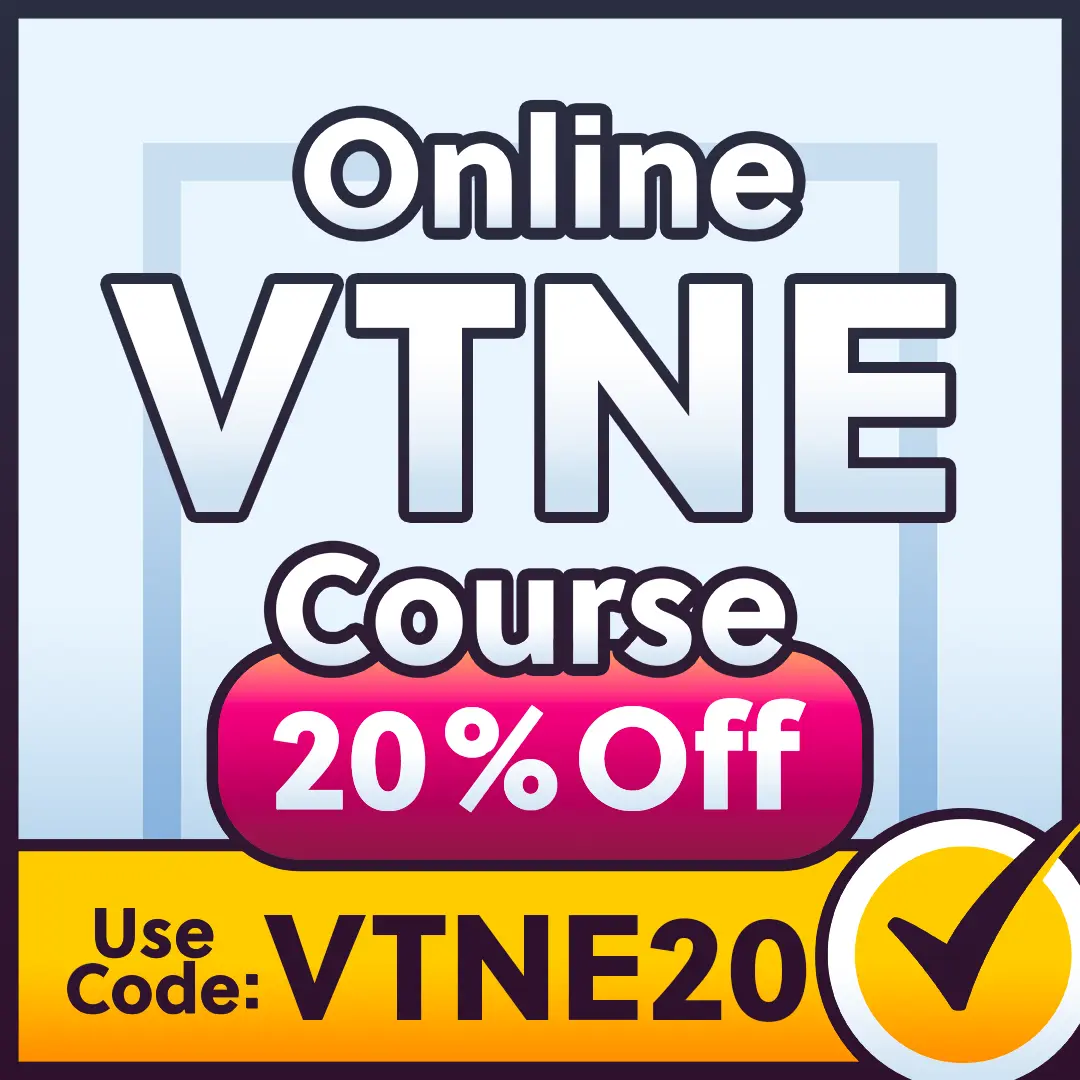 The VTNE Prep Course is designed to help any learner get everything they need to prepare for their VTNE exam; click below to check it out.
Test design
The VTNE is a computer-delivered, multiple-choice examination consisting of 170 questions. The test contains 20 questions that do not count towards your score. You will not know which questions are not scored. You have three hours to complete the examination. Each question offers four possible solutions; there is only one correct answer per question.
The test is divided into nine domains of practice that are considered essential knowledge for an entry-level technician. Each domain contains task area statements that are used to evaluate your ability to perform a specific goal-directed action. There are 79 task areas divided between the nine domains of practice. Forty-nine knowledge statements are used throughout the domains and inform your choices for delivering care through the task area statements. All domains contain the task area of utilizing knowledge of anatomy, physiology, and pathophysiology as it is applied to the particular domain.
The nine domains of practice are:
Domain 1 – Pharmacy and Pharmacology
In the pharmacy and pharmacology domain, there are 18 questions representing 12% of the exam. There are nine task areas that include medicinal preparation and delivery, drug classification and side effects, fluid therapy, client education, and controlled substance maintenance.
Domain 2 – Surgical Nursing
This domain consists of 17 questions, representing 11% of the exam. There are nine task areas that include preparation and maintenance of the surgical environment and its supplies before, during, and after a procedure; proper maintenance and sterilization of equipment in a surgical suite; functioning as a sterile and non-sterile surgical technician; and, the appropriate use of sterile techniques before, during, and after a surgical procedure.
The dentistry domain contains 12 items, representing 8% of the exam. The seven task areas include client education; preparation and clean-up of the environment before, during, and after dental procedures; the proper use, maintenance, and sterilization of dental tools; performance of routine dental procedures; proper documentation, and; the production of diagnostic dental images/radiographs.
Domain 4 – Laboratory Procedures
There are 17 questions, representing 12% of the exam, in the Laboratory procedures domain. The five task areas include the preparation and documentation for laboratory evaluation; the performance of laboratory tests and procedures; the maintenance of laboratory equipment and supplies, and; specimen maintenance for laboratory evaluation.
Domain 5 – Animal Care and Nursing
Domain five contains 30 questions representing 20% of the exam. This domain constitutes the largest portion of the exam and includes 18 task areas – documentation; performance of nursing procedures; implementation of treatments; clinical diagnostic procedures; animal care awareness education; providing and maintaining safe and sanitary treatment environments; equipment and supply maintenance; medicine administration; specimen collection; therapeutic treatments; treatment assistance; behavioral characteristics, and; appropriate use of animal restraint.  
Domain 6 – Diagnostic Imaging
Diagnostic imaging consists of 11 questions representing 7% of the exam. There are three task areas within the Diagnostic Imaging domain – using appropriate protocols for quality and safety, produce diagnostic images or radiographs; and maintain imaging and radiographic equipment and materials; follow procedures that ensure equipment, operator, and; patient safety.
The Anesthesia domain is made up of 22 questions representing 15% of the exam. The four evaluated task areas include assisting in the development and implementation of the anesthetic plan that ensures patient safety and procedural efficacy, and; prepare and maintain anesthetic equipment and related materials to ensure operator and patient safety.
Domain 8 – Emergency Medicine/Critical Care
This subject area has 12 exam questions representing 8% of the exam. Scenarios presented in this domain are set in an emergency or critical care situation and include five task areas – patient triage; critical care nursing procedures, and; the continual evaluations of the physical, behavioral, nutritional, and mentation status of patients in an emergency/critical care situation.
Domain 9 – Pain Management/Analgesia
This subject area contains 11 questions, representing 7% of the exam. The four task areas include assessment of analgesia needs in a patient; client education of pain assessment and management; overseeing the safety of the patient and client while ensuring the efficacy of the product or procedure, and; develop and implement the pain management plan.
You have three hours to complete the exam. An online calculator is available, and you are provided an erasable board to take notes.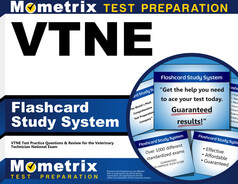 VTNE Flashcards. Proven VTNE test flashcards raise your score on the VTNE test. Guaranteed.
Exam day expectations
To ensure you have enough time to complete the pre-test activities, arrive at the testing center at least 30 minutes before your scheduled appointment time. Present your identification to the testing center administrator and follow the directions given for completing the sign-in process. After you have checked in, you are escorted to your testing station.
At your testing station, you have an opportunity to take a short tutorial to familiarize yourself with the test delivery method. Once you have completed the tutorial, your exam begins. When you have finished your test, your materials are collected, and your answers are transmitted for scoring. An official score report is provided to you before you leave the testing center.
Scores
The score report you receive on the day of your exam is an official score report. However, it is for personal use only and is not accepted by your governing body. Two to three weeks after the close of the testing window, your results are transmitted to the jurisdiction you indicated on your application. Once the results are received by the jurisdiction, you can begin or complete the credentialing process.
The score required to pass the VTNE is 425 on a scaled range of 200 to 800. If you do not pass the VTNE, you can retake the exam. Each jurisdiction has different retake requirements, so be sure to follow the directions of your state or province licensing jurisdiction to register for the retake.
Preparation
You have studied and worked hard to acquire the skills you need to be a compassionate, competent veterinary technician, and a passing score on the VTNE is the last step to licensure. Nine domains, 79 task areas, and 49 knowledge statements can be overwhelming when you begin studying. Mometrix Test Preparation has taken the stress out of your preparation. The study guide, online course, and flashcards have been tirelessly researched to break down the essential concepts, vocabulary, and skills in an easy-to-review design that will be your secret weapon to success. Don't leave your future to chance – invest in your future with the 100% money-back guaranteed test preparation system. Mometrix is in your corner.
VTNE FAQ
Q
What is the VTNE certification?
A
The Veterinary Technician National Exam (VTNE) is used to evaluate entry-level technicians on the path to becoming credentialed.
Q
How much does it cost to take the VTNE?
A
The application fee for the VTNE is $320, paid by credit card via an online application.
Q
How do you become VTNE certified?
A
To become certified as a Veterinary Technician, you must take a credentialing exam, such as the VTNE.
Q
Is the VTNE exam all multiple choice?
A
Yes, the VTNE exam consists of 170 multiple-choice questions.
Q
How long do you have to take the VTNE?
A
The time limit for taking the VTNE is 3 hours.
Q
How do you sign up for the VTNE exam?
A
You can sign up for the VTNE by visiting the administrator's website: https://www.aavsb.org/vtne
Q
What is the pass rate for the VTNE?
A
The pass rate for the VTNE is 76%.
Q
What is a passing score for the VTNE exam?
A
A passing score on the VTNE exam will vary from state to state as different states have different scoring methods. In some states, a score of 425 out of 800 is considered passing, while 70 out of 100 is the minimum passing score in other states.
Q
How many questions are on the VTNE?
A
There are 170 questions on the VTNE. 20 of these questions are not scored and are used for future exams.