The WEST-E Special Education exam was designed for prospective teaching candidates who wish to enter the teaching field as special education teachers in the State of Washington. The test measures candidates' subject-area knowledge and is fully aligned with Washington State's teacher endorsement competencies.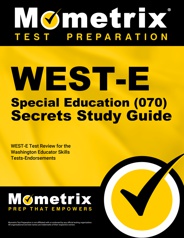 What are the eligibility requirements to take the WEST-E Special Education test?
The WEST-E is necessary for candidates seeking endorsements on a new or existing teaching certificate in Washington. This means that to sit for the WEST-E Special Education exam, you are already a credentialed teacher in the State of Washington, or you are eligible for a teaching credential and are seeking an endorsement in special education.
If you are an out-of-state candidate, you must demonstrate a passing score on a state-approved content knowledge test, or possess National Board Certification.  
What fees are associated with the WEST-E Special Education test?
The WEST-E Special Education test costs $155, which includes a $120 test fee and $35 registration fee.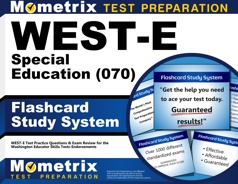 What is a passing score for the WEST-E Special Education test?
You must receive a score of at least 240 out of 300 in order to pass the WEST-E Special Education exam. If you do not pass the exam, you can retake it; however, you must wait at least 45 days before retaking the exam. Your score report will be sent to the Office of Superintendent of Public Instruction, Office of Certification, and added to your certification application file.   
What does the WEST-E Special Education test cover?
The WEST-E Special Education test is a computer-delivered exam that consists of approximately 110 multiple-choice questions. You will be allotted 2 hours and 15 minutes to complete the exam, not including the 15-minute allotment for the test tutorial. In terms of content, the WEST-E Special Education exam consists of four content domains covering specific ranges of objectives. The content domains, ranges of objectives, and approximate weighted percentage of each domain is as follows:
Understanding students with disabilities; objectives 0001-0003; approximately 25%

0001: Human growth and development; knowledge of atypical and typical cognitive, communicative, and linguistic development; motor, physical, and sensory development and domains
0002: Characteristics and needs of students with disabilities; types of disabilities; identifying etiologies; and familiarity with universal health and safety precautions
0003: Factors affecting learning and development, students with disabilities; demonstrating knowledge of emotional, social, behavioral, and academic implications; impact of disabilities on students, society, and families, etc.

Assessment and program development; objectives 0004-0006; approx. 25%

0004: Assessments for students with disabilities; terminology; various formal and informal assessment tools; issues related to assessment; and curriculum-based assessments
0005: Procedures for conducting assessments on students with disabilities; pre-screening, RTI, and referrals; methods and procedures for multiple transitions; appropriate accommodations and testing alternatives; and Functional Behavior Assessments (FBA)
0006: Development and implementing individualized programs; knowledge of Individualized Family Service Plans (IFSP); Individualized Education Programs (IEP); placement and services; and collaboration with parents, guardians, service providers, etc.

Promoting development and learning; objectives 0007-0009; approx. 25%

0007: Demonstrating knowledge of structuring safe environments; modifying instruction; accessibility; positive behavioral supports; crisis prevention; and fostering students' social skills
0008: Demonstrating knowledge of research-based strategies to promote positive outcomes; reading instruction and written language development; skill acquisition; and response to intervention (RTI)
0009: Promoting students' adaptive communication and independent living skills; research-based methods for developing adaptive skills; students' acquisition of independent living skills; and supportive strategies for students' multiple transitions

Foundations and professional practice; objectives 0010-0012; approx. 25%

0010: Demonstrating an understanding of historical, legal, and philosophical foundations of education for students with disabilities; knowledge of theories, models, and practices; knowledge of ADA and Vocational Rehabilitation; Individuals with Disabilities Education Improvement (IDEA), etc.
0011: Strategies for communicating and collaborating for desired outcomes; communicating and collaborating with general education teachers, parents, and others; coordinating learning programs; and community, family, and educational programs to provide information and resources
0012: Demonstrating knowledge of professional responsibilities; appropriate supervision; methods for acquiring research-based information; familiarity with professional organizations; and recognizing the importance of advocating for students with disabilities
Test Preparation
Now that you understand the basic content, fees, and overall expectations of the WEST-E Special Education test, you need to begin preparing. The best means of making sure you pass the WEST-E on your first attempt is to thoroughly prepare using comprehensive test preparation materials.
Mometrix Test Preparation's WEST Secrets study guide provides just the materials you need. In the WEST Secrets study guide, you get real WEST-E content, along with expert tips for enhancing test performance, reducing test anxiety, and improving memory.
In addition to the WEST Secrets study guide, Mometrix offers an in-depth WEST Practice Test and a complete set of WEST Flashcards. Read the WEST Secrets study guide, assess your memory using the WEST Flashcards and Practice Test, and pass the WEST-E Special Education exam on your first try.