The WEST Special Education test is required of all candidates desiring to teach Special Education in the state of Washington. This 110 question exam assesses a candidate's basic skills and content knowledge in this field of teaching.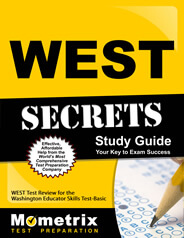 Prepare with our WEST Study Guide and Practice Questions. Print or eBook. Guaranteed to raise your score. Get started today!
The WEST Special Education test is a computer-based test consisting of multiple-choice questions that must be completed in two hours and fifteen minutes. The exam consists of four content domains:
Understanding Students with Disabilities (25%)
Assessment and Program Development (25%)
Promoting Development and Learning (25%)
Foundations and Professional Practice (25%)
Questions within the Understanding Students with Disabilities domain will evaluate your knowledge of typical and atypical cognitive, linguistic, communicative, physical, motor, sensory, social, and emotional growth and development. This domain also includes identifying characteristics and types of disabilities, recognizing individuals with and without disabilities, and the effects of various disabilities on a students learning and development.
The Assessment and Program Development section will test your understanding of basic assessment terminology, curriculum-based assessment, assessment procedures, instruments used to assess needs of students, and issues related to individual student assessments. You will also be required to prove competency in the development and implementation of individualized programs for students with disabilities.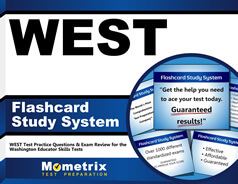 WEST Flashcards. Proven WEST test flashcards raise your score on the WEST test. Guaranteed.
The Promoting Development and Learning domain will assess your knowledge and comprehension of tactics for creating an environment that encourages optimal behavioral, learning, and social interaction skills of individuals with disabilities. You will also be required to demonstrate a grasp of research-based strategies for instruction in reading, written language, and mathematics; use of the tiers of response to intervention (RTI); and behavioral and communication skills to support independent living.
In the Foundations and Professional Practice domain, you will demonstrate your understanding of the historical, philosophical, and legal advancements in the education of individuals with disabilities. This domain also includes approaches to communicating and cooperating with students, families, other school resources, and community organizations to assist students with disabilities in attaining optimal learning results.
Mometrix, the world's #1 test preparation company, has developed the WEST Special Education practice test to assist you in passing this exam and beginning your career as a Special Education teacher. The practice test covers the same content as the actual test and includes answers and detailed explanations of those answers so that you can clearly understand which questions you missed and why you missed them.
Click Here for WEST Tests