Yoga training has become increasingly popular over the past 10 to 15 years with the wellness boom of the early 21st century. Individuals are more concerned with leading healthy lifestyles and fighting off disease and threatening health issues, such as obesity, hypertension, and heart disease. As a result, more and more people are looking into alternative therapies such as yoga. Yoga classes are becoming more and more common, as is the need for yoga instructors.
Yoga is the culmination of the mind, body, and spirit through various postures called the downward facing dog, cobra, warrior, and triangle, to name just a few. Various stretches and postures cause the mind to concentrate and focus in meditation, the muscles to stretch, and the lungs to breathe. A form of mental utopia brings about tranquility and spiritual peace. Additionally, the postures create fitness through muscle toning and create strength.
Individuals may participate in yoga training in order to become certified yoga instructors. Schools and programs offer curriculums that offer instruction about how to teach the therapy of yoga. However, because a significant number of schools exist, it's important to analyze a school's curriculum to ensure it is providing quality instruction. A school's curriculum may include various styles of yoga. Make sure the kind it teaches is the type you are interested in. Common forms include Integral, Ashtanga, Kripalu, Ananda, Power, and Vinyasa. Examine any specialty yoga instruction the curriculum provides, such as for prenatal, senior citizens, or children. The faculty members teaching the curriculum should be experienced.
The Yoga Alliance examines the yoga training provided by schools and determines whether they meet the minimum requirements necessary to become a certified yoga instructor. They have established two programs of study that should prepare an instructor well for teaching. The 200-hour program offers minimum instruction to become a registered yoga teacher. The 500-hour program provides more extensive training for higher level teachers. The 200-hour program consists of:
100 hours of techniques training and practice
25 hours of teaching methodology
20 hours of anatomy and physiology
30 hours of yoga philosophy, lifestyle, and ethics for yoga teachers
10 hours of practicum
15 hours of electives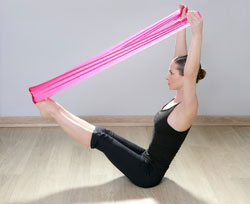 The 500-hour program consists of:
150 hours of techniques training and practice
30 hours of teaching methodology
35 hours of anatomy and physiology
60 hours of yoga philosophy, lifestyle, and ethics for yoga teachers
40 hours of practicum
185 hours of electives
When considering a career path while obtaining yoga training, an individual should consider the various types of yoga available for specialization. For instance, prenatal yoga works with pregnant women to maintain flexibility during pregnancy and to build up muscles that are useful during labor and delivery. It also focuses on relaxation and breathing techniques that can be used to ease labor pains.
Some yoga instructors focus strictly on children's yoga. Yoga is an excellent activity for children; it helps build their muscles, balance, lungs, and patience. Special yoga instructors also focus on providing instruction strictly for senior or geriatric participants. They sometimes have muscle strength or balance issues, in addition to inflexibility. Yoga postures may be tailored for specific ailments related to growing older. Yoga training can provide instruction for all of these specialties.
Before committing to any particular yoga training program, prospective students should make sure that their school is affiliated with the Yoga Alliance and provides adequate instruction for certification. Questions concerning how many classes have graduated from the program and minimum requirements for faculty are also reasonable questions for yoga training programs. Lastly, cost and location may be an important factor to consider when looking at yoga training facilities.