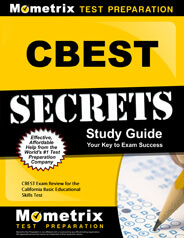 Prepare with our CBEST Study Guide and Practice Questions. Print or eBook. Guaranteed to raise your score. Get started today!
The CBEST test was developed to meet requirements of laws relating to credentialing and employment, is to assess and verify acceptable proficiency in reading, writing, and mathematics skills in the English language.
The CBEST test is not a measure of teaching skills or abilities. Instead, it measures more basic educational skills that are needed and used by professional staff members in schools that offer academic programs in kindergarten, grades one through twelve, and adult education.
Prospective teachers applying for their first California teaching credential or services credential or those applying for an Emergency Teaching Permit, unless they already hold a valid California teaching credential for which a baccalaureate degree is required must take the CBEST test.
The CBEST Reading and Mathematics sections consist of multiple-choice questions, and the CBEST Writing section contains two essay topics. A summary of the number of questions in each CBEST test section appears below.
Section – Number of Questions
Reading – 50
Mathematics – 50
Writing – 2
CBEST Exam Resources
CBEST FAQ
A
The California Basic Educational Skills Test (CBEST) tests basic reading, mathematics, and writing skills of prospective educators.
Q
How much does it cost to take the CBEST exam?
A
The paper-based exam costs $41, while the computer based test costs $102. There is a late registration fee of $18 and an "emergency registration" fee of $35.
Q
How long does it take to get the CBEST scores?
A
It generally takes about two weeks for computer-based test results to be made available and three weeks for written-based tests.
Q
What score do you need to pass the CBEST test?
A
The total score of your CBEST exam must be at least 123. Each section of the test has a passing score of 41.
Q
How long do you have to wait before you can retake a CBEST exam?
A
To retake the CBEST exam, you must wait at least 45 days from the last test date.
Q
How many questions are on the CBEST test?
A
The CBEST contains 3 sections. The first two sections have 50 multiple-choice questions, while the final section contains two essays.