CBEST stands for California Basic Educational Skills Test. The exam is a four hour test required by the state of California for all prospective teachers. The test was created in response to concerns about the deteriorating quality of education in California's public schools.
The Golden State used to be at or near the top of all 50 states when it comes to educational quality, as determined by various groups and standards. Some of these determinations were subjective, but most of them were entirely objective, and California excelled in all of them.
The state's schools were the envy of public school administrators across the entire country. But that is no longer the case. In fact, by many of the usual educational standards, California now has some of the worst schools in the country, ranking at the very bottom.
CBEST Test Prep
CBEST Test Study Guide with Practice Questions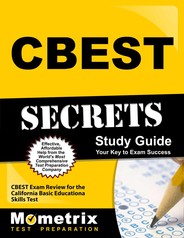 Prepare with our CBEST Study Guide and Practice Questions. Print or eBook. Guaranteed to raise your score. Get started today!
Of course, this deterioration did not occur overnight, but over a span of decades. When things began going downhill, parents, civic leaders, and policy advisers began calling on politicians to do something about the declining school quality.
One of the responses to this public outcry was the creation of the CBEST. The animating idea behind this was that part of the reason education quality was declining was the presence of too many teachers in California's classrooms who were patently unqualified to teach.
There were rampant horror stories about parents receiving notes from teachers that were filled with spelling errors and terrible grammar. In other words, some graduates of four year education degree programs couldn't even perform to 6th grade standards.
Not only had they not mastered their own subject matter, such as Spanish or Social Studies, they couldn't even handle basic reading, writing or arithmetic.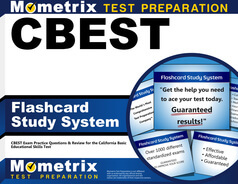 CBEST Flashcards. Proven CBEST test flashcards raise your score on the CBEST test. Guaranteed.
Free CBEST Practice Test
That's the background of the development of the CBEST. It has been in use for quite some time now, and while it has definitely weeded out some of the most unqualified potential teachers, so far it does not seem to have made much of a dent in the overall performance of California school children in various rankings, which are still near the bottom of the barrel in nearly every category.
However, for the time being, the CBEST isn't going anywhere, and every aspiring public school teacher will have to pass it in order to receive a teaching license. Being fully prepared for the CBEST is an absolute necessity, as failure to pass can delay or destroy a long sought teaching career.
CBEST FAQ
A
The California Basic Educational Skills Test (CBEST) tests basic reading, mathematics, and writing skills of prospective educators.
Q
How much does it cost to take the CBEST exam?

A
The paper-based exam costs $41, while the computer based test costs $102. There is a late registration fee of $18 and an "emergency registration" fee of $35.
Q
How long does it take to get the CBEST scores?

A
It generally takes about two weeks for computer-based test results to be made available and three weeks for written-based tests.
Q
What score do you need to pass the CBEST test?

A
The total score of your CBEST exam must be at least 123. Each section of the test has a passing score of 41.
Q
How long do you have to wait before you can retake a CBEST exam?

A
To retake the CBEST exam, you must wait at least 45 days from the last test date.
Q
How many questions are on the CBEST test?

A
The CBEST contains 3 sections. The first two sections have 50 multiple-choice questions, while the final section contains two essays.
CBEST Study Guide
Explore our free CBEST review provided by Mometrix. Check out our premium CBEST study guide to take your studying to the next level. If you benefit from these materials, just click the link below! To compliment our CBEST book, we also offer extensive CBEST flashcards for even more CBEST test prep help. We hope you enjoy our products! Your purchase helps us make more great, free CBEST certification content for test-takers just like yourself.
Self-Assessment Modules: