The California Basic Educational Skills Test (CBEST) is an important part of the process of becoming certified to teach in the state of California. It measures a candidate's basic skills and understanding of the principles of teaching in math, reading, and writing. Candidates typically take the exam after or near graduation.
How Much Does the CBEST Cost?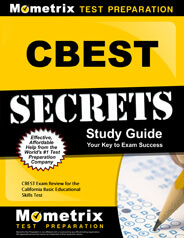 Prepare with our CBEST Study Guide and Practice Questions. Print or eBook. Guaranteed to raise your score. Get started today!
You will have the option to register for all three sections at once or multiple individual sessions for each section. The total cost of the exam will depend on how you schedule it. Each section costs $41. Then you need to pay a $61 service fee for each session.
So if you take all three in a single session, you'll only need to pay one service fee, making the total cost just $184. If you took each section at separate sessions, you will have to pay three separate service fees bring the total to $306.
Cost should not be your only consideration, though. If you don't feel confident that you will be able to perform your best on each section if you take them on all one day, then it's worth scheduling multiple appointments. Each session lasts four hours whether you schedule all three at once or each one separately. That means that scheduling independent sessions will give you more time on each section. If there is a subject that you struggle with, it could be a good idea to schedule it separately so that you'll have a full 4 hours for it and won't have to feel pressured by time.
CBEST Practice Tests
How Long Will the Test Take?
Your test day will depend on how you have chosen to schedule the exam. No matter how many exams you schedule for the session, you'll have a total of four hours to complete the sections you signed up for. So if you chose to take all three sections in one day, you will have about one hour and twenty minutes for each section. If you choose to take them separately, you'll have four hours for each one.
Either way, you can expect to spend about five hours at the testing center altogether. That includes four hours for the testing session plus 15 minutes to read and sign a nondisclosure agreement and go through the tutorial for the computer based test. It also includes about 30 minutes for checking in.
What Will I Need to Know for the Exam?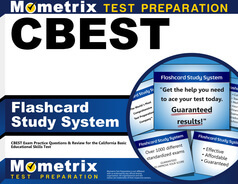 CBEST Flashcards. Proven CBEST test flashcards raise your score on the CBEST test. Guaranteed.
The exam is made up of three separate sections: reading, writing, and math. There are 50 multiple choice questions on the reading section, 50 multiple choice questions on the math section, and two essay prompts on the writing section. Here is a brief overview of what you will be tested on in each of the three sections:
Reading

Reading comprehension
Critical analysis and evaluation
Research skills

Math

Estimation, measurement, and statistical principles
Computation and problem solving
Numerical and graphic relationships

Writing

First prompt: analyze a given situation or statement
Second prompt: describe a specified personal experience
What Score Do I Need in Order to Pass the CBEST?
Each section is scored individually and you won't qualify for certification until you pass all three sections. Scores range from 20 to 80 for a section and you need to get a minimum of 41 in order to pass. However, there is some flexibility here.
You could hypothetically score as low as 37 on a section and still pass as long as your total score across the three sections is 123. This means that you do have some room to make up for one of your weaker subjects by doing exceptionally well on your stronger subjects.
How Should I Prepare for the CBEST?
There are three separate sections that all deserve your attention during your study sessions. So it is highly advisable that you draw up a clear schedule of how you will use your time for studying. Give yourself about two months total and divide up your study sessions based on how much work you need on each section.
For example, if you're a natural at math, you will only need to spend a little time reviewing that subject so use most of your study sessions for reading and writing.
You can get help creating an effective study schedule and getting the most out of each session by using the Mometrix Study Guide and Mometrix Flashcards. In addition to the studying tips, you also get a well-organized and thorough overview of each of the three subjects that you will be tested on. Plus, you'll have access to tons of practice questions to get you familiar with the kinds of questions and phrasing you will see on test day.
Self-Assessment Modules: