The free GED Science practice test is specifically designed to ensure that the test-taker is knowledgeable about the GED Science test and is able to know what to expect when it is time to take the Science portion of the GED.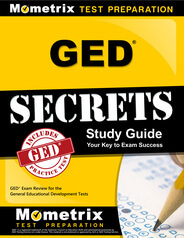 The General Educational Development (GED) test is made up of four tests and is given to individuals who are not enrolled in high school to test their knowledge of high school level subjects. The great thing about the GED test is that you don't have to take all four tests at once. You can space them out depending on what works for you. Passing the GED exam earns you your high school equivalency diploma. The GED is an option for people wanting to attend college, or for people looking for a better job or career.
The science test has a 90% passing rate. This means that if you have a good study resource and a basic understanding of science concepts, you have a great chance of passing the first time you take it.
Who is eligible to take the GED test?
Those who are eligible to take the GED test include:
Individuals who are at least 18 years old.
Those who are 16 or 17 years old and who have their states mandatory paperwork completed.
Individuals not enrolled in high school.
Some states may have additional requirements, so it is important to check with your state before you schedule your exam.
How is the exam formatted?
The GED is made up of four tests, which cover the four main high school subjects: Mathematical Reasoning, Science, Reasoning through Language Arts, and Social Studies. For the science exam, you will have 90 minutes to answer the questions. The science test consists of fill in the blank questions, multiple choice questions, dropdown questions, and drag and drop questions.  The science test also contains 2 short-answer questions that take about 10 minutes each to answer. You will be responsible for reading a short passage and then writing an explanation. You may even be asked to design an experiment.
How do I register for the exam?
In order to register for the GED exam, you will need to create an account on the official GED.com website. From there, you will be given step by step instructions.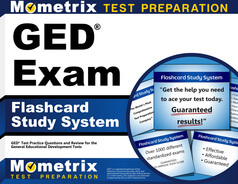 GED Flashcards. Proven GED test flashcards raise your score on the GED test. Guaranteed.
Where will I be taking the exam?
During registration, you will be given the opportunity to choose where you will like to take the exam. There are over 3,000 testing centers throughout the country. You can locate an exam site online. Test takers living outside the United States may be able to take their test at a Pearson Vue testing center.
How much does it cost to take the GED science exam?
Prices vary, but generally it can cost up to $40 per test subject.
What score do I need to get in order to pass?
Each of the four tests that make up the GED exam is scored on a scale from 100 to 200. In order to pass the GED, a test-taker will need to score at least a 60%. For each subject, the test-taker will need to score at least a 145. A score of 165 or 172 proves that you have what it takes to succeed in college.
What will the GED science exam test me on?
The science exam tests your ability to read and interpret science-related content, including charts and graphs. It also tests your ability to solve science-related problems. The science test is not a memorization test, but you are responsible for knowing and recognizing certain symbols and names. You will need to be able to express scientific information and identify words as well as understand scientific models, theories, and processes. The science exam is broken up into three parts:
Physical Science – 40%
Life Science – 40%
Earth Science – 20%
When will I receive my test scores?
This may vary by state, but generally test scores are available in one to three days. You will receive an email letting you know that your test scores are available on the GED website.
What if I fail the exam? Can I retake it?
Yes. If you failed the exam the first time around, you may retake it. When you are finished studying, you may go online to your MyGED account to reschedule your exam. However, if you take and fail a subject three times you will need to wait at least 60 days to take it again. Different states may have different retake policies.
What will test day be like?
On the day of your exam, you should arrive at least fifteen minutes early. You will need to have valid photo identification on you. Personal belongings such as purses, cellphones, and other electronic devices are not permitted in the exam room with you. Check with your testing facility to makes sure that they have lockers, otherwise leave personal belongings home. You will be provided with three erasable note boards and a marker.
Are calculators permitted?
Yes. You are allowed to use a TX-30XS calculator on the day of your exam.
Will people with disabilities be accommodated?
Yes. If you have a disability, be sure to hit the appropriate option when you register for the test. After you hit the "Yes," option indicating that you are a person with a disability, you will be given instructions on how to submit an accommodations request. Accommodations requests take 30 days to process.
How can I study for the GED science test?
The best way to pass the GED science test is to be prepared. If you are looking for a study resource that will have you passing your GED exam with a grade you can be proud of, look no further than Mometrix Test Preparation. Mometrix prides itself in developing study guides and flashcards that contain all the relevant information in an easy to understand format.
The GED science study guide not only gives you the type of content you will find on the actual exam; it helps you apply what you learn. Our flashcards are great for studying on the go. If you want to pass the GED science test on your first attempt, then you want to go with Mometrix.