The Pharmacy College Admissions Test (PCAT) is a required part of the application process for pharmacy school. The biological processes section has been designed to measure a candidate's command of core concepts in biology that will be necessary to succeeding in pharmacy school. This material will also be relevant to your future career in pharmacology so it's definitely worth your time to study for this section of the PCAT.
Q
How Much Does the PCAT Cost?
A
If you register within the normal registration window, the exam fee is $210. For those who register late, you'll be charged an additional $49 fee on top of the normal exam fee. The exam is offered during six different testing windows throughout the year. For each testing window, there is a registration window which opens about four months before the testing dates and closes about two months before. However, you can register as late as one month before the date of the exam (but you will need to pay the late fee if you wait this long).
Q
How Long Does the Test Take?
A
The entire exam lasts about four hours and includes a 15 minute break about halfway through. You will have 45 minutes to complete the biological processes section. Once the time limit for a section is up, you won't be able to return to it later. So developing your time management skills is going to be essential to performing well on this test.
Since the exam is long, you need to come to the test prepared. Sitting for an exam of this length takes endurance and concentration. Here are a few tips to make sure you are ready to do your best:
Get a full night of sleep before the day of your exam.
Wake up early enough to eat a nourishing breakfast and get ready without having to rush.
Leave home early enough to arrive at the testing center at least 30 minutes before your appointment.
Use the 15 minute break even if you don't feel like you need it. Get up, stretch your legs, walk around, eat a snack or do whatever you need to do to recharge for the next half of the exam.
Q
What Material Will I Be Tested On In the PCAT Biology Section?
A
The biological processes section of the PCAT includes 48 questions covering a range of essential concepts in biology. Here is a brief outline of what you will be tested on during this portion of the exam:
General Biology

Cellular and molecular biology
Diversity of life forms
Health

Microbiology

Microorganisms
Infectious diseases and prevention
Microbial ecology
Medical microbiology
Immunity

Human anatomy and physiology

Structures of cells, tissues, and organs
Systems including circulatory, respiratory, skeletal, muscular, digestive, immune, etc.
Q
How Is the PCAT Exam Scored?
A
Each section of the exam, including the biology section, is scored separately on a scale of 200 to 600. Those individual scores are then combined to find the average. Your average across each section will be your composite score for the whole PCAT.
The higher your score, the stronger your overall application to the pharmacy school will be. That doesn't mean you need to aim for a perfect score on every single section but you definitely want to take this exam seriously and aim for a very competitive score.
Q
What's the Best Way to Prepare for the PCAT?
A
In preparing, you want to set yourself a minimum target for each section so that you know your overall score will not fall below that minimum. Since we all have our strengths and weaknesses, there will likely be a couple of sections where you will have no problem going above and beyond this minimum.
Focus most of your study time on the other sections that aren't yet up to the minimum target but don't neglect your strengths. You still need to practice those skills in the context of the PCAT. This means you need to get familiar with the kind of questions and logic that it will use as well as the strict time limitations you'll be under.
Whether biology is one of your stronger or weaker subjects, you will want to focus your attention on the material most likely to be on the test. The best way to do that is with the Mometrix Study Guide and Mometrix Flashcards. These have been specifically crafted to the content that is covered on the PCAT so you'll be able to concentrate only on the material that you are actually expected to know on test day. Plus, you'll get tips and strategies for getting through the test, even when you encounter a tricky or difficult questions.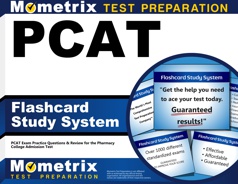 PCAT Flashcards. Proven PCAT test flashcards raise your score on the PCAT test. Guaranteed.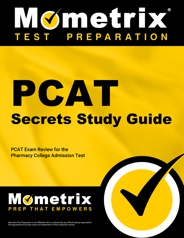 Prepare with our PCAT Study Guide and Practice Questions. Print or eBook. Guaranteed to raise your score. Get started today!